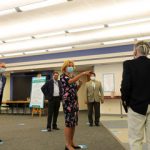 On any given day, Sandia's Executive Protocol Office hosts distinguished visitors that focus on the multitude of Labs priority programs; but during a pandemic, nothing is normal.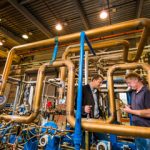 Eligible New Mexico companies have submitted statements of intent to work with scientists and engineers at Sandia or Los Alamos national laboratories through the Technology Readiness Gross Receipts Tax Credit Initiative. The new program allows selected companies to receive up to $150,000 in direct technical assistance per year for prototyping, proof-of-concept, field demonstrations, technical validation, testing and development or other activities.
The novel approach of Integrated Service Delivery being practiced in several centers within Sandia's Integrated Security Solutions Division was tested to its utmost this year, as departments had to suddenly figure out how to accommodate a remote workforce and then just as suddenly overcome dozens of challenges to bring people back to work safely on site.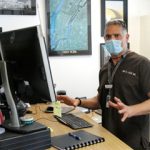 One of the most consistent voices heard this year during our new reality shaped by the COVID-19 pandemic has been that of Dr. Dan Azar, Sandia's California site physician.
As Sandia and the nation came to terms with a new, socially distanced reality, researchers within the Labs' Integrated Security Solutions Division were working to understand the biology of the novel coronavirus, learn how the human body responds to infection by SARS CoV-2 and model how COVID-19 spreads in a population.
Sandia's Community Involvement team has coordinated with Vitalant to resume on-site blood drives. Off-site locations are being planned as well, to accommodate those working from home.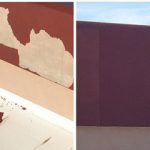 The Facilities team launched a new warranty recovery management program last year to track warranties on purchases of goods and services for Sandia. The program has been very successful, easing the tracking burden for managers and saving the Labs at least $1 million in cost avoidance since it began.
Sandia is taking an in-depth, layered approach to combating the spread of COVID-19. As the nation navigates through the COVID-19 global health crisis and as more people come on-site, we want our workforce to know what we do to prepare and what to expect.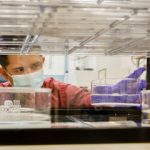 A media comprised of a sandwich of materials, tested by Sandia, is being manufactured into N95-like respirators that could be used in local medical facilities.
Sandia's health educators are seeing some innovative ideas for coping with pandemic-related stress from employees participating in health action plans and other preventive health programs.