Sandia researchers conducted a survey of electric vehicle charger vulnerabilities that could influence policymaking and establish best practices for electric vehicle chargers in the future.
Sandia researcher earns a DOE award for his work that advances the safe deployment of hydrogen technologies.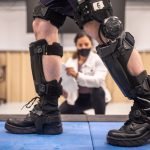 Researchers at Sandia explore whether exoskeleton systems can help protect workers from musculoskeletal injuries resulting from ergonomic issues, chronic overuse and more.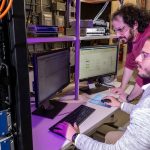 In partnership with NASA, Sandia researchers design reliable and resilient microgrids that could sustain astronauts, mining and fuel processing on the moon.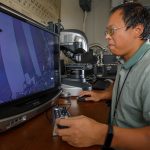 The environmentally friendly coating, derived from a baking ingredient, outperforms conventional materials.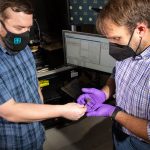 A new Sandia device can shunt record-breaking excess electricity in a few billionths of a second.
Engineers find that solid-state batteries with a little liquid electrolyte are safer than lithium-ion batteries.
Sandia updated software to support regulators' evaluation of the consequences of nuclear accidents.
Scientists may have discovered how to make more efficient batteries using a microscopic solution.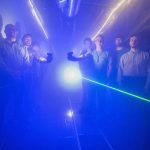 The fog facility at Sandia enables researchers to test new technology, like self-flying vehicles, in conditions that mimic nature.