The National Safety Council honors industrial hygienist Christopher Quinn-Vawter for demonstrating leadership and fostering a strong culture of safety at the Labs.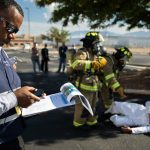 Months of intense planning, organizing and coordinating culminated in Sandia's Aug. 10 annual emergency exercise — a yearly workout to test its emergency response organization's proficiency in responding to a site incident.
In its first year, a partnership between ES&H and IT reduced electronic waste, improved device safety and saved thousands of dollars.
The first staff archaeologist at Sandia brings the "cool factor" to protecting history beneath the Labs.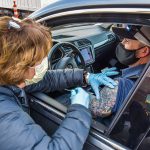 Lab News reflects on two years of COVID-19 and how Employee Health Services' rapid response has helped keep the workforce safe.
Learn about the types of messages that Sandians may receive as wintry weather hits.
The National Safety Council named Cynthia Rivera a Rising Star of Safety for her work as an Environment, Safety & Health coordinator at Sandia.
Sandia broke ground on a state-of-the-art, 25,000-square-foot Emergency Operations Center. The complex is expected to be operational by spring 2023.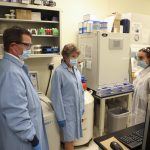 The diagnostics team was able to process test results quickly and reliably, which enabled mission-essential teams, like the nuclear deterrence program, to work safely on-site and meet their commitments.
Sandia presents monsoon and lightning awareness resources to workforce