Sandia's health educators are seeing some innovative ideas for coping with pandemic-related stress from employees participating in health action plans and other preventive health programs.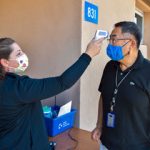 A daily health check is now required for anyone accessing a Sandia facility, to help prevent the spread of COVID-19. Those who do not have access to the Health Check mobile or desktop app can visit an in-person Health Check location prior to entering the site.
For Sandia employee and Staff Sgt. Tawnya Jones and other members of the New Mexico National Guard, the state governor's declaration of a public health emergency in march meant stepping away from a civilian job and responding to a no-notice military deployment to support the state's battle against the virus.
With a record number of Sandia's workforce now working from home during the COVID-19 pandemic, the Labs' ergonomic team has helped make the transition to a home office safe for employees. Sandia's ergonomics professionals are fully engaged on a daily basis with educating, training and assisting the workforce using the principles of ergonomic science.
Following his recovery from COVID-19 in March, Sandian Don Lifke describes his experience with the disease and his path to get tested for antibodies. He has donated convalescent plasma and is encouraging anyone who has recovered from COVID-19 to do the same.
Earlier this year, Sandia launched Thunderbird Kudos, a program that encourages employees to show their appreciation for the efforts of their co-workers and teams. The program was designed to be a simple and quick way to tell co-workers that their accomplishments are important.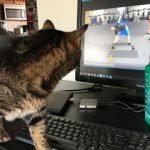 With a significant portion of Sandia employees telecommuting in response to the COVID-19 pandemic, many internal organizations are working hard to keep people healthy and connected while supporting the Labs' mission.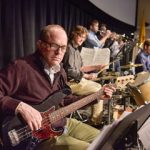 The Sandia Jazz Orchestra performed its inaugural concert, The Atomic Mr. Basie, before an enthusiastic crowd of jazz fans at the Steve Schiff Auditorium Feb. 20. Launched in October 2019, the SJO is part of the Sandia Bands Association, the newest social association sponsored by the Sandia Employee Recreation Program.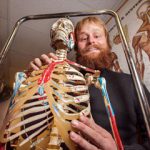 The Organ Procurement and Transplantation Network reports that there are currently 95,000 people on the national kidney waiting list. In 2019, Sandia data engineer Lawrence Allen became one of 355 living, anonymous donors who made that list move, joining a total of just 2,770 donors to date.
For Justin LaPierre, helping maintain an atmospheric research station at the northern tip of Alaska is "eerily reminiscent" of being deployed in the deserts of Afghanistan — just much colder. A U.S. Marine Corps veteran, LaPierre has worked as an observer at Oliktok Point for two years.