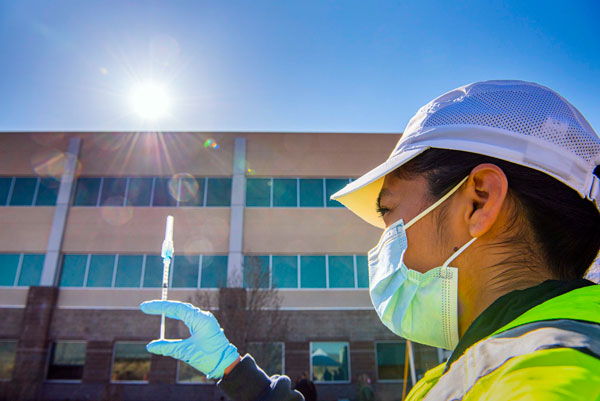 COVID-19 vaccination is underway for Sandia's New Mexico workforce. Authorized by the state of New Mexico as a vaccination site, Employee Health Services began vaccinating medical personnel, first responders and emergency management on Jan. 11.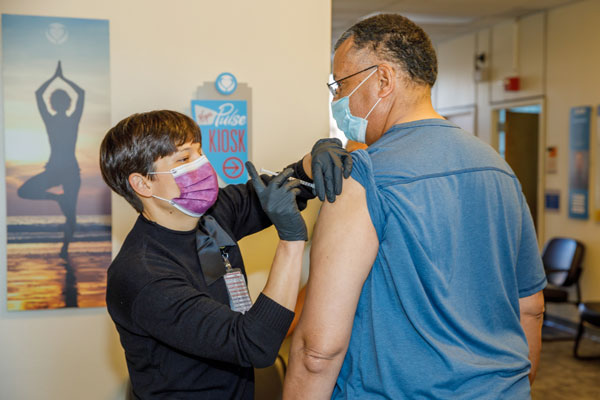 With limited vaccine supply from the state, Sandia/NM expects to have administered about 500 first doses and fully vaccinated about 200 staff by Friday, Feb. 12.
In California, Sandia is coordinating with Lawrence Livermore National Laboratory Health Services to ensure Sandia's workforce is included in their vaccination planning. Vaccination of the California workforce has not yet begun, as both labs await vaccine supply from Alameda County.
Addressing common vaccination questions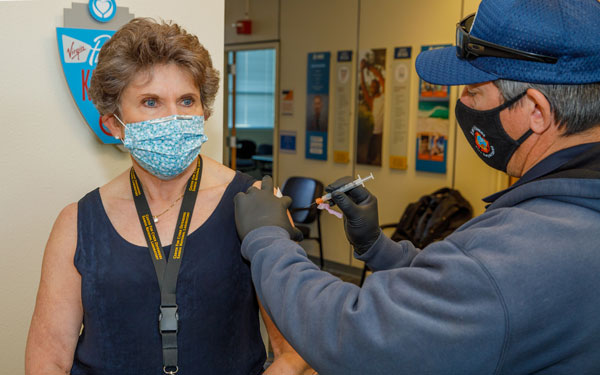 On Jan. 20, a panel of experts from the Labs' pandemic response team, scientists and health providers recorded a forum about Sandia's strategies for vaccination phases, safety concerns and on-site procedures following vaccination. The panel discussion was based on questions solicited from the workforce.
In opening remarks, Deputy Labs Director Dori Ellis addressed the importance of vaccination in helping reduce COVID-19-related illness, and the role the vaccine will play in returning to normal on-site operations.
"We are doing everything we can to help end this pandemic," Dori said. "Not only do we want all of our employees to stay healthy and to really thrive in their community, but our work hasn't changed. We're a national security laboratory, and we've got to continue to execute on that mission."
Dori thanked the cross-functional team, led by Pandemic Response Team Leader Bradley Dickerson and Employee Health Services Director Renee Holland, for their work.
"This has been a major effort," Dori said. "The [vaccination team] has been working diligently behind-the-scenes trying to make sure that we're prepared, and we've done everything we need to do to be able to deliver the vaccines."
Remain vigilant, get vaccinated
In the forum, panelists urged members of the workforce to continue diligently following COVID-19 safety measures as the vaccination effort rolls out.
"Pandemic fatigue is real, and for many months we have worn our masks, washed our hands, socially distanced, postponed travel and worked from home when we can," said Dr. Claire Escamilla, Sandia Medical physician.
"Now that the COVID vaccine is here, we can't let up. Let's stay vigilant with our pandemic precautions," Claire said. "We're going to continue to offer COVID testing, contact tracing, quarantine and travel guidance while we safely and efficiently roll out this COVID-19 vaccine to the workforce."
Bradley reflected on the layered approach adopted over the course of the past year to keep the workforce safe and deliver on mission-essential national security priorities.
"During the pandemic, we've done an exemplary job at Sandia of implementing recommended public health measures," Bradley said. "The last and most important part of this journey, though, is the vaccine. Once we are vaccinated, that is the highest level of defense we can get, and we're looking forward to moving into that."
With limited vaccine supply, the vaccination team's goal is to move as many Sandians through the vaccination process as possible.
All employees are strongly encouraged to participate in a COVID-19 vaccination program at their earliest opportunity, whether delivered through the Labs or their health care provider.
"This week, I'm scheduled to get my second dose of the vaccine," Dori said. "I would encourage you very strongly to consider getting this vaccine and helping us as we're trying to end this pandemic."
For more details on Sandia's vaccination plan, including facts and questions, visit the Coronavirus information page.
A closer look at vaccine research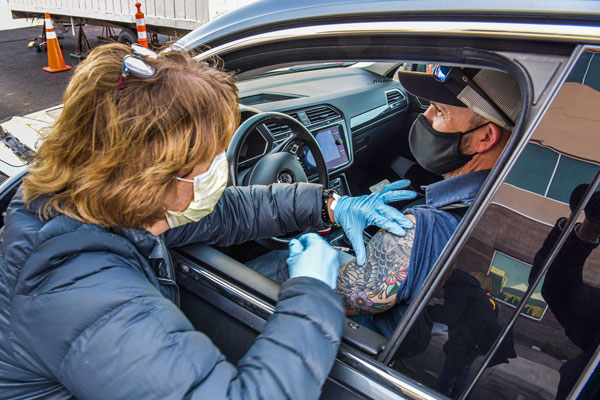 In a separate town hall hosted on Jan. 21 by Sandia's Science & Technology Division and National Security Programs, virologists Brooke Harmon and Oscar Negrete offered greater depth on how the COVID-19 vaccines were developed and provided beneficial information on vaccine safety and efficacy.
Brooke's presentation focused on research and outlined the process vaccines must go through to receive FDA approval. She addressed a common concern about vaccine safety, based on the unprecedented speed with which currently approved vaccines moved through R&D and clinical trials to emergency use authorization.
"The fact that we were able to go from sequence in January (2020) to a vaccine in people by the end of December has a lot more to do with funding and technology advances than anything having to do with shortcuts in safety," Brooke explained. "There were no shortcuts taken in safety. In fact, I would say that these vaccines were under even more scrutiny than a vaccine normally would be because we're all watching."
Brooke discussed how the scientific community is closely examining information that vaccine manufacturers are submitting to the FDA and pointed out that experts have been very confident in the data that they're reviewing.
Other topics covered in the presentation included how vaccines develop an immune response in the human body, how mRNA vaccines differ from traditional vaccine technologies and potential allergic reactions to vaccines. Brooke and Oscar also addressed the next vaccine candidates in the R&D pipeline and how effective vaccines will be at protecting against emerging virus variants.