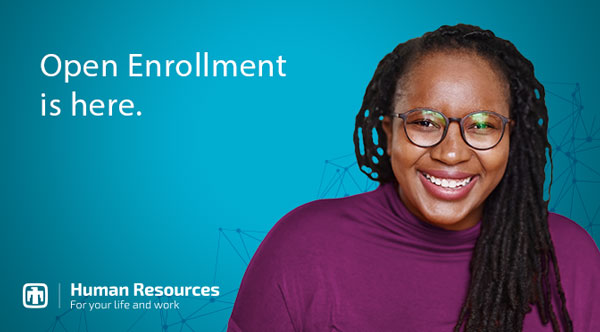 Open Enrollment dates
Active employees: Oct. 26-Nov. 13
Pre-Medicare retirees: Oct. 15-Nov. 13
Medicare retirees: Oct. 15-Dec. 7
Active employees
Optimize Sandia's benefits to fit your life during this year's Open Enrollment for active employees, beginning Monday, Oct. 26. Open Enrollment is your annual opportunity to review and update benefit elections, including medical, dental and vision coverage, flexible spending accounts, changes to covered dependents, vacation buy and more.
For active employees, 2021 Open Enrollment selections must be made by 5 p.m. MST (4 p.m. PST) on Friday, Nov. 13. To learn more, visit HR Solutions at hr.sandia.gov.
Open Enrollment is going virtual. Instead of in-person on-site benefits fairs, this year, you will find everything you need online in one place. Learn about:
How to tailor your benefits with Sandia Extras
Which benefits roll over, and how to take action
Expert advice from Sandia's plan administrators for medical, dental, vision and voluntary benefits
Plus, you'll have the opportunity to earn 500 Virgin Pulse points by watching the Open Enrollment video presentation, which covers topics such as choosing the right medical plan for you and maximizing your HRA funding. Visit HR Solutions to learn more about all your benefits and to enroll.
Saving for college
As part of the Sandia Extras voluntary benefits program, you can now make direct deposits from your paycheck into the tax-advantaged 529 Education Plan and save for your child's future. Enrolling is easy and takes less than 15 minutes. You can open a 529 Plan with just $1 and contribute as much or as little as you wish. Visit HR Solutions for details and benefits, including a video, FAQs and links to resources.
What's new for 2021
Effective Sept. 30, 2020, you can automatically convert new after-tax contributions to a Roth IRA in the NTESS 401(k) Plan.
Beginning Jan. 1, 2021:
Sandia Total Health plan medical premiums will increase between $1 and $4 per month, depending on coverage level and salary tier. Dental and vision premiums will not increase for 2021.
Enhanced provider networks will be offered under the Sandia Total Health Plan for both United Healthcare and Blue Cross Blue Shield of New Mexico. BCBSNM is expanding access to lower-cost Tier 1 providers in New Mexico by moving to the Blue Preferred Plus Network. UHC is adding a new, lower-cost Tier 1 network called Choice Plus Premium, available in all locations except California, due to current state regulations. California will be added when permitted.
Virtual visit copays will be $10 per visit (a decrease of $25 from 2020).
We've added a few more Sandia Extras to the voluntary benefits menu, including the 529 Education Plan, help renting or buying a home, and roadside assistance.
Visit HR Solutions to read the Open Enrollment newsletter and find more details about these benefits.
Voluntary benefits
Open Enrollment is your chance to select the voluntary benefits most important to you. Some benefits from the Sandia Extras platform, including guaranteed issue of short-term disability insurance, accident insurance, critical illness insurance and prepaid legal services, can only be elected during Open Enrollment.
During Open Enrollment 2021, proof of good health is not required for short-term disability insurance. Benefit payments are not made for conditions that occurred prior to the coverage effective date.
Additional voluntary benefits you can elect during Open Enrollment include:
Vacation buy
Employee-paid supplemental life insurance, increase or decrease of coverage (proof of good health may be required to increase coverage)
Long-term disability buy-up
401(k) automatic increase and rebalancing
Flexible Spending Accounts for dependent care, healthcare and transportation (CA-only)
Voluntary benefits are available year-round; however, Open Enrollment is a good time to review your overall benefits package and evaluate what the next year may have in store. Anytime benefits include:
New! 529 Education Plan
New! Home Buy It Program
New! Roadside assistance
Home and auto insurance
Pet insurance
Identity theft protection
Adoption assistance
Tuition assistance
For more information about these benefits, visit hr.sandia.gov and read the Open Enrollment newsletter.
Jumpstart on tax season
You may opt to receive an electronic 2020 1095-C form, which provides proof of health insurance coverage. Request an electronic form in HR Self-Service by Dec. 22. Consider signing up for an electronic W-2 as well, if you haven't already. This convenient option ensures the forms are available as soon as you need them.
You should receive your 1095-C form by Jan. 31, 2021, either electronically or through the mail. The form should be kept as supplemental documentation for your 2020 taxes.
Need help signing up for electronic forms in HR Self Service? Contact HR Solutions at hr.sandia.gov.
Retirees
Open Enrollment dates
Pre-Medicare retirees: Oct. 15-Nov. 13
Medicare retirees: Oct. 15-Dec. 7
Open Enrollment is going virtual. This year, instead of in-person benefits fairs, you can find everything you need online at SandiaRetireeBenefits.com. Watch the video presentation to learn what you need to know about choosing your 2021 benefits.
What is changing
The changes listed below are effective Jan. 1, 2021:
Pre-Medicare retirees:
Pre-Medicare premiums will increase.
The Pre-Medicare provider networks for United Healthcare and Blue Cross Blue Shield of New Mexico are changing. The BCBSNM Sandia Health Partner Network will change to the NM Blue Preferred Plus Network. UHC is adding a new benefit tier called the Choice Plus Premium Network.
The in-network virtual visit copay for BCBSNM and UHC will be $10 (a decrease of $25 from 2020).
Medicare retirees:
The allowance for Your Spending Arrangement will increase.
Premiums will change for Sandia-sponsored Group Medicare plans.
New! The UHC Sandia Group Medicare Advantage plan will be available to all Medicare-eligible retirees, spouses, dependents, surviving spouses and long-term disability terminees nationwide. The New Mexico residence restriction has been removed.
For Pre-2012 Medicare retirees, premiums will change for Sandia-sponsored Medicare plans.
Details about Sandia retiree plans and Via benefits can be found in the 2021 Benefit Choices and Open Enrollment Guides, available online at SandiaRetireeBenefits.com.
About HR Solutions
You may have noticed some changes around here. We are working as one Human Resources team to deliver meaningful solutions for your life and work. We also want you to feel that working with Human Resources is simple — where you can count on the right answer the first time.
We encourage you and your family to take advantage of all the programs and tools Sandia offers for your health, finances, career and life. Drop us a line if you need help. We're here when you need us: hr.sandia.gov.