Why Our Work Matters
All branches of science and engineering at Sandia require the capabilities created through these areas of research. As advances are made in future computing technologies, new mathematics and algorithms, and sophisticated applications, they are quickly leveraged in support of national security applications and other mission work.
Our Unique Value
Sandia develops and will continue to empower ground-breaking work in trusted artificial intelligence, computing co-design, and the empowerment of humans through computing. Leading experts enable world-leading computational capabilities, modeling, simulation, and data analysis capabilities through their work in device physics, computer architecture, computer science, informatics and more.
Recent Highlights
Computing, Information Science, and Mathematics Related Research Facilities
The CCR work includes computer system architecture (both hardware and software); enabling technology for modeling physical and engineering systems; and research in discrete mathematics, data analytics, cognitive modeling, and decision...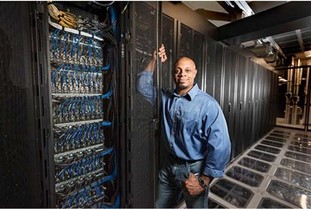 DETL is a multipurpose research facility designed to integrate emerging energy technologies into new and existing electricity infrastructure to accommodate the nation's increasing demands for clean, secure, and reliable energy.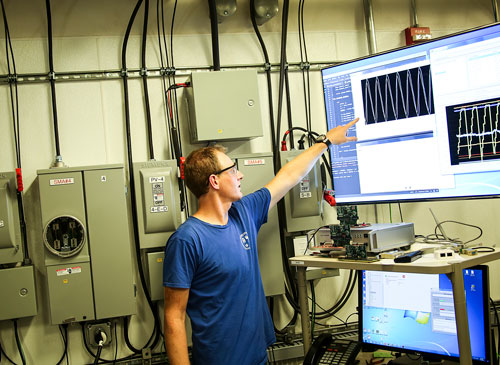 QSCOUT is a quantum computing testbed based on trapped ions that is available to the research community as an open platform for a range of quantum computing applications.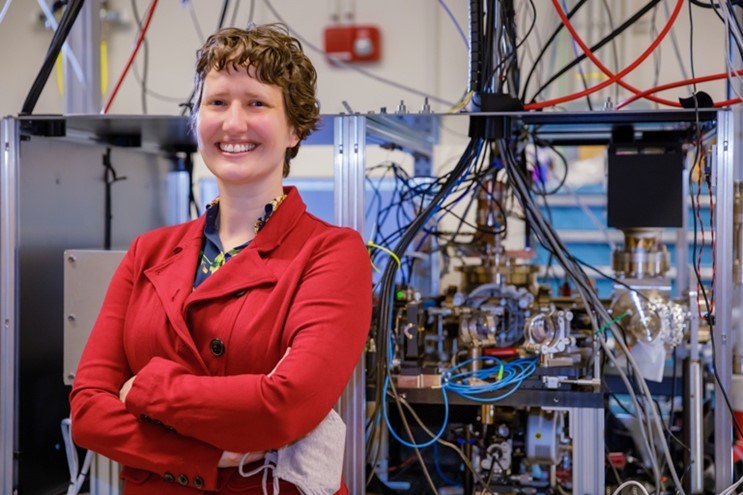 Related Intellectual Property
Featured Licensing Opportunities
Patents
Patents & Applications
| Patent Title | Patent Number | Grant Date |
| --- | --- | --- |
| EFFICIENT GENERALIZED BOUNDARY DETECTION | 11,563,446 | 01/24/2023 |
| EFFICIENT GENERALIZED BOUNDARY DETECTION | 11,563,446 | 01/24/2023 |
| ULTRA-HIGH RELIABILITY WIRELESS COMMUNICATION SYSTEMS AND METHODS | 11,540,198 | 12/27/2022 |
| ULTRA-HIGH RELIABILITY WIRELESS COMMUNICATION SYSTEMS AND METHODS | 11,540,198 | 12/27/2022 |
| SPIKING RETINA MICROSCOPE | 11,501,432 | 11/15/2022 |
| SPIKING RETINA MICROSCOPE | 11,501,432 | 11/15/2022 |
| ANOMALY DETECTION WITH SPIKING NEURAL NETWORKS | 11,436,475 | 09/06/2022 |
| ANOMALY DETECTION WITH SPIKING NEURAL NETWORKS | 11,436,475 | 09/06/2022 |
| DEVICES AND METHODS FOR INCREASING THE SPEED AND EFFICIENCY AT WHICH A COMPUTER IS CAPABLE OF MODELING A PLURALITY OF RANDOM WALKERS USING A DENSITY METHOD | 11,409,922 | 08/09/2022 |
| DEVICES AND METHODS FOR INCREASING THE SPEED AND EFFICIENCY AT WHICH A COMPUTER IS CAPABLE OF MODELING A PLURALITY OF RANDOM WALKERS USING A DENSITY METHOD | 11,409,922 | 08/09/2022 |
| UNCERTAINTY-REFINED IMAGE SEGMENTATION UNDER DOMAIN SHIFT | 11,379,991 | 07/05/2022 |
| UNCERTAINTY-REFINED IMAGE SEGMENTATION UNDER DOMAIN SHIFT | 11,379,991 | 07/05/2022 |
| SYSTEMS AND METHODS FOR QUANTUM OPTICAL DEVICE AUTHENTICATION | 11,343,088 | 05/24/2022 |
| ENHANCING OBFUSCATION OF DIGITAL CONTENT THROUGH USE OF LINEAR ERROR CORRECTION CODES | 11,341,217 | 05/24/2022 |
| ENHANCING OBFUSCATION OF DIGITAL CONTENT THROUGH USE OF LINEAR ERROR CORRECTION CODES | 11,341,217 | 05/24/2022 |
| SYSTEMS AND METHODS FOR QUANTUM OPTICAL DEVICE AUTHENTICATION | 11,343,088 | 05/24/2022 |
| THREAT EMULATION FRAMEWORK | 11,336,690 | 05/17/2022 |
| THREAT EMULATION FRAMEWORK | 11,336,690 | 05/17/2022 |
| FPGA-BASED COMPUTING SYSTEM FOR PROCESSING DATA IN SIZE, WEIGHT, AND POWER CONSTRAINED ENVIRONMENTS | 11,314,508 | 04/26/2022 |
| FPGA-BASED COMPUTING SYSTEM FOR PROCESSING DATA IN SIZE, WEIGHT, AND POWER CONSTRAINED ENVIRONMENTS | 11,314,508 | 04/26/2022 |
| Ballistic reversible superconducting memory element | 11,289,156 | 03/29/2022 |
| Ballistic reversible superconducting memory element | 11,289,156 | 03/29/2022 |
| Devices and methods for increasing the speed and efficiency at which a computer is capable of modeling a plurality of random walkers using a particle method | 11,281,964 | 03/22/2022 |
| Devices and methods for increasing the speed and efficiency at which a computer is capable of modeling a plurality of random walkers using a particle method | 11,281,964 | 03/22/2022 |
| Optimization computation with spiking neurons | Pending | 01/01/2022 |
| Optimization computation with spiking neurons | Pending | 01/01/2022 |
| SYSTEMS AND METHODS FOR ELECTRONIC COMMUNICATION WITH A DEVICE USING AN UNKNOWN COMMUNICATIONS PROTOCOL | 11,196,611 | 12/07/2021 |
| SYSTEMS AND METHODS FOR ELECTRONIC COMMUNICATION WITH A DEVICE USING AN UNKNOWN COMMUNICATIONS PROTOCOL | 11,196,611 | 12/07/2021 |
| Hardware Intrusion Detection System | 11,188,683 | 11/30/2021 |
| Hardware Intrusion Detection System | 11,188,683 | 11/30/2021 |
| Remote Quantum State Transfer for Qubits with Different Frequencies | 11,177,890 | 11/16/2021 |
| Remote Quantum State Transfer for Qubits with Different Frequencies | 11,177,890 | 11/16/2021 |
| Computational Optical Physical Unclonable Function | 11,151,263 | 10/19/2021 |
| TRAPPED ION PLATFORM WITH OPTICAL INPUT AND OUTPUT | 11,150,609 | 10/19/2021 |
| Computational Optical Physical Unclonable Function | 11,151,263 | 10/19/2021 |
| TRAPPED ION PLATFORM WITH OPTICAL INPUT AND OUTPUT | 11,150,609 | 10/19/2021 |
| SELF-ASSEMBLY ASSISTED ADDITIVE MANUFACTURING OF THERMOSETS | 11,149,108 | 10/19/2021 |
| Moving target defense for a serial communications system | 11,133,927 | 09/28/2021 |
| Moving target defense for a serial communications system | 11,133,927 | 09/28/2021 |
| Cloud forensics and incident response platform | 11,113,388 | 09/07/2021 |
| Cloud forensics and incident response platform | 11,113,388 | 09/07/2021 |
| Methods for Communicating Data Utilizing Sessionless Dynamic Encryption | 11,070,532 | 07/20/2021 |
| Methods for Communicating Data Utilizing Sessionless Dynamic Encryption | 11,070,532 | 07/20/2021 |
| Methods for Communicating Data Utilizing Sessionless Dynamic Encryption | 11,070,532 | 07/20/2021 |
| Microfabricated ion trap chip with in situ radio-frequency sensing | 11,056,332 | 07/06/2021 |
| Microfabricated ion trap chip with in situ radio-frequency sensing | 11,056,332 | 07/06/2021 |
| BOUNDARY DETECTION EVALUATION | 11,042,988 | 06/22/2021 |
| BOUNDARY DETECTION EVALUATION | 11,042,988 | 06/22/2021 |
| Malicious activity detection in a memory | 11,023,579 | 06/01/2021 |
| Malicious activity detection in a memory | 11,023,579 | 06/01/2021 |
| Methods and Computer Program Products for Locating and Characterizing Clutter in Large Spaces | 11,010,513 | 05/18/2021 |
| Methods and Computer Program Products for Locating and Characterizing Clutter in Large Spaces | 11,010,513 | 05/18/2021 |
| Dynamic, risk informed decision support systems and methods | 10,997,513 | 05/04/2021 |
| Dynamic, risk informed decision support systems and methods | 10,997,513 | 05/04/2021 |
| Microfabricated ion trap chip with an integrated microwave antenna | 10,984,976 | 04/20/2021 |
| Microfabricated ion trap chip with an integrated microwave antenna | 10,984,976 | 04/20/2021 |
| Neuromorphic computing architecture with dynamically accessible contexts | 10,970,630 | 04/06/2021 |
| Neuromorphic computing architecture with dynamically accessible contexts | 10,970,630 | 04/06/2021 |
| Two-terminal electronic charge resistance switching device | 10,950,790 | 03/16/2021 |
| Ultra-high reliability wireless communication systems and methods | 10,952,123 | 03/16/2021 |
| Ultra-high reliability wireless communication systems and methods | 10,952,123 | 03/16/2021 |
| Two-terminal electronic charge resistance switching device | 10,950,790 | 03/16/2021 |
| Central alarm station interface for situation awareness | 10,943,467 | 03/09/2021 |
| Computational processor-in-memory with enhanced strided memory access | 10,936,230 | 03/02/2021 |
| Computational processor-in-memory with enhanced strided memory access | 10,936,230 | 03/02/2021 |
| ELECTRONIC CIRCUIT FOR CONTROL OR COUPLING OF SINGLE CHARGES OR SPINS AND METHODS THEREFOR | 10,929,769 | 02/23/2021 |
| ELECTRONIC CIRCUIT FOR CONTROL OR COUPLING OF SINGLE CHARGES OR SPINS AND METHODS THEREFOR | 10,929,769 | 02/23/2021 |
| Adaptive neural network management system | 10,891,540 | 01/12/2021 |
| Adaptive neural network management system | 10,891,540 | 01/12/2021 |
| Proof-of-work for securing IoT and autonomous systems | 10,887,107 | 01/05/2021 |
| Proof-of-work for securing IoT and autonomous systems | 10,887,107 | 01/05/2021 |
| Proof-of-work for securing IoT and autonomous systems | 10,887,107 | 01/05/2021 |
| Device and method for constructing and displaying high quality images from imaging data by transforming a data structure utilizing machine learning techniques | 10,867,415 | 12/15/2020 |
| Device and method for constructing and displaying high quality images from imaging data by transforming a data structure utilizing machine learning techniques | 10,867,415 | 12/15/2020 |
| Method for enhancing a computer to estimate an uncertainty of an onset of a signal of interest in time-series noisy data | 10,859,721 | 12/08/2020 |
| Method for enhancing a computer to estimate an uncertainty of an onset of a signal of interest in time-series noisy data | 10,859,721 | 12/08/2020 |
| Systems, methods and computer program products for self-tuning sensor data processing | 10,837,811 | 11/17/2020 |
| Systems, methods and computer program products for self-tuning sensor data processing | 10,837,811 | 11/17/2020 |
| Systems and methods for monitoring traffic on industrial control and building automation system networks | 10,819,721 | 10/27/2020 |
| Systems and methods for monitoring traffic on industrial control and building automation system networks | 10,819,721 | 10/27/2020 |
| Mixed core processor unit | 10,776,684 | 09/15/2020 |
| Constructing a conforming voronoi mesh for an arbitrarily-shaped enclosed geometric domain | 10,776,540 | 09/15/2020 |
| Constructing a conforming Voronoi mesh for an arbitrarily-shaped enclosed geometric domain | 10,776,537 | 09/15/2020 |
| Mixed core processor unit | 10,776,684 | 09/15/2020 |
| Constructing a conforming voronoi mesh for an arbitrarily-shaped enclosed geometric domain | 10,776,540 | 09/15/2020 |
| Constructing a conforming Voronoi mesh for an arbitrarily-shaped enclosed geometric domain | 10,776,537 | 09/15/2020 |
| Computer processing through distance-based quality score method in geospatial-temporal semantic graphs | 10,769,158 | 09/08/2020 |
| Computer processing through distance-based quality score method in geospatial-temporal semantic graphs | 10,769,158 | 09/08/2020 |
| Retinal-inspired method and system for improved detection | 10,765,864 | 09/08/2020 |
| Non-intrusive data authentication systems and methods | 10,769,286 | 09/08/2020 |
| Non-intrusive data authentication systems and methods | 10,769,286 | 09/08/2020 |
| Retinal-inspired method and system for improved detection | 10,765,864 | 09/08/2020 |
| Randomization of dangling nodes in a digital circuit design to mitigate hardware trojans | 10,706,181 | 07/07/2020 |
| Randomization of dangling nodes in a digital circuit design to mitigate hardware trojans | 10,706,181 | 07/07/2020 |
| Dynamic signature generation from keystroke dynamics | 10,693,661 | 06/23/2020 |
| Dynamic signature generation from keystroke dynamics | 10,693,661 | 06/23/2020 |
| Memory access system | 10,649,663 | 05/12/2020 |
| Memory access system | 10,649,663 | 05/12/2020 |
| Authenticating a printed circuit board | 10,594,492 | 03/17/2020 |
| Authenticating a printed circuit board | 10,594,492 | 03/17/2020 |
| Global analysis peak fitting for chemical spectroscopy data | 10,551,247 | 02/04/2020 |
| Global analysis peak fitting for chemical spectroscopy data | 10,551,247 | 02/04/2020 |
| Ionic floating-gate memory device | 10,497,866 | 12/03/2019 |
| Circuit arrangement and technique for setting matrix values in three-terminal memory cells | 10,489,483 | 11/26/2019 |
| Circuit arrangement and technique for setting matrix values in three-terminal memory cells | 10,489,483 | 11/26/2019 |
| Spin-orbit qubit using quantum dots | 10,482,388 | 11/19/2019 |
| Spin-orbit qubit using quantum dots | 10,482,388 | 11/19/2019 |
| Constant depth, near constant depth, and subcubic size threshold circuits for linear algebraic calculations | 10,445,065 | 10/15/2019 |
| Hardware intrusion detection system | 10,445,530 | 10/15/2019 |
| Constant depth, near constant depth, and subcubic size threshold circuits for linear algebraic calculations | 10,445,065 | 10/15/2019 |
| Hardware intrusion detection system | 10,445,530 | 10/15/2019 |
| Identify management using ephemeral biometrics | 10,439,817 | 10/08/2019 |
| Identify management using ephemeral biometrics | 10,439,817 | 10/08/2019 |
| Tunable ionic electronic transistor | 10,429,343 | 10/01/2019 |
| Intrusion detection apparatus, system and methods | 10,410,002 | 09/10/2019 |
| CONTROL SYSTEM BACKPLANE MONITORING WITH FPGA | 10,409,274 | 09/10/2019 |
| Intrusion detection apparatus, system and methods | 10,410,002 | 09/10/2019 |
| CONTROL SYSTEM BACKPLANE MONITORING WITH FPGA | 10,409,274 | 09/10/2019 |
| Secure generation and inversion of tokens | 10,410,210 | 09/10/2019 |
| Computational optical physical unclonable function | 10,387,660 | 08/20/2019 |
| Computational optical physical unclonable function | 10,387,660 | 08/20/2019 |
| Backplane filtering and firewalls | 10,375,106 | 08/06/2019 |
| Backplane filtering and firewalls | 10,375,106 | 08/06/2019 |
| Secure fiber optic seals enabled by quantum optical communication concepts | 10,341,015 | 07/02/2019 |
| TRANCEIVERS AND RECEIVERS FOR DISCRETE-VARIABLE QUANTUM KEY DISTRIBUTION | 10,341,096 | 07/02/2019 |
| Secure fiber optic seals enabled by quantum optical communication concepts | 10,341,015 | 07/02/2019 |
| TRANCEIVERS AND RECEIVERS FOR DISCRETE-VARIABLE QUANTUM KEY DISTRIBUTION | 10,341,096 | 07/02/2019 |
| Information searching system | 10,331,732 | 06/25/2019 |
| Information searching system | 10,331,732 | 06/25/2019 |
| Temporal data system | 10,303,697 | 05/28/2019 |
| Generating an implicit voronoi mesh to decompose a domain of arbitrarily many dimensions | 10,304,243 | 05/28/2019 |
| Generating an implicit voronoi mesh to decompose a domain of arbitrarily many dimensions | 10,304,243 | 05/28/2019 |
| Temporal data system | 10,303,697 | 05/28/2019 |
| Hyperdimensional visualization tool | 10,297,054 | 05/21/2019 |
| Hyperdimensional visualization tool | 10,297,054 | 05/21/2019 |
| Integrated circuit physically unclonable function | 10,103,733 | 10/16/2018 |
| Integrated circuit physically unclonable function | 10,103,733 | 10/16/2018 |
| Ultra-low power processor-in-memory architecture | 10,083,080 | 09/25/2018 |
| Ultra-low power processor-in-memory architecture | 10,083,080 | 09/25/2018 |
| Method for instruction sequence execution analysis and visualization | 10,073,764 | 09/11/2018 |
| Systems and methods to maintain optimum stoichiometry for reactively sputtered films | 10,074,522 | 09/11/2018 |
| Method for instruction sequence execution analysis and visualization | 10,073,764 | 09/11/2018 |
| Systems and methods to maintain optimum stoichiometry for reactively sputtered films | 10,074,522 | 09/11/2018 |
| Compensating for parasitic voltage drops in circuit arrays | 10,043,855 | 08/07/2018 |
| Real-time software upgrade | 10,037,203 | 07/31/2018 |
| Real-time software upgrade | 10,037,203 | 07/31/2018 |
| Real-time software upgrade | 10,037,203 | 07/31/2018 |
| Network protection system using linkographs | 10,027,698 | 07/17/2018 |
| Network protection system using linkographs | 10,027,698 | 07/17/2018 |
| Electron spin-based information shuttling for a computer system | 10,002,328 | 06/19/2018 |
| Electron spin-based information shuttling for a computer system | 10,002,328 | 06/19/2018 |
| Dynamic defense and network randomization for computer systems | 9,985,984 | 05/29/2018 |
| Dynamic defense and network randomization for computer systems | 9,985,984 | 05/29/2018 |
| Device and methods for writing and erasing analog information in small memory units via voltage pulses | 9,947,379 | 04/17/2018 |
| Method and apparatus for quantum information processing using entangled neutral-atom qubits | 9,934,469 | 04/03/2018 |
| Method and apparatus for quantum information processing using entangled neutral-atom qubits | 9,934,469 | 04/03/2018 |
| Chip-scale phonon-based quantum device | 9,928,827 | 03/27/2018 |
| Chip-scale phonon-based quantum device | 9,928,827 | 03/27/2018 |
| Transceivers and receivers for quantum key distribution and methods pertaining thereto | 9,906,311 | 02/27/2018 |
| Transceivers and receivers for quantum key distribution and methods pertaining thereto | 9,906,311 | 02/27/2018 |
| Processor-in-memory-and-storage architecture | 9,858,144 | 01/02/2018 |
| Processor-in-memory-and-storage architecture | 9,858,144 | 01/02/2018 |
| Ion-barrier for memristors/ReRAM and methods thereof | 9,831,427 | 11/28/2017 |
| Ion-barrier for memristors/ReRAM and methods thereof | 9,831,427 | 11/28/2017 |
| System and methods of resource usage using an interoperable management framework | 9,805,172 | 10/31/2017 |
| System and methods of resource usage using an interoperable management framework | 9,805,172 | 10/31/2017 |
| Method and system for a network mapping service | 9,792,292 | 10/17/2017 |
| Method and system for a network mapping service | 9,792,292 | 10/17/2017 |
| Adiabatic/diabatic polarization beam splitter | 9,759,862 | 09/12/2017 |
| Adiabatic/diabatic polarization beam splitter | 9,759,862 | 09/12/2017 |
| Increasing security in inter-chip communication | 9,722,796 | 08/01/2017 |
| Method and apparatus for managing access to a memory | 9,720,851 | 08/01/2017 |
| Increasing security in inter-chip communication | 9,722,796 | 08/01/2017 |
| Method and apparatus for managing access to a memory | 9,720,851 | 08/01/2017 |
| Network testbed creation and validation | 9,628,339 | 04/18/2017 |
| Network testbed creation and validation | 9,628,339 | 04/18/2017 |
| Network testbed creation and validation | 9,628,339 | 04/18/2017 |
| Network testbed creation and validation | 9,600,386 | 03/21/2017 |
| Network testbed creation and validation | 9,600,386 | 03/21/2017 |
| Network testbed creation and validation | 9,600,386 | 03/21/2017 |
| Self-referenced continuous-variable quantum key distribution | 9,553,677 | 01/24/2017 |
| Self-referenced continuous-variable quantum key distribution | 9,553,677 | 01/24/2017 |
| Semiconductor adiabatic qubits | 9,530,873 | 12/27/2016 |
| Semiconductor adiabatic qubits | 9,530,873 | 12/27/2016 |
| Serial interpolation for secure membership testing and matching in a secret-split archive | 9,514,326 | 12/06/2016 |
| On-chip entangled photon source | 9,500,930 | 11/22/2016 |
| Cellular computational platform and neurally inspired elements thereof | 9,501,738 | 11/22/2016 |
| On-chip entangled photon source | 9,500,930 | 11/22/2016 |
| Apparatus, method and system to control accessibility of platform resources based on an integrity level | 9,479,513 | 10/25/2016 |
| Guided-wave photodiode using through-absorber quantum-well-intermixing and methods thereof | 9,477,040 | 10/25/2016 |
| Apparatus, method and system to control accessibility of platform resources based on an integrity level | 9,479,513 | 10/25/2016 |
| Guided-wave photodiode using through-absorber quantum-well-intermixing and methods thereof | 9,477,040 | 10/25/2016 |
| Multilevel resistive information storage and retrieval | 9,412,446 | 08/09/2016 |
| Multilevel resistive information storage and retrieval | 9,412,446 | 08/09/2016 |
| Sensor sentinel computing device | 9,405,283 | 08/02/2016 |
| Sensor sentinel computing device | 9,405,283 | 08/02/2016 |
| Methods for resistive switching of memristors | 9,336,870 | 05/10/2016 |
| Methods for resistive switching of memristors | 9,336,870 | 05/10/2016 |
| Graphics processing unit-assisted lossless decompression | 9,311,721 | 04/12/2016 |
| Graphics processing unit-assisted lossless decompression | 9,311,721 | 04/12/2016 |
| Malware detection and analysis | 9,294,486 | 03/22/2016 |
| Light-pulse atom interferometric device | 9,291,508 | 03/22/2016 |
| Light-pulse atom interferometric device | 9,291,508 | 03/22/2016 |
| NIC atomic operation unit with caching and bandwidth mitigation | 9,275,003 | 03/01/2016 |
| NIC atomic operation unit with caching and bandwidth mitigation | 9,275,003 | 03/01/2016 |
| Apparatus, system and method for providing cryptographic key information with physically unclonable function circuitry | 9,208,355 | 12/08/2015 |
| Apparatus, system and method for providing cryptographic key information with physically unclonable function circuitry | 9,208,355 | 12/08/2015 |
| Embedded instrumentation architecture | 9,148,481 | 09/29/2015 |
| Embedded instrumentation architecture | 9,148,481 | 09/29/2015 |
| High data rate atom interferometric device | 9,086,429 | 07/21/2015 |
| High data rate atom interferometric device | 9,086,429 | 07/21/2015 |
| PLC backplane analyzer for field forensics and intrusion detection | 9,032,522 | 05/12/2015 |
| PLC backplane analyzer for field forensics and intrusion detection | 9,032,522 | 05/12/2015 |
| Multicolor photonic crystal laser array | 9,020,005 | 04/28/2015 |
| Multicolor photonic crystal laser array | 9,020,005 | 04/28/2015 |
| Automatic computation of transfer functions | 9,009,640 | 04/14/2015 |
| Automatic computation of transfer functions | 9,009,640 | 04/14/2015 |
| High data-rate atom interferometers through high recapture efficiency | 8,941,053 | 01/27/2015 |
| High data-rate atom interferometers through high recapture efficiency | 8,941,053 | 01/27/2015 |
| Stateless and stateful implementations of faithful execution | 8,914,648 | 12/16/2014 |
| Stateless and stateful implementations of faithful execution | 8,914,648 | 12/16/2014 |
| Decoding and optimized implementation of SECDED codes over GF(q) | 8,892,985 | 11/18/2014 |
| Decoding and optimized implementation of SECDED codes over GF(q) | 8,892,985 | 11/18/2014 |
| Memristor using a transition metal nitride insulator | 8,872,246 | 10/28/2014 |
| Increasing security in inter-chip communication | 8,874,926 | 10/28/2014 |
| Memristor using a transition metal nitride insulator | 8,872,246 | 10/28/2014 |
| Increasing security in inter-chip communication | 8,874,926 | 10/28/2014 |
| Multi-factor authentication | 8,868,923 | 10/21/2014 |
| Multi-factor authentication | 8,868,923 | 10/21/2014 |
| Policy enabled information sharing system | 8,825,611 | 09/02/2014 |
| Policy enabled information sharing system | 8,825,611 | 09/02/2014 |
| Design, decoding and optimized implementation of SECDED codes over GF(q) | 8,756,484 | 06/17/2014 |
| Design, decoding and optimized implementation of SECDED codes over GF(q) | 8,756,484 | 06/17/2014 |
| Content-addressable memory based enforcement of configurable policies | 8,719,925 | 05/06/2014 |
| Content-addressable memory based enforcement of configurable policies | 8,719,925 | 05/06/2014 |
| Associative list processing unit | 8,688,903 | 04/01/2014 |
| Associative list processing unit | 8,688,903 | 04/01/2014 |
| Storyboard method of end-user programming with natural language confirmation | 8,589,821 | 11/19/2013 |
| Storyboard method of end-user programming with natural language confirmation | 8,589,821 | 11/19/2013 |
| Decoding and optimized implementation of SECDED codes over GF(q) | 8,566,684 | 10/22/2013 |
| Obfuscated authentication systems, devices, and methods | 8,566,579 | 10/22/2013 |
| Direct access inter-process shared memory | 8,566,536 | 10/22/2013 |
| Decoding and optimized implementation of SECDED codes over GF(q) | 8,566,684 | 10/22/2013 |
| Direct access inter-process shared memory | 8,566,536 | 10/22/2013 |
| Technique for fast and efficient hierarchical clustering | 8,554,771 | 10/08/2013 |
| Technique for fast and efficient hierarchical clustering | 8,554,771 | 10/08/2013 |
| Extensible packet processing architecture | 8,514,855 | 08/20/2013 |
| Extensible packet processing architecture | 8,514,855 | 08/20/2013 |
| Data processing with microcode designed with source coding | 8,438,549 | 05/07/2013 |
| Data processing with microcode designed with source coding | 8,438,549 | 05/07/2013 |
| Secure videoconferencing equipment switching system and method | 8,432,835 | 04/30/2013 |
| Technique for converting non-conforming hexahedral-to-hexahedral interfaces into conforming interfaces | 8,390,620 | 03/05/2013 |
| Technique for converting non-conforming hexahedral-to-hexahedral interfaces into conforming interfaces | 8,390,620 | 03/05/2013 |
| Associative list processing unit | 8,359,428 | 01/22/2013 |
| Associative list processing unit | 8,359,428 | 01/22/2013 |
| Quadrilateral finite element mesh coarsening | 8,289,322 | 10/16/2012 |
| Quadrilateral/hexahedral finite element mesh coarsening | 8,290,754 | 10/16/2012 |
| Quadrilateral finite element mesh coarsening | 8,289,322 | 10/16/2012 |
| Quadrilateral/hexahedral finite element mesh coarsening | 8,290,754 | 10/16/2012 |
| Technique for information retrieval using enhanced latent semantic analysis generating rank approximation matrix by factorizing the weighted morpheme-by-document matrix | 8,290,961 | 10/16/2012 |
| Technique for information retrieval using enhanced latent semantic analysis generating rank approximation matrix by factorizing the weighted morpheme-by-document matrix | 8,290,961 | 10/16/2012 |
| Hierarchical clustering using correlation metric and spatial continuity constraint | 8,280,887 | 10/02/2012 |
| Hierarchical clustering using correlation metric and spatial continuity constraint | 8,280,887 | 10/02/2012 |
| System and method for polytopic mesh refinement | 8,274,512 | 09/25/2012 |
| Computing environment logbook | 8,271,891 | 09/18/2012 |
| Communication systems, transceivers, and methods for generating data based on channel characteristics | 8,270,602 | 09/18/2012 |
| Computing environment logbook | 8,271,891 | 09/18/2012 |
| Method for factor analysis of GC/MS data | 8,266,197 | 09/11/2012 |
| Method for factor analysis of GC/MS data | 8,266,197 | 09/11/2012 |
| Method and system for rendering and interacting with an adaptable computing environment | 8,201,099 | 06/12/2012 |
| Method and system for rendering and interacting with an adaptable computing environment | 8,201,099 | 06/12/2012 |
| Reach and get capability in a computing environment | 8,196,101 | 06/05/2012 |
| Hexahedral finite element mesh coarsening using pillowing technique | 8,194,068 | 06/05/2012 |
| Reach and get capability in a computing environment | 8,196,101 | 06/05/2012 |
| Hexahedral finite element mesh coarsening using pillowing technique | 8,194,068 | 06/05/2012 |
| Message passing with parallel queue traversal | 8,170,041 | 05/01/2012 |
| Message passing with parallel queue traversal | 8,170,041 | 05/01/2012 |
| Computation of term dominance in text documents | 8,166,051 | 04/24/2012 |
| Computation of term dominance in text documents | 8,166,051 | 04/24/2012 |
| Deflate decompressor | 8,125,357 | 02/28/2012 |
| Deflate decompressor | 8,125,357 | 02/28/2012 |
| Self-assembling software generator | 8,046,742 | 10/25/2011 |
| Self-assembling software generator | 8,046,742 | 10/25/2011 |
| Information-based self-organization of sensor nodes of a sensor network | 8,022,987 | 09/20/2011 |
| Multiple network interface core apparatus and method | 7,929,439 | 04/19/2011 |
| Microfabricated linear Paul-Straubel ion trap | 7,928,375 | 04/19/2011 |
| Microfabricated linear Paul-Straubel ion trap | 7,928,375 | 04/19/2011 |
| Multiple network interface core apparatus and method | 7,929,439 | 04/19/2011 |
| Method and system for authentication of electronic communications | 7,917,757 | 03/29/2011 |
| Method and system for authentication of electronic communications | 7,917,757 | 03/29/2011 |
| System and method for statistically monitoring and analyzing sensed conditions | 7,877,234 | 01/25/2011 |
| System and method for statistically monitoring and analyzing sensed conditions | 7,865,336 | 01/04/2011 |
| Microfabricated ion frequency standard | 7,859,350 | 12/28/2010 |
| Microfabricated ion frequency standard | 7,859,350 | 12/28/2010 |
| Methods for spectral image analysis by exploiting spatial simplicity | 7,840,626 | 11/23/2010 |
| Methods for spectral image analysis by exploiting spatial simplicity | 7,840,626 | 11/23/2010 |
| Controlling motion using a human machine interface | 7,802,193 | 09/21/2010 |
| Isolating and moving single atoms using silicon nanocrystals | 7,790,051 | 09/07/2010 |
| Isolating and moving single atoms using silicon nanocrystals | 7,790,051 | 09/07/2010 |
| System and method for statistically monitoring and analyzing sensed conditions | 7,756,682 | 07/13/2010 |
| Computer network control plane tampering monitor | 7,733,788 | 06/08/2010 |
| Computer network control plane tampering monitor | 7,733,788 | 06/08/2010 |
| Computer network control plane tampering monitor | 7,733,788 | 06/08/2010 |
| Methods for spectral image analysis by exploiting spatial simplicity | 7,725,517 | 05/25/2010 |
| Methods for spectral image analysis by exploiting spatial simplicity | 7,725,517 | 05/25/2010 |
| Unconstrained paving and plastering method for generating finite element meshes | 7,671,858 | 03/02/2010 |
| Unconstrained paving and plastering method for generating finite element meshes | 7,671,858 | 03/02/2010 |
| Physical context management for a motor vehicle | 7,610,130 | 10/27/2009 |
| Human-machine interactions | 7,526,465 | 04/28/2009 |
| Flexible, secure agent development framework | 7,516,112 | 04/07/2009 |
| Flexible, secure agent development framework | 7,516,112 | 04/07/2009 |
| Application for managing model-based material properties for simulation-based engineering | 7,499,841 | 03/03/2009 |
| Method to analyze remotely sensed spectral data | 7,491,944 | 02/17/2009 |
| Method to analyze remotely sensed spectral data | 7,491,944 | 02/17/2009 |
| Secure videoconferencing equipment switching system and method | 7,477,614 | 01/13/2009 |
| Fast combinatorial algorithm for the solution of linearly constrained least squares problems | 7,451,173 | 11/11/2008 |
| Fast combinatorial algorithm for the solution of linearly constrained least squares problems | 7,451,173 | 11/11/2008 |
| Data port security lock | 7,390,201 | 06/24/2008 |
| Data port security lock | 7,390,201 | 06/24/2008 |
| Simulation of human decision making | 7,370,023 | 05/06/2008 |
| Reconfigureable network node | 7,355,986 | 04/08/2008 |
| Method of generating a surface mesh | 7,339,584 | 03/04/2008 |
| Method of generating a surface mesh | 7,339,584 | 03/04/2008 |
| Method for siting detectors within a facility | 7,308,374 | 12/11/2007 |
| Method for siting detectors within a facility | 7,308,374 | 12/11/2007 |
| Spectral compression algorithms for the analysis of very large multivariate images | 7,283,684 | 10/16/2007 |
| Spectral compression algorithms for the analysis of very large multivariate images | 7,283,684 | 10/16/2007 |
| Microfabricated ion trap array | 7,154,088 | 12/26/2006 |
| Microfabricated ion trap array | 7,154,088 | 12/26/2006 |
| Accommodating subject and instrument variations in spectroscopic determinations | 7,098,037 | 08/29/2006 |
| System and method for secure group transactions | 7,036,146 | 04/25/2006 |
| System and method for secure group transactions | 7,036,146 | 04/25/2006 |
| Augmented classical least squares multivariate spectral analysis | 6,922,645 | 07/26/2005 |
| Augmented classical least squares multivariate spectral analysis | 6,922,645 | 07/26/2005 |
| Neural mosaic logic unit | Pending | Pending |
| Systems and Methods for Blocking, Detecting, and Responding to Cyber Attacks on Distributed Energy Resources | Pending | Pending |
| Device and method for random walk simulation | Pending | Pending |
| Spiking retina microscope | Pending | Pending |
| Device and method for random walk simulation | Pending | Pending |
| Neural mosaic logic unit | Pending | Pending |
| Spiking retina microscope | Pending | Pending |
Show More
Current Computing, Information Science & Mathematics Openings