2000s
National security after 9/11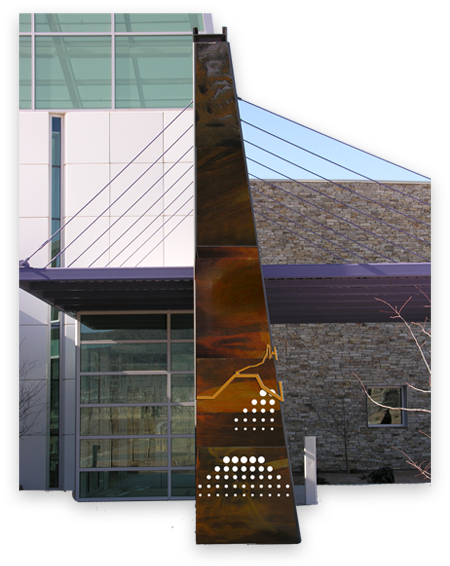 Entrance to the Center for Integrated Nanotechnology, Sandia New Mexico, 2006
2001
January 23, 2001
Sandia- and Pantex-developed Weigh and Leak-Check system moved nuclear material
Sandia's robotics programs have developed robots for a wide range of uses. In 2001, the Sandia- and Pantex-developed Weigh and Leak-Check System (WALS) moved its first radioactive nuclear material in a laboratory at Pantex. This was the first in a final series of qualification tests for WALS. WALS is the first robotic system to handle such material and significantly reduced radiation exposure risk at Pantex.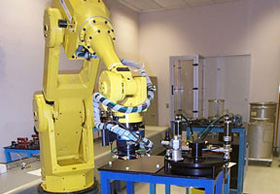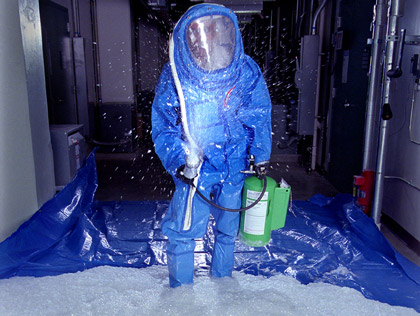 October 26, 2001
Sandia's decontamination foam neutralized Capitol Hill anthrax
Sandia announced that its decontamination foam was used to neutralize anthrax in buildings on Capitol Hill. More recently, the foam has been deployed in meth lab clean-up.
November 2001
Decontamination foam used to neutralize anthrax in buildings on Capitol Hill
Sandia chemical engineers Maher Tadros and Mark Tucker began work on a decontamination foam in 1997 with funding from the Department of Energy's Chemical and Biological Nonproliferation Program. The resulting liquid foam decontaminant was developed for rapid response to terrorist threats. Its formulation includes a collection of mild nontoxic and noncorrosive chemical found in common household products, like hair conditioner and toothpaste.
In July of 2000, a nonexclusive license was signed by Sandia officials and those from Modec, Inc., giving Modec access to the foam's formulation and rights to manufacture and sell products based on the Sandia formulation. The foam was also licensed to EnviroFoam Technologies of Huntsville, Alabama.
Within a few weeks of the 9/11 attacks there were a series of anthrax attacks resulting in contamination—on Capitol Hill, in mailrooms, and at various media headquarters. EnviroFoam put the decontamination foam into service. It was effective and was also used in cleaning up offices on Capitol Hill, New York, and in Florida.
Uses for the foam were extended over time. In the late fall of 2006, after a few years of retail development, Mold Control 500 began appearing in stores. Mold Control 500 is distributed by Scott's Liquid Gold, which arranged with Modec to sell the product in retail markets. It has also been tested and marketed by EFT Holdings and its subsidiary Intelagard as Crystal Clean, for use in methamphetamine lab cleanup.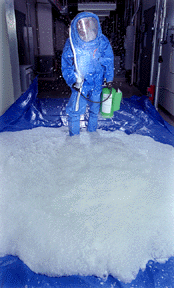 2002
January 1, 2002
Rapid Syndrome Validation Project, detector of disease outbreaks, deployed
Rapid Syndrome Validation Project (RSVP) is a joint Sandia and New Mexico Department of Health system that quickly detects disease outbreaks. It was deployed in southern New Mexico. Prototyped with great success in 2001, RSVP's medical surveillance software enabled doctors to discern bio attack and disease-outbreak patterns much earlier than otherwise possible. Shown in the image, Al Zelicoff demonstrates how easily information can be entered into web-based RSVP system for DOE Secretary Spencer Abraham and Homeland Security Director Tom Ridge.
2003
October 15, 2003
Researchers created ultra-high-temperature ceramics
Sandia announced that researchers in its Thermal Protection Materials Program created ultra-high-temperature ceramics (UHTCs) in Sandia's Advanced Materials Laboratory. The new lightweight material will withstand temperatures up to 2000°C and is of potential use on hypersonic vehicles, such as the space shuttle. Depicted in the image, Sandia researchers Dale Zschiesche & Ron Loehman check out material created at the Sandia/University of New Mexico Advanced Materials Laboratory that withstands twice the amount of heat compared to conventional shuttle tile.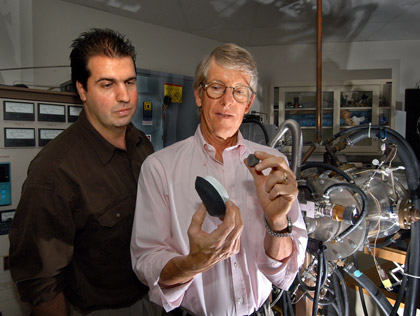 ---
2004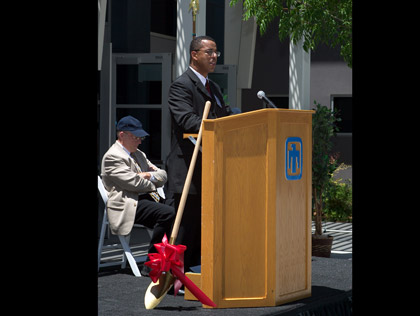 June 10, 2004
Distributed Information Systems Laboratory dedicated
Sandia/CA dedicated the Distributed Information Systems Laboratory (DISL), a facility for research, development, deployment, and use of new distributed and distance computing technologies to benefit the U.S. Department of Energy's Stockpile Stewardship Program.
July 9, 2004
Sandia Lab News announced completion of R&D of Sandia Gauntlets
The Sandia Lab News announced the successful completion of the research and development of the Sandia Gauntlets. The gauntlets were developed in direct response to U.S. military needs in Iraq. Reaching the shoulder, the Kevlar gauntlets had a carbon-composite forearm and upper arm protective inserts.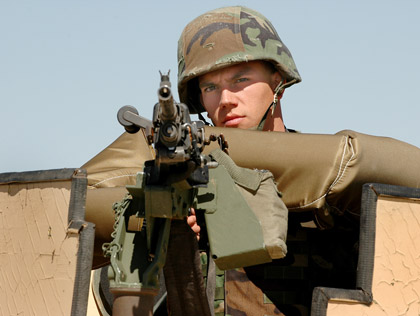 2005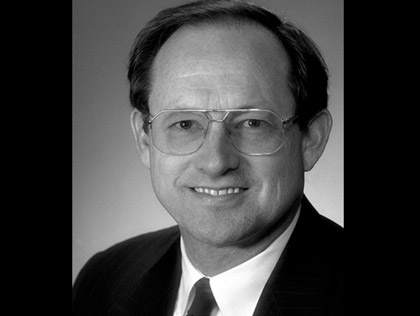 April 29, 2005
Thomas O. Hunter became Sandia Corporation President & Sandia Director
Tom Hunter joined Sandia in 1967 as a member of the technical staff and devoted his entire career to the Laboratories. Known for his detailed analysis and sharp focus on finding solutions, he addressed both operational improvements and major transitions in mission areas during his tenure. In response to Department of Energy concerns over management transparency, Dr. Hunter oversaw the introduction of the Integrated Laboratory Management System and addressed safety concerns. Under his leadership, the Laboratories shifted to a majority of funding from nonnuclear weapons work. And within the core mission, the Microsystems Engineering, Science and Applications (MESA) complex—Sandia's largest construction project—reached completion, providing nuclear weapons work with advanced, future-leaning research and production capabilities.
August 8, 2005
President George W. Bush visits Sandia and signs Energy Bill
Bringing attention to Sandia's alternative energy programs, President George W. Bush toured the solar facility, spoke to members of the workforce, and signed the Energy Policy Act of 2005 into law. The bill's provisions were intended make America less reliant on foreign energy sources, encourage more environmentally friendly energy use, promote nuclear, solar, and other alternative energy sources, boost the economy, and add to national security.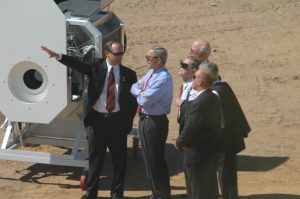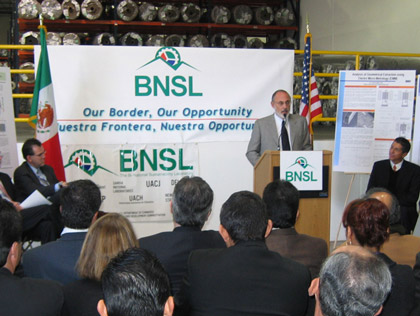 November 18, 2005
Opening ceremony for Bi-National Sustainability Laboratory
The ceremony occurred in Santa Teresa, New Mexico. Sponsored by the U.S., Mexico, and State of New Mexico, the Bi-National Sustainability Laboratory (BNSL) supports collaborative technical efforts between the two countries. The intent was for researchers to generate ideas for collaborative research, moving the border region from political issues into cooperative scientific endeavors.
2006
January 1, 2006
Nanostructures placed on International Space Station
Sandia/University of New Mexico experiments involving single-cell organisms in nanostructures were placed on the International Space Station. Researchers were investigating the manner in which living cells placed in nanostructures apparently direct the creation of nanocompartments.
August 24, 2006
Center for Integrated Nanotechnologies facility (CINT) dedicated
Designed as a national user facility and jointly coordinated by Sandia/Los Alamos, CINT is focused on scientific research into the design, performance, and integration of nanoscale materials. By 2007, researchers at CINT had witnessed the birth of carbon-linked nanostructures known as buckyballs, advancing the understanding of these strong structures and moving toward their practical use.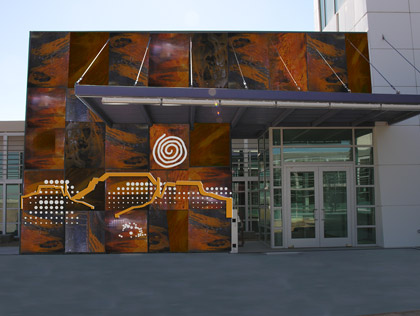 2007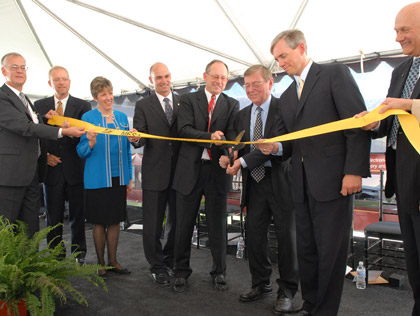 January 1, 2007
Microsystems Engineering, Science and Applications facilities dedicated
The largest single construction project in Sandia's history, Microsystems Engineering, Science and Applications (MESA) combined Sandia's expertise in weapon design, fast computing, and microsystems into an advanced research environment. In the photo shown cutting the ribbon at the dedication of the new MESA facilities are Bill Jenkins, construction manager; Mike Cieslak, director of Weapon Engineering Program; Sandia Deputy Director for Nuclear Weapons Joan Woodard; NNSA Administrator Thomas D'Agostino; Sandia President and Labs Director Tom Hunter; Sen. Pete Domenici, R-N.M.; DOE Deputy Secretary Clay Sell; and Executive VP and Deputy Labs Director John Stichman, 2007
2008
February 19, 2008
Z Machine rededicated
A rededication ceremony was held for the refurbished Z machine. Z's upgrade resulted in an increase in output current from 18 million amperes to 26 million amperes for a few billionths of a second. Part of Sandia's ongoing pulsed power research effort, the Z machine supports both the simulation of nuclear weapon effects and the pursuit of fusion for energy.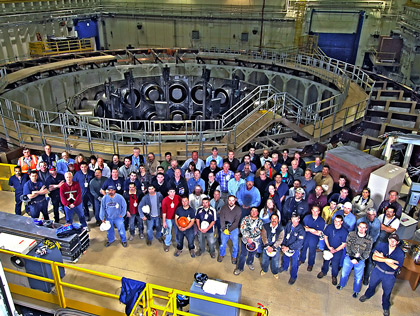 February 20, 2008
Sandia's Red Storm helped shoot down failing satellite
U.S. Navy shot down a failing satellite that posed a potential safety hazard as its orbit deteriorated and it was about to reenter the Earth's atmosphere. Sandia's Red Storm high-performance computer was used to help the Missile Defense Agency plan and carry out the successful interception. Hundreds of impact calculations used with advanced modeling and simulation tools determined the best way to ensure that the car-sized satellite—traveling at 17,000 miles per hour 153 miles above the Earth—was destroyed with a single missile shot.