NM businesses can accelerate the maturation of cutting-edge technologies from Sandia and LANL
The Technology Readiness Gross Receipts (TRGR) initiative provides New Mexico businesses the opportunity to work directly with scientists and engineers at Los Alamos or Sandia national laboratories to advance the maturation of patents, patent applications, and software related to an active license between the lab and business or developed under an active Cooperative Research and Development Agreement in which the business is a participant.
Work may include prototyping, proof-of-concept, and technical validation among other approved activities.
The assistance provided to the business must NOT be available in the private sector. All project work must be complete within 12 months from when the work begins.
Participating companies cannot have an active NMSBA project within the same calendar year.
Funding
New Mexico businesses may receive up to $150,000 worth of assistance (cost of labor/materials for national lab staff) per year. These projects must demonstrate a strong likelihood for successful maturation to a product or service in the commercial market.
Business Eligibility
Eligible businesses will be registered to do business in New Mexico and possess the following:
A bona-fide New Mexico place of business
A NM tax identification (CRS) number
A certificate of good standing from the NM Secretary of State's office
An active license or an active CRADA with
Sandia National Laboratories.
Project Selection Process
New Mexico businesses must submit a
Statement of Intent
The laboratories will complete an
Eligibility Interview
Eligible companies will complete a Full Written Proposal
and prepare a presentation
Invited companies will present to the TRGR Review Panel

Funding Decisions
TRGR Statement of Intent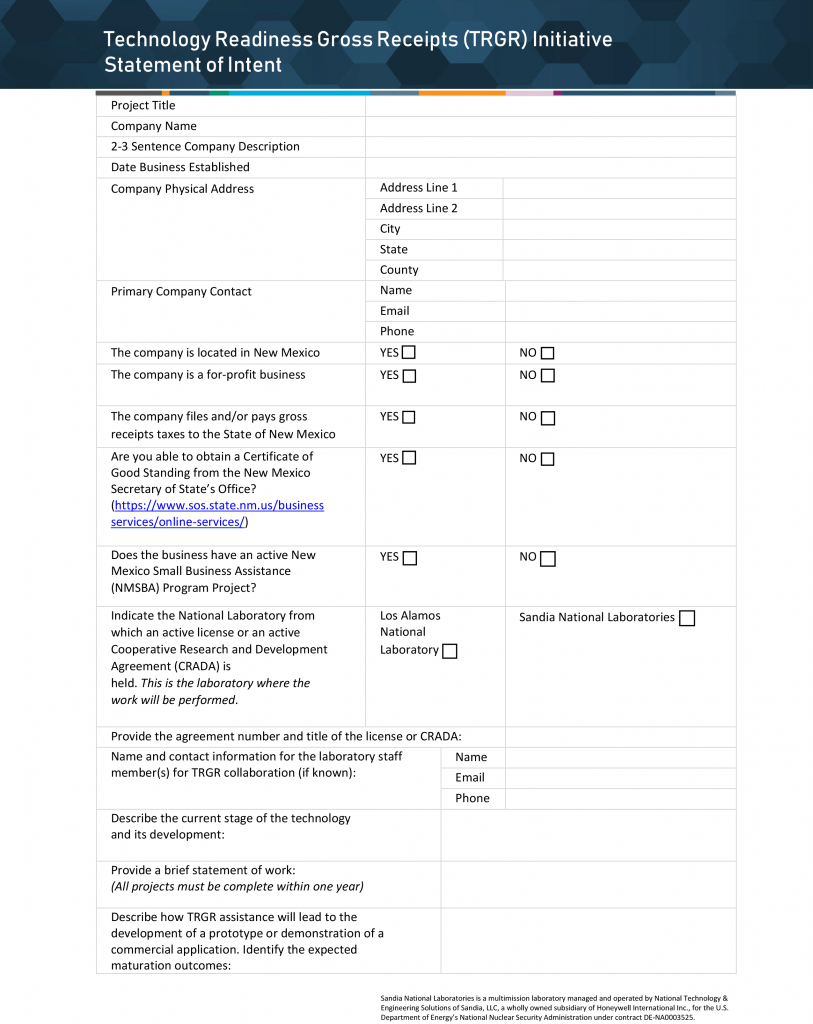 TRGR Selection Process
Submit a Statement of Intent
Participate in an Eligibility Interview
Complete a Full Written Proposal
Present to the TRGR Review Panel
Statement of intent should be submitted to:
Sharon Evans
Sandia National Laboratories
sfevans@sandia.gov | 505-845-9671
Julia Wise
Los Alamos National Laboratory
jlwise@lanl.gov | 505-665-5827