To ensure Sandia can continue to meet its national security mission by minimizing the spread of COVID-19 across the organization, Sandia has implemented COVID-19 Safe and Secure Work Practices (see below) that must be reviewed by each subcontractor employee prior to accessing a Sandia facility. As a reminder, Sandia's subcontractors and their employees are not to enter any Sandia facilities if they are ill or exhibiting any COVID-19 symptoms.
COVID-19 Community Risk Levels
The Centers for Disease Control and Prevention has implemented COVID-19 Community Levels, which affect masking guidance at Sandia's sites for all members of the workforce, subcontractors and visitors.
The current COVID-19 Community Level for your Sandia site is provided in the graphic below, along with the associated masking requirements.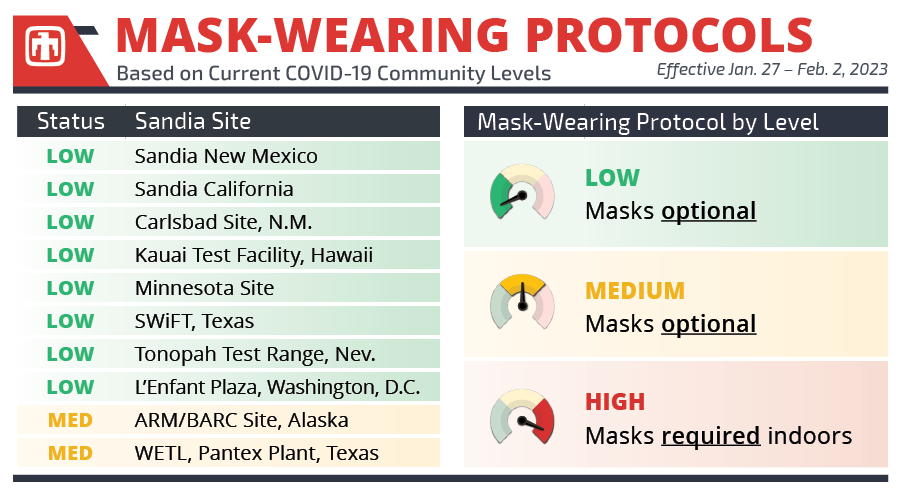 Working On-site
When the COVID-19 Community Level is high in the county where a Sandia facility is located, masks must be worn in all public and work areas within a building (e.g., garages, hallways, snack bars, cafeterias, elevators and restrooms), in all-face-to-face meetings, and at security checkpoints. Security officers may direct individuals to lower or temporarily remove their masks to verify identity. Additionally, masking is required inside government-owned vehicles when other personnel are in the vehicle. Unvaccinated staff must wear a mask in crowded outdoor settings or during outdoor activities that involve sustained close contact with other people who are not fully vaccinated. Fully vaccinated staff do not need to wear masks outdoors.
Unvaccinated subcontractors and visitors are no longer required to complete a certificate of vaccination or participate in a serial testing program before coming on-site.
Unvaccinated subcontractors and visitors are no longer required to complete daily health screenings via the Health Check app before coming on-site.
Testing
If you have COVID-19 symptoms or an exposure to a confirmed or suspected COVID-19 case, you should call Sandia Medical at (505) 284-4700. They will help arrange an off-site test with TriCore Resources Labs in New Mexico and Quest Diagnostics in California.
Positive Test Reporting Requirement
Subcontractors must notify Sandia Medical and their Subcontracting Professional if they have an employee who tests positive for COVID-19 and has visited any Sandia facility in the previous 14 days:
Call Sandia Medical at (505) 284-4700. The receptionist will route your notification to a provider who will take the report over the phone.
Notify the Sandia Subcontracting Professional for your subcontract.
Request a Vaccine
Members of the Workforce are encouraged to obtain a vaccine through any community distribution point they can. Use VaccineFinder to find the appropriate vaccine type, appointment time and location.