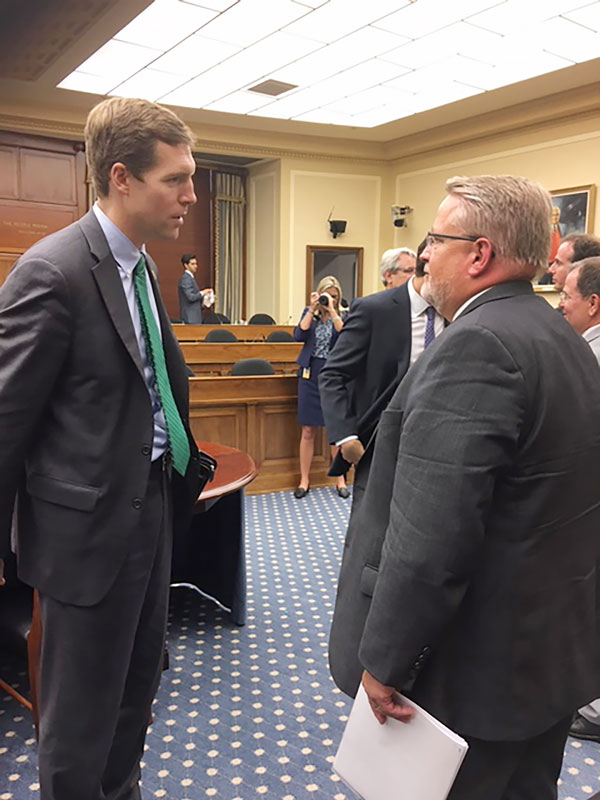 Sandia geoscience research and application senior manager Erik Webb provided testimony before the U.S. House of Representatives Committee on Science, Space, and Technology in Washington, D.C., on June 19. Erik's testimony focused on the importance of fossil energy research.
"The research done in fossil energy subsurface and surface infrastructure systems has been essential to our nation's move toward energy security, sustainability and stabilizing carbon emissions," Erik said in his opening remarks. "Sandia National Laboratories is proud of our heritage and the investments we have made to sustain our nation's subsurface energy science capabilities.
"We are energized by the challenge and complexity this field of science affords. It is essential our nation fully utilizes the capabilities and investments embodied in the national laboratories to meet these challenges," he said.
Erik focused his testimony on four key points. First, subsurface science is extremely complex and requires the integration of both basic and applied research. Second, science that helps understand and control the subsurface is applicable across multiple national needs. Third, the complexity of Earth systems motivates and facilitates advances in cutting-edge research. Finally, the nation benefits from the use of all of our national laboratories' technical capabilities.
This research, sponsored by DOE and in partnership with commercial industry and academia, establishes the foundation for the U.S. to remain energy independent, Erik said. "It facilitates both our current use and expanded environmental management of fossil resources, and integrates national security, renewable portfolio and basic science foundation."
Erik and his Sandia team address national security challenges at the complex intersection of Earth and engineered environments. Their work improves the fundamental understanding of the Earth's subsurface coupled with advanced engineering to address national security, oil and gas, geothermal energy, waste disposal, environmental cleanup and other national issues.