In June, Sandia hosted welcome receptions in Albuquerque and Livermore for the Labs' summer and year-round interns.
Up, Up and Away
New Mexico hosted its annual intern welcome event at Hardin Field June 13. This year's theme was "Up, Up and Away." The event featured volleyball, beanbag toss, a photo booth, music and food trucks lining the field.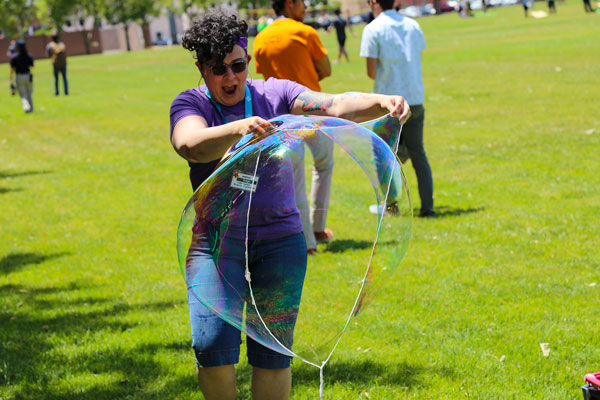 This year Sandia's Albuquerque campus has 1,176 year-round and 352 summer interns. The students represent 148 schools.
According to event organizer Alix Acevedo, nearly 800 students attended the reception, where they learned about Sandia's employee resource groups and networking opportunities. Representatives from OPSEC and the Zero Waste program talked to students about information protection and Sandia's goal to achieve zero waste by 2025.
Outside organizations also attended to educate the students about New Mexico culture and activities. Representatives from El Rancho de las Golondrinas, Explora, Quelab, Meals on Wheels of Albuquerque, Animal Humane New Mexico, Albuquerque Tourism and Sightseeing Factory and others greeted and chatted with the students.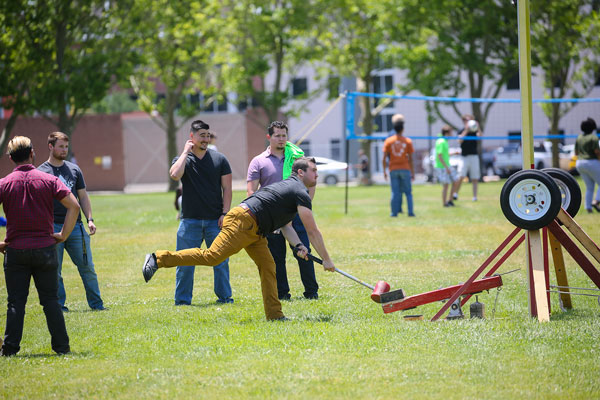 Orbit, the Albuquerque Isotopes' mascot, and Lobo Lucy, the University of New Mexico's mascot, also made an appearance.
"Our event's goal is to get interns excited about Sandia and the Land of Enchantment," Alix said. "This is a chance for students to interact with local businesses, Sandia employee resource groups, local food trucks and most importantly, each other."
Planning the event is a six-month process that brings together the Talent Acquisition Center, ES&H, the Emergency Response Team, Safety Engineering and Facilities. "It was a great team effort, and the payoff was well worth it to see our awesome students having fun," Alix said.
Fun in the California sun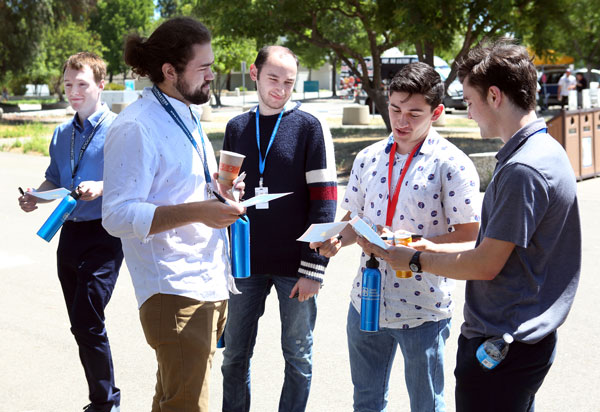 About 75 interns attended Sandia/California's welcome event, "Sandia Superheroes," June 25.
"The reception included a diversity discussion focused on comfort zones and stepping out of them," said California Student Programs lead Jessica Matto. Students also learned about the diversity groups and intern events available on campus, participated in a bingo ice-breaker, enjoyed a light breakfast and received a welcome from weapon systems engineering director Mike Hardwick.
This year Sandia's Livermore campus is hosting 70 summer interns and 47 year-round interns, representing about 50 schools.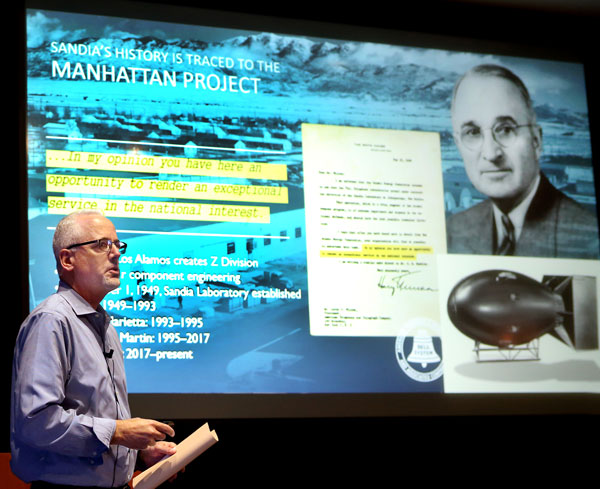 "We want our interns to feel welcomed and appreciated. We want them to know what Sandia is all about and how their work is intertwining with the values and progress Sandia has towards tackling the nation's greatest challenges," said event coordinator Rachel Velasquez. "We want them to know the type of working environment they are residing in and how this will impact their futures."
Events for interns are held throughout the summer. Sandia also administers two closed Facebook groups for interns: Sandia Labs Students NM and Sandia Labs Students CA. Interns who want to connect with others are encouraged to join.