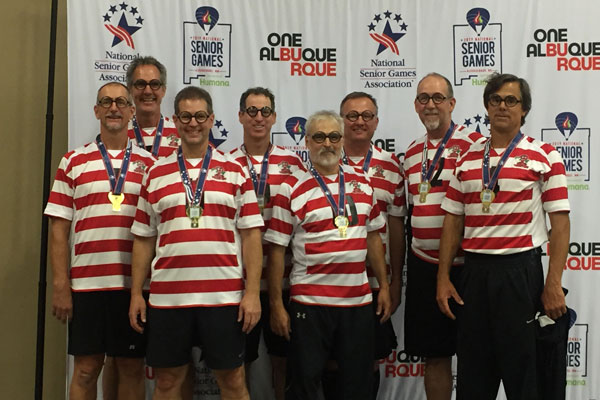 Sandians from all over the Labs participated in this year's National Senior Games in Albuquerque in June. With participants ranging from 50 to 103 years old, this year's games offered Sandians and their families a chance to test their athletic abilities against some of the best senior athletes in the country.
With the vision "to promote healthy lifestyles for adults through education, fitness and sport," the National Senior Games are held every two years. To participate in the National Senior Games, athletes must first qualify in their state's senior games.
"It's a lot of fun to participate but also challenging, as you are competing against people from across the country who were top players in their states' games," said safety basis engineer Mark Wong, who competed in volleyball. Mark has competed in the games six times.
National Senior Games participants can compete in 20 sports, ranging from swimming to track and field to volleyball. Each sport is separated by age brackets of five-year intervals. More than 13,700 athletes competed in the Albuquerque games.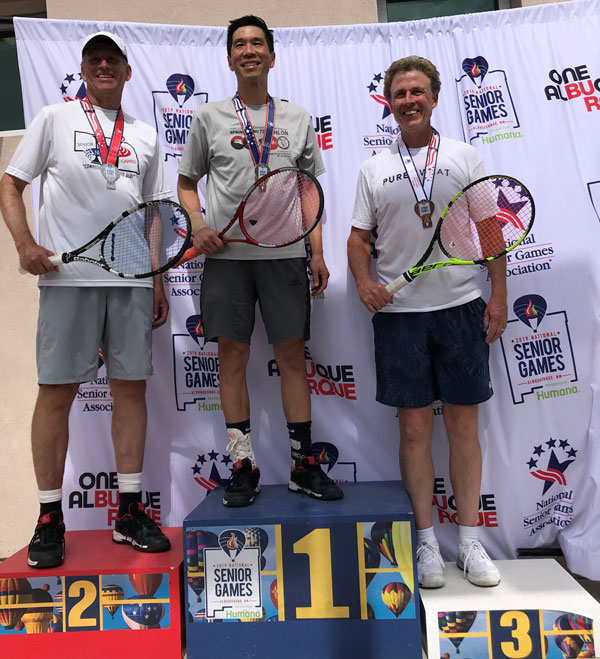 Mechanical engineer Tommy Goolsby and his wife were first-time competitors at the national games, in tennis and table tennis, respectively. Tommy played six singles matches at the Jerry Cline Tennis Center.
This year was the fourth time for fire protection engineer Laura Draelos, who competed in race walking and won a gold medal in both the 1,500 meter and five kilometer races.
"I've won gold in these events before, but this year there was more pressure since I was participating in my hometown," Laura said.
Many Sandians were excited that the games were being held in New Mexico and wanted to represent their state. This year, New Mexico competitors won 681 medals, more than any other state.
However, not all Sandians were representing New Mexico. Kauai Test Facility site manager Mark Howard and his wife competed in pickleball for the state of Hawaii. Pickleball is a paddle sport that combines elements of tennis, table tennis and badminton.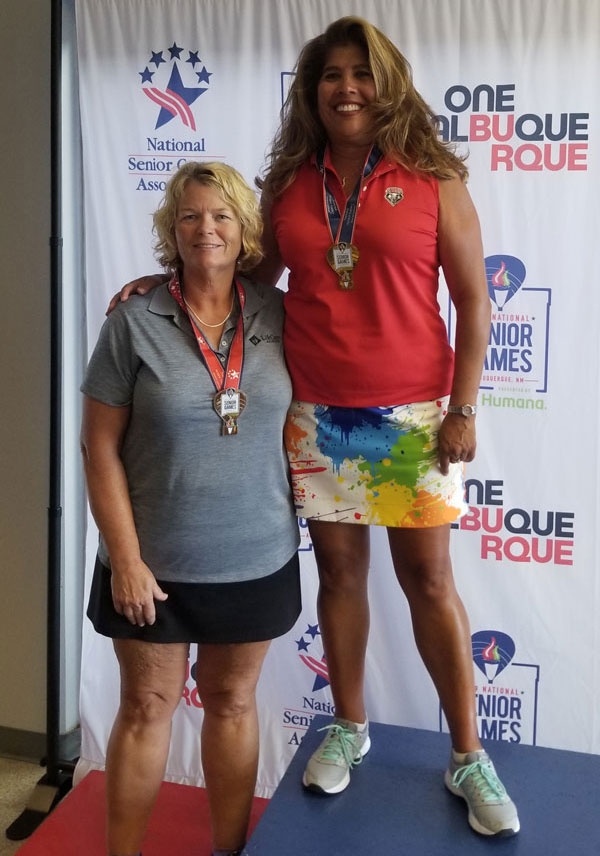 "We didn't learn to play pickleball until we moved to Hawaii in 2016," Mark said. "Hawaii is a mecca for older people who play sports, and pickleball is very popular."
Participants could play in up to two sports. Some Sandians took this opportunity to try out a new sport. Integration engineer Tammy Pluym participated in both the triathlon and the hammer throw in track and field, even though she wasn't familiar with the hammer throw before the state games. Mechanical engineer Cliff Ho tried badminton in addition to tennis. Although he won gold in tennis, he struggled to get points in badminton.
"I never played badminton competitively before," Cliff said. "But even though I was a novice, the other players were supportive and gave me many suggestions on how to improve my game."
Sandia competitors enjoyed meeting people from across the country and participating in a highly supportive environment.
"The atmosphere was incredibly positive," Tommy said. "Even though these were fiercely competitive matches, everyone cheered each other on."
Sandians also contributed to the games by volunteering. Technical writer Lori Goldstein was one of 42 Sandians and family members who volunteered for the track and field event.
"The National Senior Games really spoke to me, so I volunteered as a lap counter at the track and field event," Lori said.
This year's event had the highest participation rate since the games began three decades ago. "The National Senior Games are important because they motivate seniors to remain active, exercise and compete," said manager Bob Paulsen.
"I think these games are inspirational because they show that life doesn't end when you turn 50," Tammy said. "In many ways, it's just beginning."