Current Openings
Albuquerque, NM

0
No jobs currently listed for this location.
Livermore, CA

0
No jobs currently listed for this location.
Other Sites

0
No jobs currently listed for this location.
View All Sandia Openings
Interns making real impact
Overview
The Design Engineering and Assurance Mission Center has a technical focus in engineering design, component/subsystem development, and product testing. Interns partner with our product realization teams to solve design challenges in areas such as satellite development or other space-flight payloads.
This Mission Center hosts projects in digital/analog design, data acquisition and processing, mechanical design and product development, as well as electrical hardware/software integration. You might be asked to test for high-consequence military programs or to characterize electronics power consumption for a myriad of operational configurations. This Mission Center seeks interns across multiple STEM disciplines including: mechanical engineering, material science, electrical engineering, computer engineering, computer science, data science, systems engineering, and aerospace engineering.
Design Engineering and Assurance interns are part of a Sandia program, MissionTech, which offers students valuable cross-exposure to projects in ND Mission Technologies mission centers.
What You Gain
Experience in component/subsystem product development
Development techniques for building data analysis algorithms
Data acquisition, processing, and exploitation knowledge
A professional network of fellow interns from around the nation through fun events and activities

All Sandia internships are made possible by a stipend and serve as a direct pipeline to full-time employment at the Labs. Sandia Internships also offer a variety of benefits, from flexible work schedules to health and wellness, to co-op opportunities. Interns work as integrated members of their teams alongside experienced mentors to produce project deliverables, and past interns have published research papers alongside their Sandia teams.
Project Types
Development of satellite and other space-flight payloads
Testing for high consequence military programs
Writing test vectors to exercise ASIC functionality
Tester interface development in LabVIEW

Program Details
Location
New Mexico, California, Limited Remote Opportunities
When Offered
Summer
Level
Undergrad
Graduate
Discipline
Electrical Engineering
Mechanical Engineering
Computer Science
Computer Engineering
and more
Desired Skills
Demonstrated ability to collaborate and learn new skills
Experience with LabVIEW, SOLIDWORKS, C++, and/or Python
Experience with FPGAs, embedded systems, and/or circuit design
Application procedure
Use Sandia's Careers tool to create a username and password.
Enter "MissionTech" into the Keywords text field, and click Search.
Browse the list of MissionTech intern openings.
Complete an online application for a specific intern opening
Detailed instructions for using Sandia's Career tool to apply for a position are also available.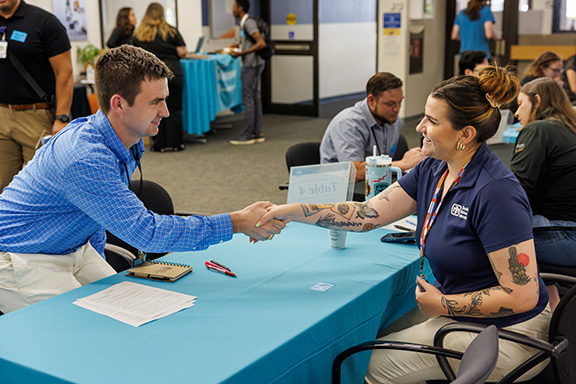 All qualified applicants will receive consideration for employment without regard to race, color, religion, sex, sexual orientation, gender identity, national origin, age, disability, or veteran status and any other protected class under state or federal law.
Sandia invites you to review the Equal Employment Opportunity posters which include EEO is the Law, EEO is the Law Poster Supplement, and Pay Transparency Nondiscrimination Provision.