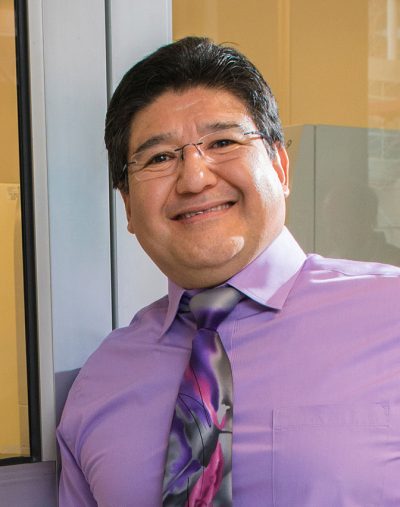 We are now accepting applications for the 2023 Gil Herrera Fellowship in Quantum Information Science. This is a prestigious postdoctoral research and academic fellowship with funding from Sandia's Laboratory Directed Research and Development program. Selected fellows will also be able to take part in our strong academic partnerships between Sandia and our partner universities, which include the University of New Mexico (UNM), UC Berkeley, UCLA, University of Illinois, Purdue, GA Tech, UT Austin, and many others.
Gil Herrera retired as a Laboratory Fellow from Sandia National Laboratories, following a distinguished 40-year career. In its 70-year history, there have been only 15 fellows at Sandia. During his time at Sandia, Gil Herrera served as the Director of Microsystems Science and Technology from 2006-2015, which included directing Sandia's MESA Complex, a silicon and compound semiconductor fabrication facility that also includes over 120 individual research laboratories. After serving as director of the Laboratory of Physical Sciences (2015-2018), in 2020 Gil Herrera was appointed to the U.S. National Quantum Initiative Advisory Committee, which advises the nation's highest offices on matters concerning quantum information science.  Most recently, in 2021, Gil was appointed as the Director of Research at the National Security Agency (NSA). He is a Fellow of the American Association of the Advancement of Science (AAAS) and a Senior Member of the Institute of Electrical and Electronics Engineers (IEEE).
Mr. Herrera's deep roots to New Mexico and connection to our local communities and schools makes him the ideal symbol for the relationship we want to create between Sandia and our partner academic institutions. The Herrera Fellowship explicitly encourages our fellows to follow in Gil's tradition of reaching across cultural and institutional barriers and be actively engaged in strengthening our relationships with our educational institutions.
We seek researchers with a background and interest in the broadly defined interdisciplinary area domain of Quantum Information Science (QIS) and related scientific fields, such as physics, mathematics, computer science, and engineering. We are particularly interested in applicants who can conduct self-directed theoretical and/or experimental research and serve as mentors to students in subject areas such as: algorithms and applications; design, fabrication, benchmarking, characterization, and optimization of quantum devices, novel qubit calibration and control schemes, quantum device and noise modeling, experimental design and discovery, and error mitigation techniques for multi-qubit quantum platforms.
As a Herrera postdoctoral fellow, you will have opportunities to:
Address complex problems in support of broad-ranging national security areas
Collaborate with highly motivated researchers and faculty in partner universities on challenging research questions using state-of-the-art computational resources
Collaborate with Sandia physicists developing multi-qubit systems on a variety of physical platforms (trapped ions, solid-state, superconducting, photonic)
Present your work at leading publication and conference venues
Share your knowledge with students at our partner institutions, reaching across cultural and institutional barriers
As a Herrera QIS fellow, you will pursue a combination of both self-directed research in your topic area and integration with existing Sandia R&D projects, under the guidance of Sandia staff mentors. A proposal for your research plan will be requested as part of the interview process, and you will be expected to publish the results of your work in leading journals and present your work at top-tier conferences. While hybrid work-modes are possible (such as different work-from-home arrangements) it is strongly desired that the selected fellow relocates to be within reasonable commuting distance from one of the two main Sandia campus locations in Albuquerque (New Mexico) or Livermore (California), prioritizing the home location of their Sandia staff mentor.
The selected Fellow will receive a two-year appointment with the potential option for a third year, which includes a highly competitive salary, moving expenses, and a generous professional travel allowance. All interviews will be conducted virtually with an option for selected fellows to visit their physical campus as part of the interview process prior to accepting an offer.
Sandia National Laboratories is dedicated to nurturing a culture compatible with a broad group of people and perspectives. Consistent with this dedication, we seek applicants from diverse backgrounds, and we foster an inclusive research community.
Qualifications we require:
You have completed, or are pursuing, a Ph.D. in Physics, Computer Science, Electrical Engineering, Mathematics, Chemistry, or a related science or engineering field
A background that includes research experience as evidenced by a strong record of research publications and presentations
A compelling research proposal for self-directed research to be conducted as a Gil Herrera fellow in the broadly defined interdisciplinary QIS area domain
Built into the proposal, plans to mentor early graduate students, or engage with other educational outreach activities through Sandia's academic alliance with partnering universities
Ability to acquire and maintain a DOE security clearance which requires US Citizenship
Qualifications we desire:
Ability to work in collaborative, interdisciplinary research environments alongside specialists in other domains
Related professional experience such as internships in industry or at other national labs, participation in visiting research programs, etc.
Proven research community leadership through activities such as participation in student or professional organizations, outreach activities, etc.
Excellent written, verbal, and interpersonal skills
Software development experience in C++, C, Matlab, R, Python, Julia, or related languages
A commitment to encouraging an inclusive culture, as proven through your application materials
Application process
To apply, please do the following:
Search "Herrera Fellowship" or "Job ID 687734" on Sandia's Careers portal and complete the online application
Submit a single PDF file containing your cover letter, CV, and a 2-5 page research proposal
Have three letters of recommendation submitted to herrerafellow@sandia.gov with "2023 Herrera QIS Fellowship" as the subject line.
Complete applications received through close of business (COB) March 31, 2023 will receive full consideration.
All qualified applicants will receive consideration for employment without regard to race, color, religion, sex, sexual orientation, gender identity, national origin, age, disability, or veteran status and any other protected class under state or federal law.
Sandia invites you to review the Equal Employment Opportunity posters which include EEO is the Law, EEO is the Law Poster Supplement, and Pay Transparency Nondiscrimination Provision.