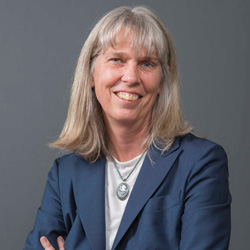 The Laboratory Director Jill Hruby Postdoctoral Fellowship in National Security Science and Engineering is one of Sandia National Laboratories' most prestigious postdoctoral fellowships. This fellowship aims to develop women in engineering and science fields who are interested in technical leadership careers in national security.
Jill Hruby is the first woman to have been appointed director of a large, multidisciplinary national security laboratory and has been a driving force for other women at Sandia and across the country to follow careers in technical leadership. Jill was also selected to be the Department of Energy's Under Secretary for Nuclear Security under the Biden Administration.
Jill Hruby Fellows will conduct independent research that supports Sandia's purpose: developing advanced technologies to ensure global peace. Fellows will propose their own research topic and benefit by having access to Sandia's state- of-the-art facilities and collaborating with some of the nation's best scientists and engineers.
A member of Sandia's technical staff with experience/interest in the area of research proposed by the Fellow will be assigned to mentor the Fellow. This emphasis on research mentoring enables Fellows to become integral members of Sandia R&D teams while acquiring unique skills during their early career development.
In addition to research, Hruby Fellows will participate in a unique leadership development program that will prepare them for career advancement as recognized leaders in their field or institution. Fellows will:
Participate as a member on internal research proposal selection committee
Engage with government relations to understand how Sandia supports national decision making
Participate in a leadership development program, including coaching and peer mentoring
Opportunities for mentorship from senior technical leadership at the laboratory
To be considered for this fellowship, applicants must display excellent abilities in scientific and/or engineering research and show clear promise of becoming an extraordinary leader. Fellows may work at either of Sandia's principal locations in New Mexico or California. All qualified applicants will be considered for this fellowship.
Selection will be based on a comprehensive application and interview process. Special attention will be given to recruiting and attracting outstanding women with demonstrated academic achievement and leadership capabilities.
Benefits
Sandia's competitive wage and benefits package includes an annual salary of $116,800 (128,500 CA) ; flexible work arrangements; 11 paid holidays; three weeks of vacation; health, vision, and dental insurance; and a 401(k) savings plan with company match.
The fellowship includes full salary and benefits for three years plus a yearly allowance of $100K which can be used for research equipment, additional personnel, and travel.
Application process
The Hruby Fellowship is a three-year appointment. The application deadline for the current cycle is September 12, 2023, and the appointment normally commences on Oct. 1, although exceptions may be made to accommodate special circumstances.
To apply for the Hruby Fellowship:
Download and read the Hruby Leadership Application Guidelines and prepare the required documentation, as described in the guidelines.
Search "Hruby Fellowship" on Sandia's Careers portal.
Click "Apply Now," and follow the instructions to upload your application, including resume and required documentation as described in the guidelines.
Contact HrubyFellowship@sandia.gov with questions
Fellowship Experiences
Sommer Johansen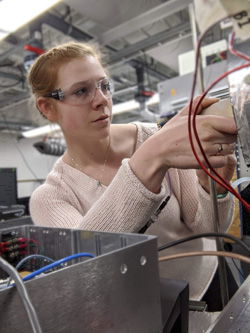 2022 Hruby Fellow
Sommer Johansen received her doctorate in physical chemistry from the University of California, Davis, where her thesis involved going backward in time to explore the evolution of prebiotic molecules in the form of cyclic nitrogen compounds; her time machine consisted of combining laboratory spectroscopy and computational chemistry to learn how these molecules formed during the earliest stages of our solar system. She aims to improve models that demonstrate how burning bio-derived fuels affect the Earth's planetary ecology and severe forest fires caused by climate change during her Hruby fellowship at Sandia National Laboratories.
Alex Downs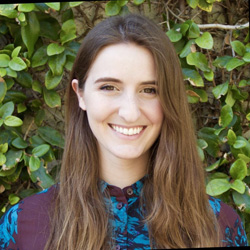 2022 Hruby Fellow
Alex Downs completed her doctorate at the University of California, Santa Barbara, in August 2021. Her thesis title was "Electrochemical Methods for Improving Spatial Resolution, Temporal Resolution, and Signal Accuracy of Aptamer Biosensors." She thought, "There's a huge opportunity here for freedom to explore my research interests." She hopes to create wearable biosensors that gather real-time molecular measurements from health markers and would lessen the need to visit doctors' offices and labs for evaluations during her Hruby fellowship at Sandia National Laboratories.
Learn more about the 2022 Hruby Fellows.
All qualified applicants will receive consideration for employment without regard to race, color, religion, sex, sexual orientation, gender identity, national origin, age, disability, or veteran status and any other protected class under state or federal law.
Sandia invites you to review the Equal Employment Opportunity posters which include EEO is the Law, EEO is the Law Poster Supplement, and Pay Transparency Nondiscrimination Provision.