Collaboration with Sandia helps small business scale anti-glare portable PV system to utility-grade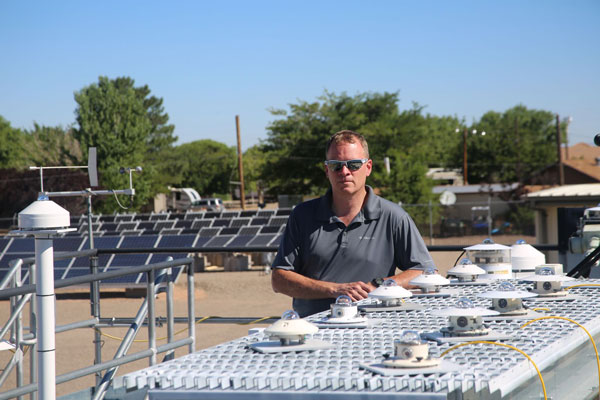 Sandia's Photovoltaic Systems Evaluation Laboratory is in the final phase of a collaborative research project with Nishati, a veteran-run manufacturer of light-weight, portable photovoltaic panels. The collaboration will shift to the PV proving grounds project at the end of the fiscal year.
In 2016, Nishati sought Sandia assistance through DOE's Small Business Vouchers program to scale up its portable PV system into utility-grade equipment. The portable equipment was designed to meet stringent Marine Corps requirements for anti-glare panel surfaces to reduce visibility in tactical environments.
"These same requirements could be useful at military air bases and airports," Sandia researcher Bruce King said.
Once Nishati was awarded a voucher, work took place in three phases.
Phased approach
Phase I included materials screening activities using mini-modules to assess different packaging materials and surface textures, Bruce said.
"Glare testing was performed at the National Solar Thermal Test Facility," he said, "and electrical response was tested at PSEL to determine the optimal materials package to use for the product."
Phase II included scaling up the mini-module designs to three, prototype utility-grade, 72-cell photovoltaic panels. These were also sent to the NSTTF to validate reflectivity, Bruce said. Results from this testing were added to the Sandia-developed Solar Glare Hazard Assessment Tool, now GlareGauge™, to assist with PV plant design near airfields. The prototypes were then brought back to PSEL for indoor and outdoor electrical characterization.
Bruce said Phase II results showed that while the electrical performance of the panels was undifferentiated from commercial products currently on the market, the panels' reflectivity results were off the chart.
"The product's electrical performance was indistinguishable from anything I might read on any spec sheet," Bruce said, "but what was significant was the reflectivity. It was unbelievably better. We knew from testing for SGHAT that reflectivity was low, but we weren't expecting to see it translate into potential power gains compared to conventional products."
Next steps
In Phase III of the project, a second set of panels similar to the Phase II panels are being used to validate the results.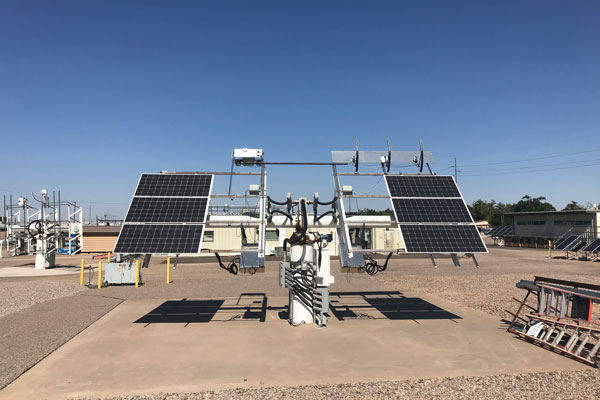 "We'll take the output from the validation studies and run power prediction simulations to understand the potential magnitude of these gains for different system configurations," Bruce said.
Phase III will conclude at the end of fiscal year 2019 with the two sets of panels installed outdoors in side-by-side systems at PSEL to validate the simulations. The panels will be connected to the grid for a year or more, Bruce said, and will also provide valuable information about their durability.
As the SBV project comes to a close, the modules will transition into PSEL's PV proving grounds project, where researchers can continue to learn about their unique behavior, he said.