Sandia mechanical engineer Kenneth Armijo, who leads bilingual family science events by night and researches solar energy and assists small businesses by day, received the prestigious Zia Award from his alma mater, the University of New Mexico.
"I feel pretty honored to get the award," Kenneth said. "It's pretty special in the sense that we've had a longstanding family connection with UNM, and to get basically one of the highest awards you can get there is pretty awesome."
Kenneth was honored for his community service and professional achievement. He has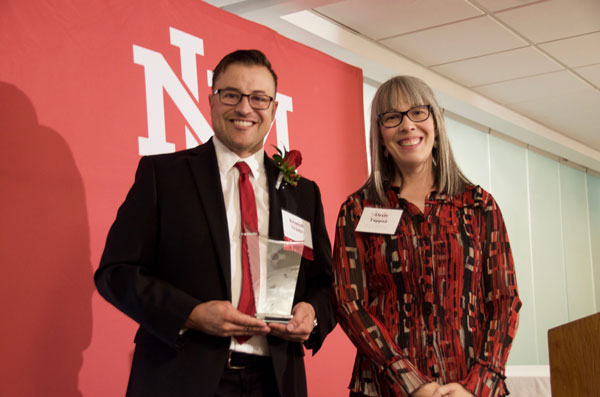 volunteered through Sandia's MANOS program for the last five years to put on science nights ("Noche de Ciencias") for students and their parents. The events are held in both English and Spanish and focus on getting students and their parents interested in STEM and showing the importance of staying in school.
"We show the students fun stuff with engineering and science, and folks from UNM talk to the parents about the importance of doing well in school and going on to college," Kenneth said. "Sometimes students will drop out of school to help their families by getting a job, but we try to show them that by pursuing an education and career in STEM they could have even more potential to help their families in the long run."
Kenneth has also volunteered with DreamBuilders, a program through the National Hispanic Cultural Center that hosts science, technology, engineering, art and math (STEAM) workshops for students, parents and teachers.
"At one of the workshops we focused on material sciences/chemical engineering, aesthetics and business plans by talking about how to make cosmetics," Kenneth said. We had an enthusiastic and clinically-inclined volunteer from Clinique come, and the kids were begging not to leave so they could make more lip balm and other items. We also had an event that paired occupational therapists discussing heart health with flamenco dancing as a form of art and healthy movement."
Kenneth also serves on the STEM board for the UNM-Valencia campus and volunteers at UNM and other universities through Sandia's community involvement program, helping with resume and professional development workshops.
At Sandia, Kenneth works on concentrating solar power in the areas of advanced molten salt test systems, solar reactors and materials testing, as well as photovoltaics/nuclear energy arc-fault research.
Additionally, he has led several New Mexico Small Business Assistance program projects during the last three years. One project is helping Mother Road Canning Company in Albuquerque optimize their mobile canning line for better throughput, to add nitrogen into their canned beverages.
"This has been a really fun project," Kenneth said. "It's a lot of computational fluid dynamics work that we've previously used for energy research, but now we are applying it in a different way for a local company that cans a variety of beverages."
UNM president Garnett Stokes presented Kenneth with his award at the annual All University Breakfast and Awards Presentation in late September.
"We are proud to honor our 2018 Lobo, Zia and Inspirational Young Alumnus award recipients for their tremendous accomplishments that have made significant positive impacts on their communities," said Dana Allen, vice president of UNM Alumni Relations and executive director of the Alumni Association. "The awards celebrate these outstanding individuals and the significant contributions they've made to the university, our city, state and country."