Matt Leyva shares career path that led to Sandia
It has been an adventurous road to Sandia for Matt Leyva, one that includes service in the Marine Corps, a professional fighting career and acting as a stuntman in movies filmed in New Mexico.
"I've definitely had some cool jobs in my life," Matt said.
As long as he can remember, Matt, who is a subcontract manager in Supply Chain, said he knew he wanted to take after his dad and join the Marines.
"We grew up with it our whole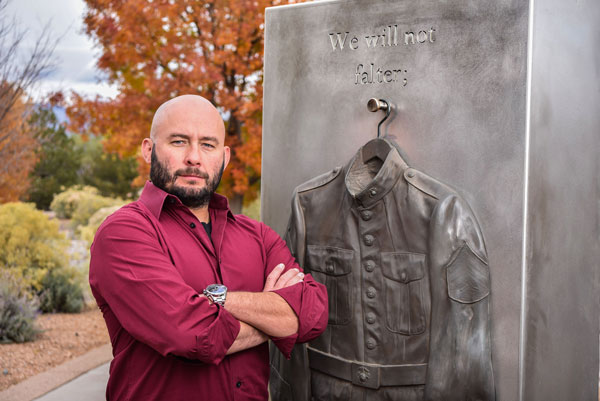 life," he said. "As kids he used to call me and my brothers Devil Dogs, and I never fully understood it, but when I got older, I kind of just knew. I wasn't ready to go to college right out of high school. I had scholarship opportunities, but I wanted to go and do something different."
At 18, he joined the Marines and was in boot camp for just over a month when 9/11 happened. He said everything changed that day.
"We were all there for a reason. We wanted to serve and do our part, but when that happened, there was an actual mission about to take place," Matt said. "We knew our lives were going to change at that point. We didn't know exactly how, but we were going to be ready for whatever was going to be thrown our way."
Matt was stationed in Japan for two years and deployed throughout southeast Asia. When he came back to the U.S., an East Coast unit was looking for two volunteers from the West Coast to deploy to Iraq. Matt said when he got the notification, he responded immediately as the first volunteer.
While serving overseas, Matt looked forward to receiving recorded VHS tapes from his brother of the first season of the Ultimate Fighter TV show every couple of weeks. A former member of West Mesa High School's wrestling team, Matt became interested in martial arts in the Marines. In inter-unit challenges and tournaments, he kept winning.
Matt started thinking about next steps and decided to leave the Marines to give fighting a shot. He trained in Albuquerque at the Jackson/Wink MMA Academy and went pro, compiling an 11-3 record.
Following his MMA career, Matt noticed a newspaper story about casting for military personnel to try out for "Lone Survivor," the Mark Wahlberg film based on a mission in Afghanistan. He said he showed up and was hired to play a Navy SEAL on the spot. Since 2012, he has worked as a stuntman on about 35 productions shot in New Mexico, including the films "Transcendence," and "Shot Collar." His roles involved military action and fight scenes, and jumping out of vehicles.
"Basically anything they needed, I was willing to do," he said.
During that time, Matt also earned a bachelor's in criminal justice and an MBA from the University of Phoenix. After that, he said, one thing led to another and he came to Sandia. He says varied experiences help in his latest career.
"Every job can be stressful at times," Matt said. "I have a unique set of experiences that allows me to work well under pressure."
Looking back, some of his proudest moments were from the Marines, and although he's not on active duty anymore or in the reserves, Matt said he misses the Marines every day.
"Once a Marine, always a Marine," he said. "It means a lot to carry that title the rest of my life, knowing that I did make a difference. I love this country more than anything, and I was pretty proud to be able to say that I did serve it."