The number of military veterans hired at Sandia tripled in fiscal year 2018 and marked the highest veteran hiring rate in the history of the Labs.
As part of a broader Laboratories recruiting strategy, Sandia engaged in a new, deliberate and strategic military veteran hiring initiative that paid off.
Sandia hired about 240 military veterans between Oct. 1, 2017, and Sept. 30, 2018, a total of about 13 percent of all hires, said David Martinez, recruiting manager. Last year, Sandia hired about 70 veterans, a total of about 5 percent of all hires.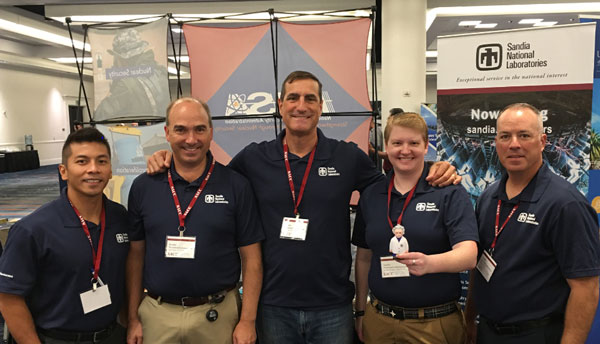 The initiative was a joint effort among the Talent Acquisition group, Diversity and Inclusion, Human Resources, the Senior Leadership Team, the Military Support Committee and volunteers, many of them veterans, David said.
"Veteran hiring is a tremendous opportunity for the Laboratories as we pursue excellence in our missions," said program champion and Associate Labs Director Michael Burns. "They have dedicated themselves to national security, have tremendous teamworking skills, have proven success in a myriad of skills needed by the Laboratories, and often possess applicable security clearances."
The Department of Labor's Office of Federal Contract Compliance established a military hiring goal of 6.7 percent of all people hired, David said. The last time Sandia met the goal, which is not a federal requirement, was in 2015.
"It takes a vibrant community to get these kinds of results, and this has been a Labs-wide effort. We've had a lot of support, engagement and focus," David said.
Veteran recruiting initiative takes shape
"In the broadest sense, hiring more veterans brings diversity of perspective, experience and skills to the Labs," David said. "Diversity is an essential element of Sandia's workforce and it needs to be a vital part of our future. Veterans are an essential part of that."
While Sandia has long worked to recruit military veterans, David said no formal strategy was in place until early February, when the hiring initiative began. When the new strategy was presented in early May, Sandia was at about 5 percent, or 60 hires, for the year, David said. Four months later, Labs' records were broken.
"When I learned we had increased our veterans hiring by such a high margin, I was thrilled," said senior manager Carol Manzanares. "Our veteran hiring strategy will be vital to our ability to meet the current and future workforce needs of Sandia."
The strategy includes several areas of focus.
The first is local engagement. Sandia works with Kirtland, Cannon and Holloman Air Force bases, the White Sands Missile Range, and the 1st Armored Division in El Paso, Texas. The Army National Guard and Reserve are represented throughout New Mexico, as well as a large veteran population who retired or separated from the military.
National reach involves Sandia teaming with other military sites outside New Mexico seeking to place talent. Each military branch has a service academy and all service men and women graduate with a bachelor's degree in a STEM field. Some military members later obtain master's degrees and doctorates and most have security clearances and years of applicable technical and leadership experience. At job placement conferences across the country, veterans look for employment after individual service commitments are satisfied. Sandia recruiting specialists partnered with service academy alumni who work at the Labs to attract veterans and attend such conferences.
Finally, through academic focus, the initiative puts recruiters in touch with colleges that have resource offices that assist veterans with academic goals. Veterans often have previous education, experience and clearances as well. Sandia recruiters worked with these offices and attended the annual Student Veterans of America Conference.
"Sandia can provide veterans the prospect of continued contributions to the nation in an exciting technical environment that has long been associated with the military community," Michael said. "We hope to be an employer of choice for veterans, and I am proud of the team that worked on Sandia's new strategic veteran hiring initiative and its success."