Sandia radiation expert leads health physics organization
COVID-19 vaccination underway
Adaptability in the year of COVID-19 earns Sandia a 100 Healthiest Employers award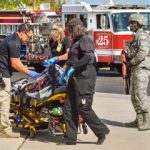 As part of some changes to Sandia's emergency management program this year, a new agreement has been signed with Kirtland Air Force Base. The agreement shifts key emergency response capabilities, like incident command, hazardous materials, technical rescue and others, to Kirtland Fire Emergency Services 24 hours a day, seven days a week.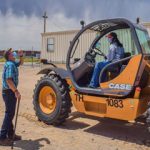 Sandia's Environment, Safety & Health training teams have made changes to safety classes to keep work moving forward while offering students protection from COVID-19.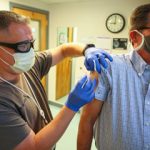 While the world awaits an effective vaccine for COVID-19, Sandia is encouraging employees to get another vaccine that is available now: the 2020 flu vaccine. Off-site vaccines currently are available at places like Walgreens and CVS and are covered by Sandia's health plan. And, employees can earn 500 Virgin Pulse Points for getting the vaccine.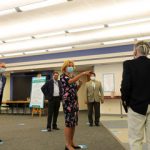 On any given day, Sandia's Executive Protocol Office hosts distinguished visitors that focus on the multitude of Labs priority programs; but during a pandemic, nothing is normal.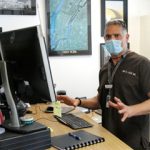 One of the most consistent voices heard this year during our new reality shaped by the COVID-19 pandemic has been that of Dr. Dan Azar, Sandia's California site physician. Dan has contributed to the workforce's understanding of COVID-19 and has continued to provide guidance to management and workers on how to safely resume operations.
The novel approach of Integrated Service Delivery being practiced in several centers within Sandia's Integrated Security Solutions Division was tested to its utmost this year, as departments had to suddenly figure out how to accommodate a remote workforce and then just as suddenly overcome dozens of challenges to bring people back to work safely on site.
Sandia's annual Safety & Health Month and Financial Wellness Month events went virtual this year due to social distancing requirements. Attendance at the events set new records as employees joined in to find helpful resources and connect with others.