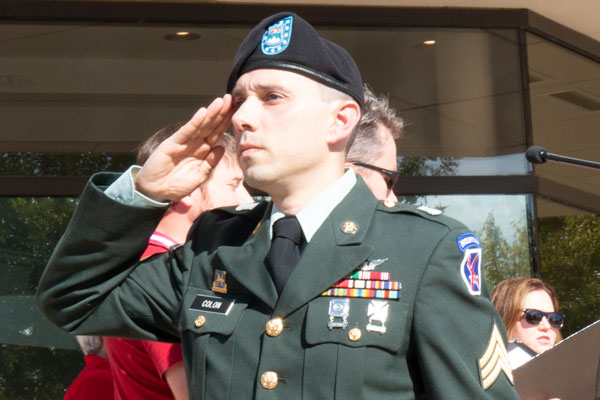 Nearly 200 people gathered around the flagpole at the Sandia/California campus on Nov. 11 to honor and respect America's veterans.
The ceremony marking Veterans Day — originally Armistice Day, following World War I — was organized by the Military Support Committee and featured speakers Tim Shepodd, mission engineering sciences senior manager and CA-MSC executive champion, and David Colon, CA-MSC cochair; the Sandia/California Thundertones choir; and a U.S. Navy Sea Cadets Corps color guard from Camp Parks in Dublin, California.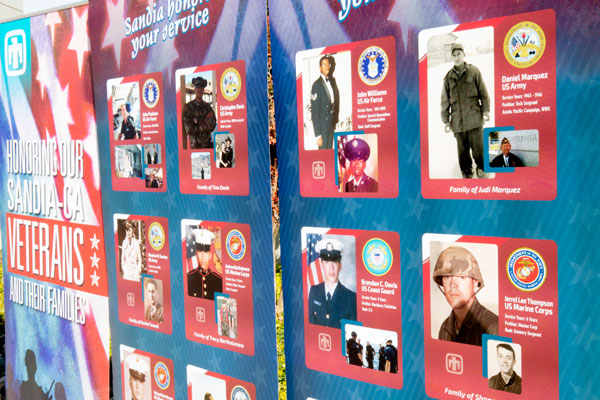 "We want to honor everyone who came today," Tim said during his address. "They come from all walks of life, and they share the traits of courage, selflessness and dedication to duty."
About 10% of the overall Sandia workforce are veterans or active military members.
"Every day, Sandia directly supports warfighters around the world," Tim said. "Veterans at Sandia are not only part of our rich history, but they are making history today and every day — in support of Sandia's goal of exceptional service in the national interest. This great nation is stronger and safer because of the work we do here. Much of that is accomplished and enabled by our veteran workforce."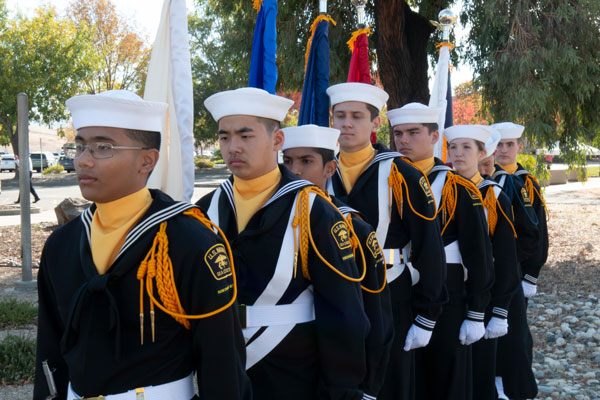 Rachel Sowell, CA-MSC cochair, talked about the Sandia/California Veterans Wall, which memorializes Sandians and their family members who served their nation in uniform.
"For the last three years, the California MSC has made it a tradition to recognize and honor veteran employees and their family members by creating a 'Veterans Wall' that is proudly displayed the week before Veterans Day in the cafe lobby of Building 915," Rachel said. "With changes to the cafe lobby, we needed to create a new look for our annual Veterans Wall, and I think that we succeeded."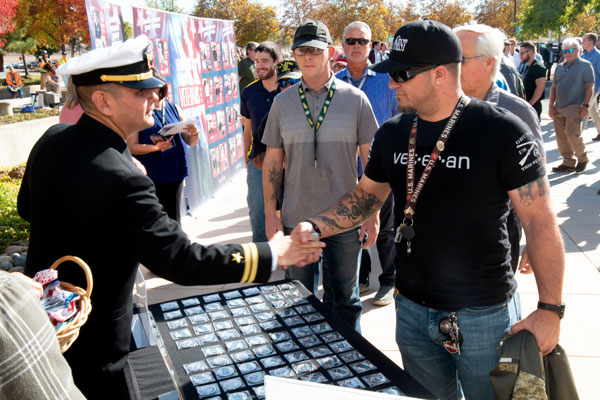 "Individual panels were put up in various buildings for people to see, and then all five panels were brought together for our Veterans Day event to create the wall." she said. "We will continue to recognize and honor our fellow Sandia veterans and their family members — not just during Veterans Day, but throughout the year."
The Sea Cadets presented the colors — flags from each military branch alongside the American flag — and the Thundertones sang the national anthem, followed by "My Country, 'Tis of Thee."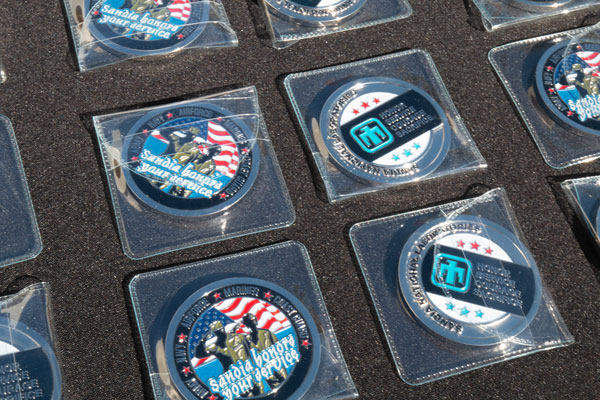 The Veterans Day program drew veterans of all ages and branches, as well as their families and others from Sandia wishing to honor them. Each veteran in attendance was given a challenge coin specifically made for the occasion. In addition, 50 veterans received a star from a flag that flew over Sandia/California before being respectfully retired. The stars can be carried to remind veterans that their service is appreciated.
If you would like to submit your photo and military information — or that of a family member — for the Sandia/California Veterans Wall, contact Rachel Sowell or Adina Eliassian.