Volunteers help Fertile GroundWorks support local foodbanks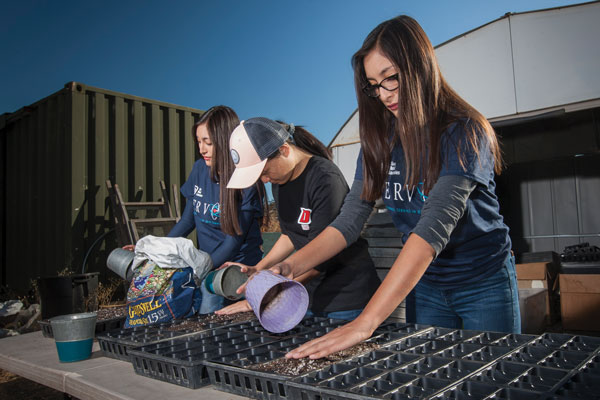 More than two dozen Sandians rolled up their sleeves and dug into the earth one October weekend to provide food for families in need in Alameda County.
The annual Sandia Gives campaign launched Oct. 5 at Fertile GroundWorks in Livermore, as volunteers spent the morning gleaning 305 pounds of squash, weeding 240 square feet of garden beds and adding 1,200 pounds of compost to the soil to grow even more food — more than 3,500 beet plants.
"Fertile GroundWorks could not do what we do without wonderful volunteers like you," said Brenda Kusler, Fertile Groundworks executive director. "You all truly rock. Thank you for enabling us to teach, grow and give. You also prepped the site for our 2020 tomato cage pyramid while another team of Sandians prepared flats and planted seeds for 900 plants."
Encouraging family stability
Fertile GroundWorks teaches people to grow food themselves and gives some of the vegetables and fruit they grow to Livermore food pantries. Community relations specialist Kayla Norris said Fertile GroundWorks is a perfect example of the type of organization that Sandia wants to support through volunteering and family-stability grants.
Sandians presented Fertile GroundWorks with a $10,000 check at the event. This grant, which aligns with Sandia's community relations pillar of encouraging family stability, honors the organization's efforts to address issues of food insecurity and hunger in the Bay Area by facilitating the creation of community, school and employee gardens.
"Every year, Sandians donate their time, effort and money to give back to our communities," Kayla said. "If we can help Brenda and her group provide for others, that's an amazing feeling. We have many opportunities for workforce members to give back in ways that benefit organizations in Alameda and San Joaquin counties."