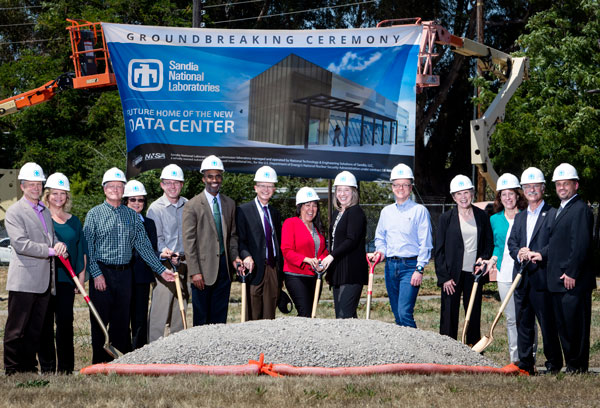 National Nuclear Security Administration officials joined Sandia leadership June 3 to break ground on a new data center at the Sandia/California site. The 8,900-square-foot facility will house information-processing equipment essential for providing connectivity and computing support.
Replacing the current California Data Center was identified as a critical need during the contract transition to National Technology & Engineering Solutions of Sandia, LLC. Sandia has worked closely with NNSA on plans to replace the aging facility, which was originally constructed in the late 1960s.
"When we first saw the data center during the transition, I can't tell you the poor state it was in," said then Associate Labs Director Dori Ellis. "Given the critical services the California data center provides, the existing 50-year-old facility was inadequate for meeting our growing needs.
"Keeping the status quo, particularly right now in our history, is just not tenable," Dori said. "We are going through a growth process, and having the capability and the reliability to support our mission is critical."
Supporting data
At the ceremony, NA-50 Deputy Associate Administrator for Infrastructure Ken Sheely expressed NNSA's commitment to Sandia.
"I see this groundbreaking as the first step in revitalizing the whole Sandia California campus. We're working together to finalize plans to improve office space, modernize laboratories and acquire new equipment," Sheely said. "I know this infrastructure investment is long overdue, but we are on the verge of really making it happen. This data center is our first commitment — our down payment — to modernizing the Sandia California campus."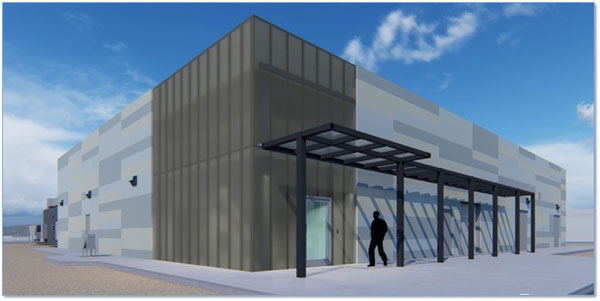 The new data center will position Sandia's California campus to support all of the new mission work at the Labs and modernize the site's information technology infrastructure, said Sandia Chief Information Officer Carol Jones. "Our IT needs are constantly evolving, and the data center is being built so that it can meet those needs and continue to grow."
Sheila Feddis, director of NNSA's Office of Infrastructure & Modernization, also spoke of the investment in recapitalization at the California site and addressed the reliability, safety and efficiency of Sandia California's IT infrastructure.
Prior to the groundbreaking ceremony, Sandia's facilities management team met with PTS Data Center Solutions, which was awarded the construction contract. Construction is planned for completion by July 2020.