Never surprises, always options: Anticipating threats to national security through Intelligence Science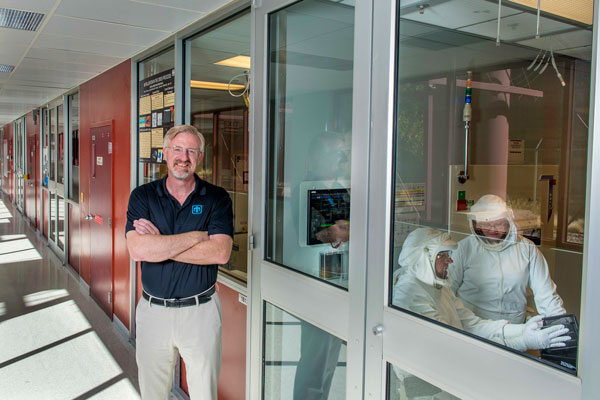 Sandia's Strategic Priority No. 3 will enhance our ability to anticipate threats, the single most important factor affecting future national security.
On July 26, 1777, Gen. George Washington, commander in chief of the new United States Continental Army, wrote to Col. Elias Dayton, an officer trusted with assignments that were both extraordinarily delicate and very secret. Washington instructed Dayton to "take every possible pains in your power" to "obtain intelligence of the Enemy's situation & numbers."
Washington was concerned about the deployments of British troops along the route of advance of the Continental Army division commanded by Maj. Gen. William Alexander, the patriot-loving Scottish nobleman known as Lord Stirling. Dayton was also instructed to obtain information concerning boats and other transports available to Lord Stirling so that the division commander might consider the option to "make an Attempt upon the Enemy."
Essentially, Washington instructed his agent to collect military intelligence information and to perform the analysis necessary to prevent the British surprising Lord Stirling with superior force, while also providing him options to attack the Red Coats. In closing, Washington wrote: "The necessity of procuring good Intelligence is apparent & need not be further urged."
"Good intelligence" has been a military and statecraft requirement for centuries. Sun Tzu, the 6th century B.C. Chinese military strategist, wrote that what enables the "wise sovereign and the good general" to "achieve things beyond the reach of ordinary men" is "foreknowledge."
The foreknowledge that Dayton provided to Lord Stirling prevented surprise and provided options. Preventing surprise with foreknowledge remains important to this day. In his 1997 memoirs, Markus "Mischa" Wolf, of the dreaded East German Stasi, wrote that the intelligence services of the east and west kept the peace in Europe for more than 50 years. "They did so," wrote the notorious spymaster, "by keeping their leaders from being surprised."
Future vision
In Sandia's future vision document, Creating the Future, we assert that the single most important factor affecting future national security is intelligence. Our approach to intelligence must evolve to better enable us to anticipate future threats while they are still manageable by diplomatic, economic and other means. The evolution we need is Intelligence Science, the third of the Labs' seven strategic priorities.
Our goal is to move beyond recognizing the obvious to anticipating the likely. We must anticipate what might occur with the level of precision and rigor necessary to motivate action, and then develop options to anticipate, detect, defend and defeat challenges to our national security.
Achieving this goal will require adding non-traditional approaches to traditional intelligence capabilities and increasing internal and external collaborations. To form a science-based framework to support actionable and efficient information, forecasting and response, seemingly disparate disciplines will need to be integrated. Our engineering, science and modeling/simulation skills will have to be expanded and further combined with our domain knowledge of nuclear weapons, defense systems, microelectronics, radiation effects and other high-technology areas.
Critical partnerships with universities and agencies with expertise in cultural anthropology, economics, forensics, operations research and more will be essential. New computing fields such as neuromorphic computing, targeted quantum techniques, artificial intelligence, machine learning and visualization have the potential to add to our data analytics and computer engineering/science skills to create more powerful and predictive modeling and simulation capabilities.
New discipline
The Intelligence Science we envision will offer more than the interpretation of today or projections of tomorrow. It will offer the opportunity to experiment, in a systematic manner, with potential futures and options for influencing their trajectories, including diplomatic, economic and military. As we develop this new discipline, we will need to be mindful of the governance issues involved in this terrain, containing ethical and moral implications around data collection and analysis, jurisdictional issues among government agencies and other considerations.
Priority No. 3, Intelligence Science, will let us create an expanded national security capability. Never surprises, always options, is our Intelligence Science aspiration. I believe future national security leaders and policymakers, and the nation in general, will benefit from this work. I also think Washington and Dayton would applaud this evolution of our exceptional service in the national interest.
Development of the Intelligence Science priority is well underway. Our Intelligence Science core team is co-championed by center directors Jim Hudgens and Carol Adkins. Contact Chrisma Jackson or Kathryn Hanselmann for more information.