NNSA Administrator Hruby congratulates this year's class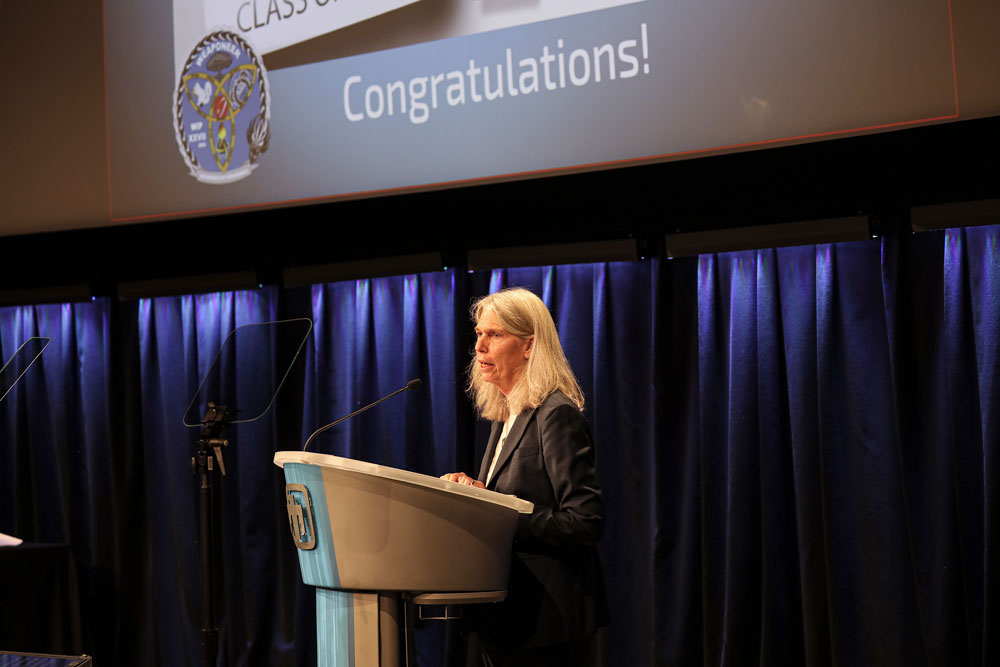 Sandia's Weapon Intern Program graduated its 27th class in 24 years, at a time when the nation relies heavily on the work of weaponeers in the Nuclear Security Enterprise to maintain nuclear deterrence in an uncertain world.
The program was created in 1998 to accelerate the learning process and transfer decades of knowledge and experience in all phases of the nuclear weapon life cycle, from experienced weaponeers to the new generation of stockpile stewards. The WIP curriculum evolves over time to better address the challenges of maintaining the nation's nuclear deterrent.
WIP students are Sandians and national security professionals from other organizations, including the U.S. Air Force and its Nuclear Weapons Center, U.S. Navy, Kansas City National Security Campus, Pantex, Y-12, Savannah River and Los Alamos national laboratories, Defense Threat Reduction Agency and students from intelligence community organizations, such as the FBI.
This year's class managed challenges due to the COVID-19 pandemic and the resulting need for staff to intermittently isolate or work from home. Important experiences at Washington, D.C., Naval Base Kitsap and McChord Air Force Base were postponed and rescheduled, and another event had to be canceled.
Deputy Labs Director Laura McGill welcomed NNSA Administrator and former Labs Director Jill Hruby back to Sandia on Aug. 25. Hruby congratulated WIP graduates on their important work that is sorely needed during this challenging time. She also acknowledged the contributions of current WIP program lead Matt Wingle and program founders John Hogan and Andy Rogulich, who continue to support the program, along with many other experienced weaponeers, both current and retired.
"Over the past 24 years, this prestigious internship opportunity has graduated over 500 participants from across the nuclear security enterprise. Each of you, and each of your home organizations, is helping us execute our most ambitious nuclear modernization agenda in decades," Hruby said.
In her remarks, Hruby noted this year also marks the 30th anniversary of the stockpile stewardship program, highlighting that "the scientific research that is the hallmark of our stockpile stewardship program is a critical part of our ability to maintain leadership on nuclear issues in the international community and helps preserve our deterrent."
Hruby directly acknowledged this challenging time in history both because of the effects of the pandemic on the nation and the national security challenges facing the nation and the world, saying, "Not since the Cuban missile crisis has the American public heard so much about nuclear issues. Russia's unprovoked invasion of Ukraine has been the most shocking event in recent memory. And Russian and Chinese weapons modernization programs, North Korean, Indian and Pakistani missile tests and the uncertain future of the Iran Deal have cast an intense spotlight on how the United States is meeting this moment."
The event concluded with Hruby and Laura handing out certificates to the WIP graduates. Marie McLetchie of NNSA was recognized as the Outstanding Leadership Award recipient.
The class of 2023 begins Sept. 19, and WIP will soon begin accepting applications for the 2024 class. Candidates with a Q clearance and one to 10 years of nuclear weapons experience should discuss it with their immediate manager and then contact their division point of contact, listed on the WIP Become an Intern webpage.
In addition to the WIP, weapon engineer professional development also offers a manager's course, Nuclear Weapons Management Orientation Course, to provide a broader overview of the nuclear security enterprise.
Employees can visit the WIP website to learn more.