A STEM celebration for all ages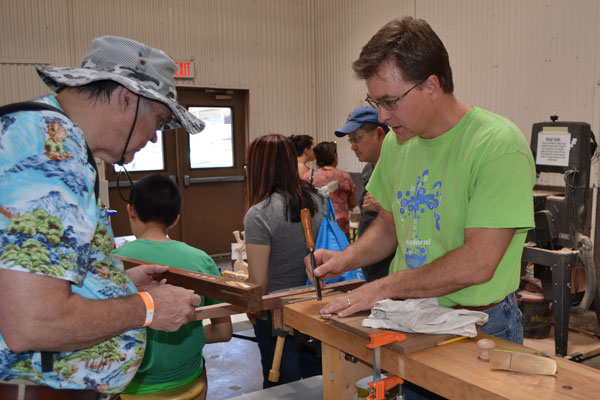 Sandians brought STEM fun to the New Mexico Science Fiesta at several locations in Albuquerque in June. Sandia hosted a table at the Expo New Mexico where students could explore engineering and science with hands-on activities such as creating jewelry using ultraviolet beads that change colors in the sun and playing with circuit sets to learn about electronics.
Volunteers from Advancing the Next Generation of Leadership Excellence performed the "What Happens Next" interactive game show on the main stage, featuring live science demonstrations about air and smoke vortices, heat and cold reactions and air-ball bowling.
Sandians Hy Tran and Aaron Hall demonstrated the science of woodworking with New Mexico Woodturners. "The hands-on experiences of woodworking and woodturning introduce children not only to craftsmanship and artisanship, but also to tools, materials science, design and art," Hy said. "I love working in educational outreach: STEM is not only useful in careers or for a well-educated citizen, but STEM is also fun."
Interns from Sandia's Technical Internships to Advance National Security program volunteered at Explora during Teen Night. The event featured a teen takeover of the children's museum with an escape room, brain room and science lounge. The TITANS interns showed the teens how to use Scratch, a software platform that teaches kids how to program interactive stories, games and animations.
"It was an exciting experience, and I got to hang out with some really great kids and teach them about computer science," said Sandia intern Jonathan Grimes. "There were some sparks that were lit because of us being there."