Sandia's Sara Draper competes in Boulder Ironman race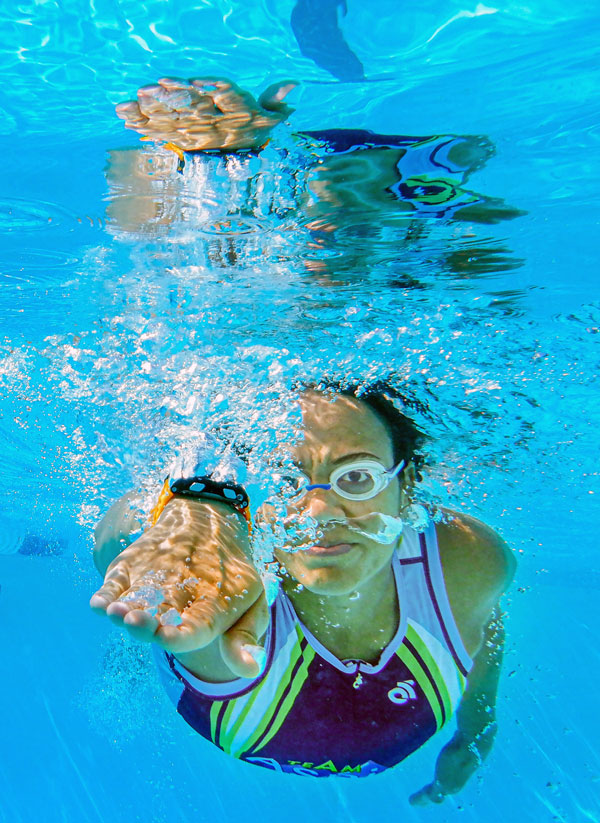 Crossing the Ironman Boulder finish line in June was "the most surreal moment" of Sandian Sara Draper's life. Just three years earlier, Sara couldn't run a 5K straight through, but she had just powered through 140 miles in one day — a 2.4-mile swim, 112-mile bike ride and 26.2-mile run.
A few years ago, Sara was looking for a fitness challenge. "I did all the basic exercise stuff, but for me it wasn't enough. I felt my workout routine was stagnant," she said. At a friend's suggestion, Sara signed up for a local sprint triathlon, a 16-mile combination of swimming, biking and running.
"You sign up and immediately think, 'what have I gotten myself into?' But you do one, then think you've got to do the next," Sara said. An Olympic triathlon (32.13 miles) and three half-Ironman (70.3 miles) competitions later, Sara tackled the full Ironman.
Reflecting on her journey, Sara credits in part Sandia's culture encouraging work-life balance and the support she received from her manager and coworkers, not to mention her husband, who she says kept her going on her bad days. "He was a rock star," she said.
"When you spend time training by yourself, you have a lot of time to think. It shed light on how thankful I am for the life I have — for the people at work who were so supportive as I went through this journey and allowed me the flexibility to pursue my goal," Sara said.
"There was a lot of grace given," she said, noting especially that her team allowed her to shift her work schedule to accommodate her training schedule and overlooked her occasional crankiness and fatigue. "They understood the amount of effort I was putting into this and were appreciative and respectful of my time," she said.
Sandia's flexible work options allow employees to pursue personal goals as well as professional ones, Sara said, provided employees maintain a good work ethic, continue getting their work done and use time appropriately.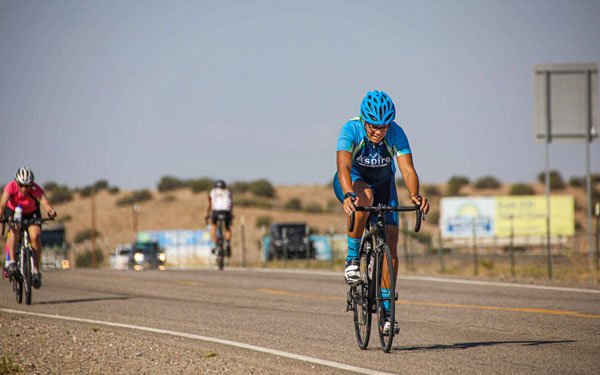 "Sandia culture encourages people to find things they are passionate about and will bring joy and accomplishment outside of work," said Sandia exercise physiologist Heather Morgan, who helped Sara find her first triathlon coach and provided fitness-specific nutrition advice.
Heather also pointed to Sandia's unique onsite resources, including fitness facilities and the base pool, as valuable tools for employees who want to be competitive. "Our onsite resources give employees the ability to reach out and get support in areas they're struggling with, that people outside don't have access to or would have to pay for," she said. Sandia's broad range of health professionals include fitness experts, nutritionists and an onsite medical clinic.
"When you're training upwards of 20-25 hours a week on top of working a full-time job, that takes a lot of internal commitment and downright grit. The fact that Sara did it while working full-time, taking on an interim manager position and maintaining some sense of personal life takes a lot of sacrifice and dedication," Heather said.
The support Sara received has inspired her to pay it forward. "My support system was amazing and one I wanted to emulate," she said. "It made me think about how I can support my employees and peers the same way I was supported." Whether it's an Ironman, being a new parent or wanting to pursue a degree, everyone can use support, and Sandia is great at that, she said.
Members of Sara's triathlon team, Aspire, said she's already been a source of encouragement, recently traveling to Santa Rosa, California, to cheer on three fellow Sandia teammates, RuthAnn Tibbetts, Jessica Kruichak and Grant Grossetete, in the Ironman Santa Rosa 70.3 (half Ironman).
"She's our sherpa," said RuthAnn, who was drafted into the tri tribe by Sara two years ago. "She's always encouraging. As someone who has completed several halves and a full Ironman, it's nice that she's there to support us," she said.
Sara said the last three years have taught her that anything is possible. "If I think something is daunting at home or at work, I think, 'you trained for 15 hours straight, you can do anything,'" she said. "It really puts into perspective what you can accomplish."