The SNL Blast Tube Facility consists of trained, experienced personnel with the ability to design and execute tests using different blast tube configurations with varying lengths and diameters to meet a wide array of customer requirements.

The explosively-driven blast tube facility consists of hundreds of feet of tube sections, ranging from 3 feet to 12 feet, that can be arranged to tailor the blast wave for each specific customer.
The facility is secure and routinely used to perform tests with energetic and hazardous materials, including detonation of explosive charges up to 2,600 lbs. The moderate-hazard facility can support test unit hazards that include some or all of the following:
Explosives (including test unit main charges)
Radioactive materials
Beryllium
Fires
Rocket motors
SNL's shock physics codes allow analysts to design the test based on peak pressure, duration, and shape. The explosively-driven blast tube is then configured, based on the simulations, to meet customer requirements. These modeling techniques reduce the amount of calibration shots needed to acquire the correct pressure pulse.
Our mechanical engineering staff designs the required test equipment, and onsite contractors fabricate the required equipment to support test article orientation to acquire the needed loading on each test unit.
The Blast Tube Facility capabilities include proof and modal testing of the fixtures. SNL can provide computational fluid dynamics (CFD) analyses to determine the proper orientation needed to obtain the correct loading on the test units, reducing the number of tests required.
Mk21 Fuze Thunderpipe Explosive Blast Testing in Slow Motion
Sandia Blast Tube – Engineered Explosive Shockwaves in Slow Motion
Instrumentation and measurement
Instrumentation and measurement staff support the Blast Tube Facility by installing both high-speed optical and hardwire instrumentation for full-field and point measurements of deformation, elongation, and deflection.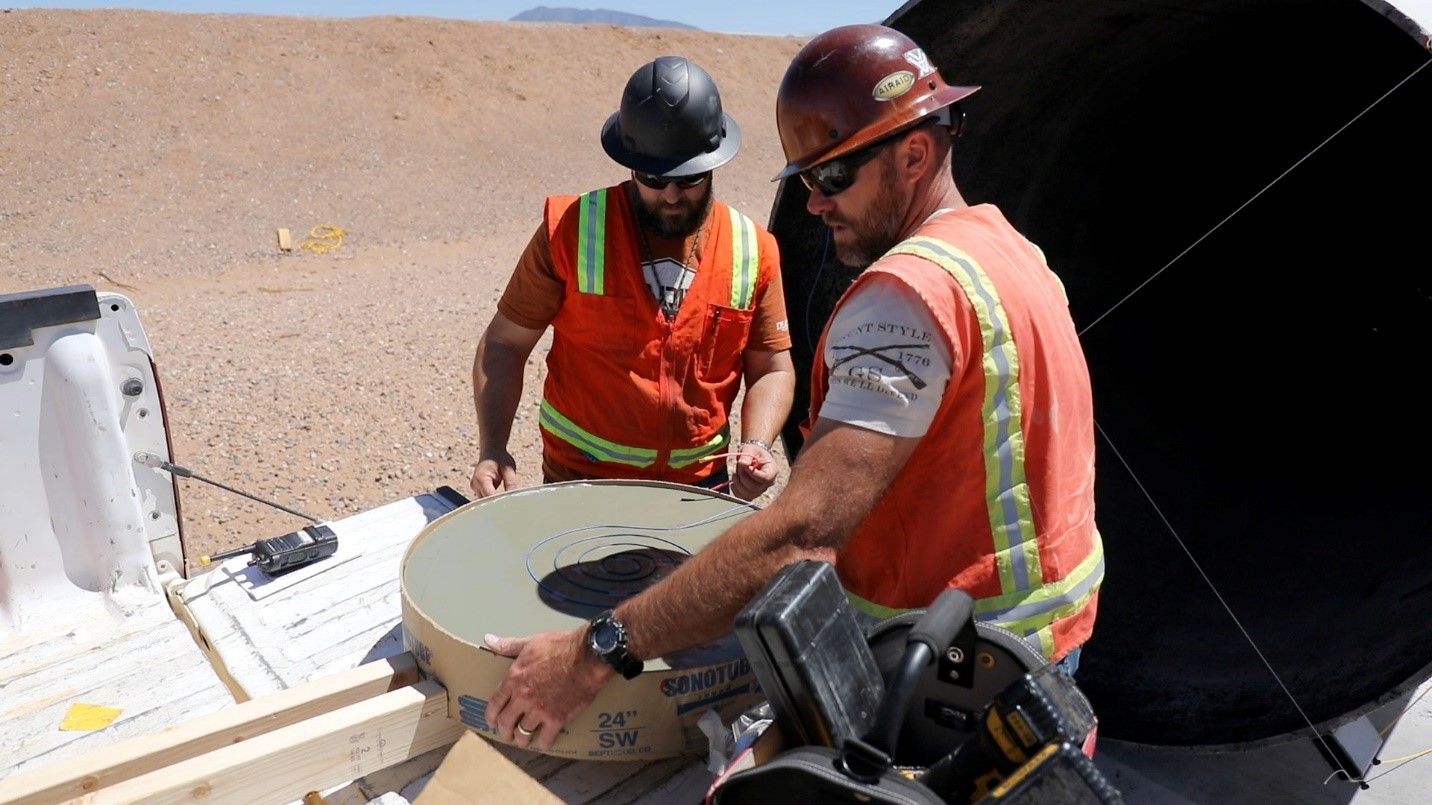 Mobile instrumentation trailers are used to record data at the Blast Tube Facility. Up to 192 channels of data can be supported for a single trailer. Accelerometers, strain, displacement, pressure, and noise gauges can be deployed for use. Multiple instrumentation trailers are available to support addition channels of instrumentation.
Non-contact measurement capabilities are available to support Blast Tube Facility testing, which include the following:
Quantitative High-Speed Imaging
Temporal 3D Motion Analysis
Position, Velocity, Acceleration
Attitude, Rotational Velocity and Acceleration
Impact Angle, Angle-of-Attack
Full-Field Surface Strain
Static and Temporal Deformation
Streak Imaging at 10,000,000 frames per second
Schlieren Flow Field Measurements and Visualization
Quantitation Thermal and Spectral
High-Speed Spectroscopy
Thermography
Infrared Imaging for temperature fields
Downloadable poster