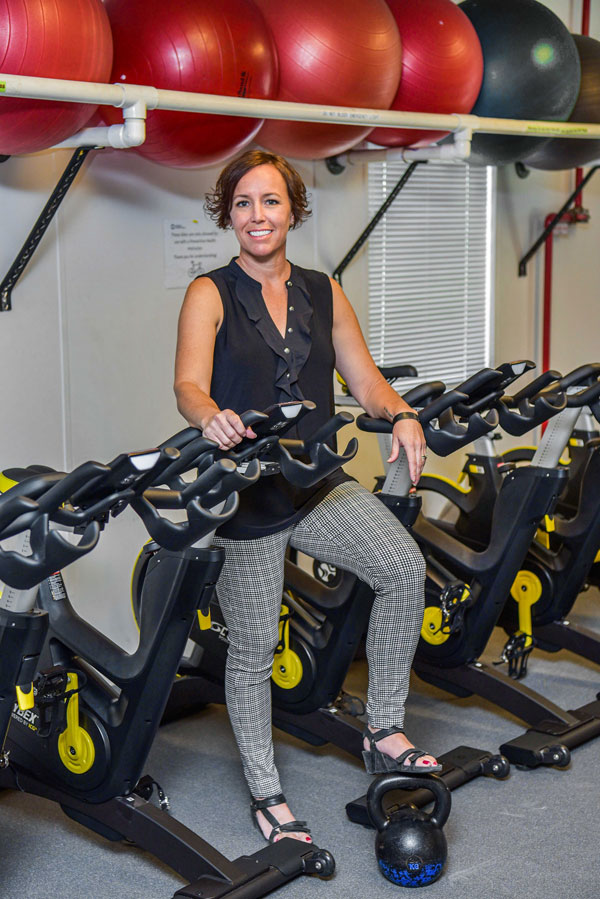 Work performed at Sandia is known for its excellence and innovation, and those achievements aren't limited to our laboratories. In a nondescript portable building tucked between the Thunderbird Café and the Sandia Medical Clinic, a cross-functional team analyzes data and designs evidence-based programs to meet an important company objective — keeping employees healthy.
Impressed by Sandia's collaborative, holistic and metrics-based approach to employee health, Virgin Pulse invited Sandia health educator and program coordinator Callie Lovato to speak at HEROForum19 in early September. A national non-profit, the Health Enhancement Research Organization has a mission to identify and share best practices in employee health and well-being. Callie's talk centered on how Sandia uses collaboration and metrics to drive better health outcomes.
"I was able to show them our dashboards and scorecards that clearly illustrated ROI (return on investment) and VOI (value of investment)," Callie said. "We gather information from Benefits that helps us ensure we are addressing health concerns, and we track all employee engagements — classes, events, appointments, fitness walks — so we know what employees are interested in."
Analyzing metrics drives improvement
"We collect way more metrics than (other employee health programs)," said Kim Pohl, Sandia preventive health manager. "Our ability to measure and track metrics helps us keep our eye on our target as far as participation, satisfaction, meaningfulness and effectiveness. It helps us know which programs are successful and desired, and determine where we need to deploy our resources to get the best results."
"We're able to tell a health story in more meaningful ways to benefit the employer and the employees," Callie said. "It's about creating year after year of great programs based on what employees need and want."
A result of such metrics analysis, the Healthy Me in 2019 program strives to provide simpler, more focused and collaborative health education. As of July, the program netted a 60.4% increase in employee participation as compared to 2018.
"Most places don't collaborate at the level Sandia does," Callie said. "SERP (Sandia Employee Recreation Program) blew their minds," she said. The program provides employees discounts to local gyms and activities, as well as opportunities to join sports teams. Employee Health Services also regularly collaborates with Safety, Community Involvement, Food Services, Virgin Pulse and MoGro, a local growers' market that provides fresh produce boxes for purchase.
"Our ability to collaborate with folks across the Labs allows employees to be more productive at work, be present and feel better," Kim said.
Leadership drives engagement
Division workplace engagement teams are one example of an effective collaboration, she said. Preventive Health works with division teams to provide customized health activities and education opportunities, including incentives for people to participate. "WEC (workplace engagement committee) teams know their populations more intimately than we do, so they know the division's needs."
Kim added that leadership support makes a huge difference in employee participation. "Leaders who model participation in wellness events let employees know it is important and drives engagement."
"When that happens," Callie said, "we see people feel empowered to take action, and we see a higher participation in tech park walks, screening events, organizational Health Action Plans and classroom events."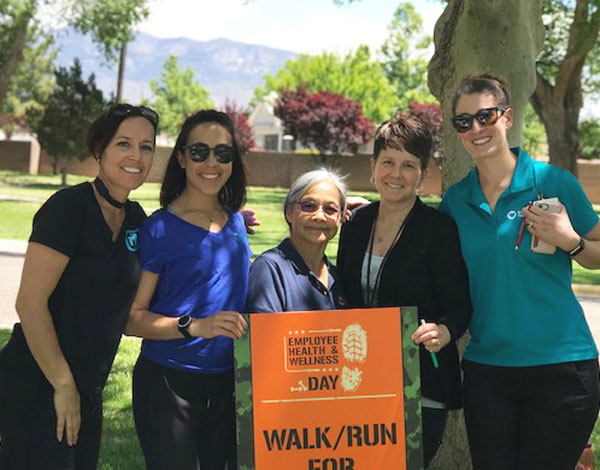 The multidisciplinary Preventive Health team is a collaborative group in itself, Kim said. "If we see a patient for fitness and they also need guidance around diet, we have all those subject matter experts in one center to refer people to." Kim also credits the team's effectiveness on their homegrown tools — such as Health Action Plans — that provide everything an employee needs to make a health change in one package.
The team's internal collaboration is one that employees, including Debra Chavez, seem to appreciate. "I like that it's there when I need it," said Debra, who has used preventive health services for most of her 31 years at Sandia. "A lot of people may not know that one-on-one coaching is available for fitness, sleep, stress, nutrition — they offer a variety of different ones. It's a great benefit to have."
"Giving employees an opportunity to optimize their health helps the employer not just because employees have less sick time, but they are happier overall and feel better about themselves and come to work feeling better," Debra said.
Zuzana Patterson joined a Health Action Plan within two months of starting at Sandia more than five years ago. "It worked great! I was able to lose the pounds and hit my target," she said, adding that Preventive Health staff were very responsive and available. Since then, she's taken advantage of many health programs offered, and even fills in for the Tai Chi instructor sometimes.
"If we aren't healthy or happy with ourselves, we're not performing well," Zuzana said. "Having that support gets us one step closer to getting there. It's up to each person to do it, but having it available is a big plus."
Passion for health education
Callie credits her team for much of their success. "(The health educators) are passionate about sharing the information they believe in with employees. It's not just a job," she said.
"Callie getting invited to speak (at the forum) was really a tribute to her leadership and positive engagement and the culture she's trying to build in her team," Kim said. "It was really an honor for her and for Sandia Labs."
Callie's passion for health education was evident in the feedback she received from her HEROForum19 talk. Her presentation was one of the highest-rated at the event and she has already been invited to present again at next year's forum.
At Sandia, the health education team is currently planning 2020 programs, which will include an updated Healthy Me in 2020, a new Food Connections Health Action Plan and more.
"We're always looking for ways to improve, innovative ways to engage employees and give them a better experience with corporate health, better results and better outcomes," Callie said. "We're never done."