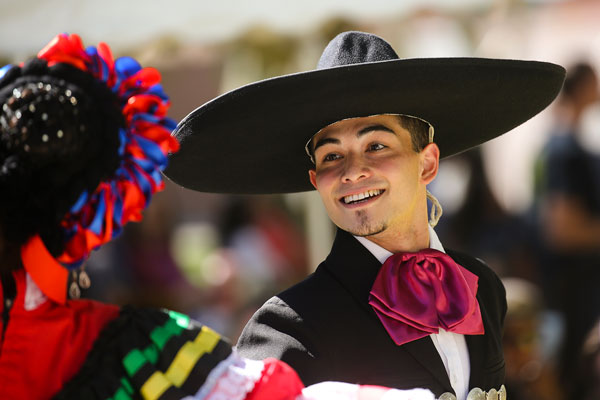 In an annual tradition, Sandia commemorated National Hispanic Heritage Month with lively events to celebrate the cultures, histories and contributions of the Hispanic population.
Inspiration from a NASA astronaut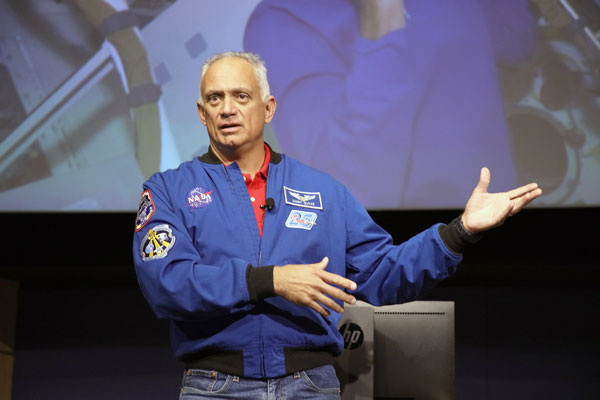 Sandia welcomed engineer and former NASA astronaut John "Danny" Olivas for a talk at the Steve Schiff Auditorium on Sept. 25. Olivas directs the Center for the Advancement of Space Safety and Mission Assurance Research at the University of Texas at El Paso, where he oversees space initiatives on the campus. He also consults with Sandia's performance assurance department and performs forensic engineering for ES&H. His talk was sponsored by Hispanic Outreach for Leadership & Awareness and Inclusion, Diversity, EEO & AA.
For Olivas, watching the Apollo space missions on television, receiving a childhood gift of a telescope and taking a family vacation to Johnson Space Center ignited a passion for space exploration that, after decades of pursuit and perseverance, resulted in a doctorate in mechanical engineering and materials science and selection as a NASA astronaut. Olivas recounted his academic, professional and personal journey that led to him being the engineer the crew relied on to maintain mechanical systems onboard the STS-117 and STS-128 space shuttle missions.
Olivas shared a story about the importance of welcoming and applying diverse perspectives in everyday — and not so everyday — challenges. On his first space mission aboard the STS-117 in 2007, the engineers puzzled over how to repair one of the shuttle's rocket engines, which had a damaged thermal protection system. During a brainstorming session, the shuttle's physician suggested using a medical stapler to remedy a tear in the mesh. Olivas conducted a spacewalk to perform the repair, and it worked.
Olivas takes pride in sharing his story and inspiring the next generation through outreach, and he encourages others to do the same.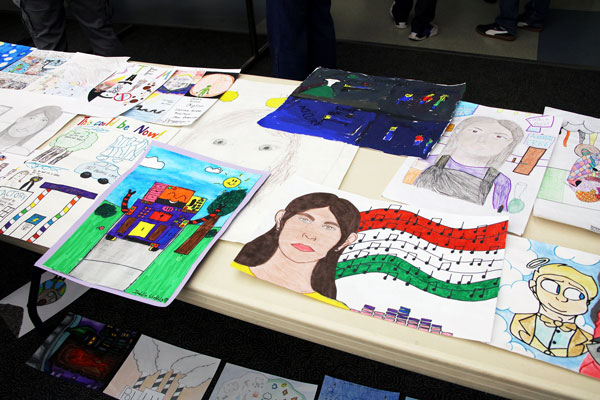 "Each one of us has a unique story to tell. All of us have had our own sets of barriers we've had to overcome, challenges we've had in front of us, but they're all important stories to tell. My dad inspired me when I was 7 years old. Look at the number of people in this auditorium and think about the number of 7, 6, 5-year-olds who are out there left to be inspired. You never know what story you're going to tell them, or who you're going to touch, but if you don't tell your story, it'll never get out there. We need to sing about the things that we've done and where we've come from so we can inspire the next generation," he said.
Olivas' talk is available to employees on Sandia's corporate streaming library and the HOLA and IDEA websites.
Before the presentation, attendees sampled food, drinks and desserts made by employees and voted in an art contest featuring STEM-themed drawings and paintings created by local K-12 students.
Food, dance and more on the field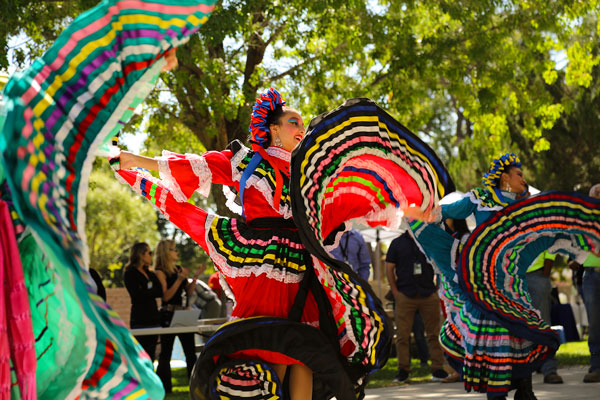 On Oct. 3, HOLA hosted the annual Hispanic Heritage Month diversity event at Hardin Field. The celebration included Baila! Baila! and Ballet Folklórico dancers, music from Mariachi Tenampa, a samba sizzle Latin dance workout, food trucks, an employee art display and a car show.
Crystal Gutierrez, KRQE News 13 morning anchor, delivered the keynote address. Gutierrez also encouraged Hispanics to share their stories with others and reflected on the current and past contributions of the Hispanic population in the United States.
"We are shaping, we are molding and we are changing the story of America," she said. "But it didn't just start right now. We have been changing the story all along. I read in an article from USA Today that stated 'the United States isn't becoming a Hispanic nation; it always has been.' That was written back in 2012. Seven years later, that statement is even more true today, isn't it? But I ask you, who is telling your story and what story will you tell?"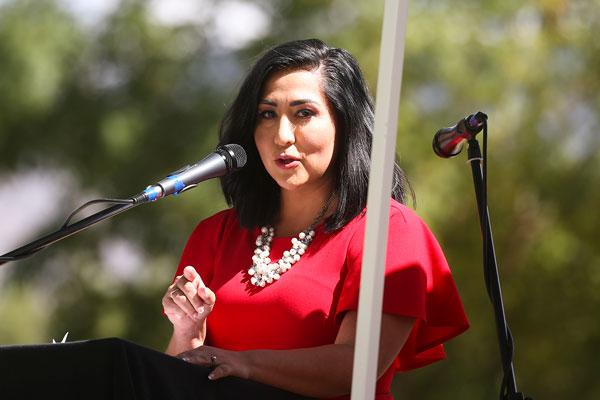 Gutierrez recalled the stories of actress Jennifer Lopez, artist Frida Kahlo, politician Dennis Chavez, former astronaut and Sandia ES&H director Sidney "Sid" Gutierrez and her own father, who was held back in kindergarten because he was not proficient enough in English to progress to first grade. After his siblings helped him through school and he earned his diploma, he became a janitor in a local hospital and then later a security guard at New Mexico Institute of Mining and Technology, where he was eligible as an employee for free tuition. He took courses and became a safety specialist at the university.
"I remember my father's advice: 'Don't let anyone make you feel as if you don't belong – because you do,'" Gutierrez said.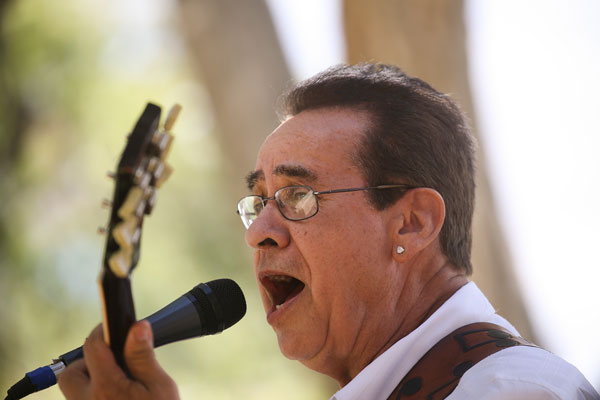 For Roberta Rivera, HOLA deputy co-chair and community relations specialist, the event at Hardin was especially memorable. Her father, recording artist Roberto Griego, was among the performers.
Reflecting on the day, she said, "I've been involved in Hispanic initiatives for more than 20 years at Sandia, and today's event truly represented the melding that is my work and personal life. It was a very proud moment to see my dad, who's now in his early 70s, still singing and playing guitar and just sharing the music that folks have loved from him over the last 47-plus years of his career. I just love that I can thrive in my Hispanic culture at home and at work and that I've always had the support of my management to be fully engaged in Hispanic initiatives. Viva Sandia!"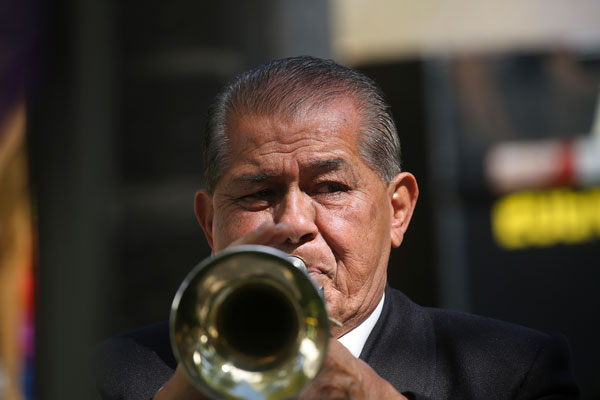 Catalina Acosta, who organized both Sandia events, said, "As a member of the Hispanic community and a Sandian, having Hispanic Heritage Month events at the Labs means that I work for an organization that celebrates and recognizes contributions of Hispanic Americans and diverse cultures. I enjoy being part of the team that plans the event and sees it come together. We are a dedicated group, and we have fun using our creativity to create meaningful activities, from guest speakers to art displays. We're dedicated to planning events that attract a diverse audience from across the Labs to attend at least one activity or event."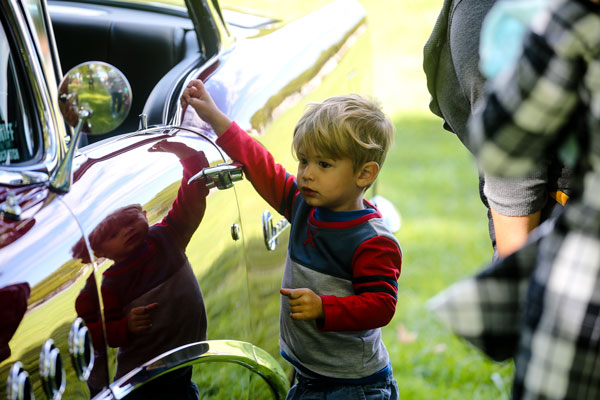 In 1968, the national observation began as Hispanic Heritage Week under President Lyndon Johnson and was expanded and signed into law by President Ronald Reagan in 1988 to celebrate those whose ancestors are from Spain, Mexico, the Caribbean and Central and South America. The commemoration spans September 15 through October 15, with the kickoff date honoring the independence anniversary of Costa Rica, El Salvador, Guatemala, Honduras and Nicaragua. Mexico, Chile and Belize also celebrate independence in September.