New food service provider Taher Inc. will emphasize fresh, local choices
If it were just as easy to eat fresh food as fast food, would you choose fresh? The new food service provider at Sandia is counting on it.
Taher Inc., which became the Labs' food service provider in May and marked its Fresh Seasons Café grand opening with three days of events June 26-28, entered a marketplace crowded with fast food options. Within a mile and a half of its Thunderbird Café location in Sandia's Bldg. 861 there are two McDonald's, a Jack in the Box, a Chick-fil-A, a Domino's Pizza, Griff's Hamburgers, and Freddy's Frozen Custard.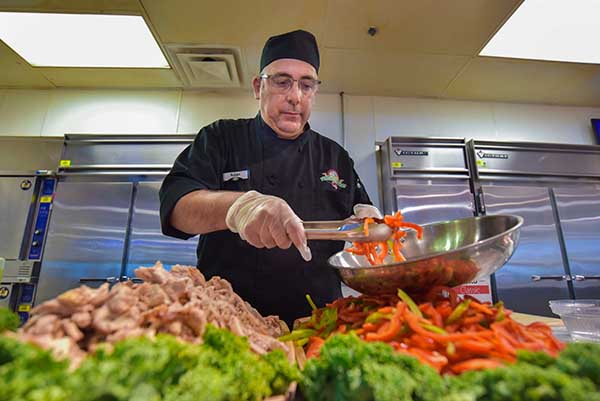 With Taher touting that 70 percent of everything it serves is made from scratch, including fresh, never-frozen beef burgers and farm-fresh eggs, Lisa Teves (3334), a registered dietitian with Sandia's Employee Health Services (EHS), says the new food service provider will make fresh, delicious, healthy food more accessible for Sandians.
"We want to make an environment where it's easy for people to make a healthy choice," she says. "If my environment supports me eating less processed food and more fresh food, I will."
Fast food is a staple for many adults in the US. In a 2013 Gallup poll, 47 percent of respondents said they eat fast food at least weekly.
"We want to make an environment where it's easy for people to make a healthy choice."
Lisa sees a connection between fast food's popularity and its accessibility. If chicken nuggets are inexpensive, nearby, and easy to grab fast, people are more likely to eat them. These same factors apply when deciding to eat onsite. "People who go to Thunderbird feel it's convenient and a good deal for the money," she says.
As part of its Food4Life initiative, Taher will soon highlight a different meal each day offering whole, fresh foods for $6.
"The Taher value meal has a different standard than the value meal with a soda and fries," Lisa says.
The $6.85 vegan Garden Jambalaya was the most expensive item on Taher's menu June 26, with several items costing less than $4, including the Supreme Pizza for $3.25.
Taher aims to make onsite dining increasingly convenient. Currently operating the Fresh Seasons Café brand from the Area 4 and DOE cafés, in addition to the Thunderbird, the vendor also offers drop-off service to the Cyber Engineering Research Laboratory, Bldg. 823, and Area 5 and plans to add bicycle delivery service in the coming weeks. Pick-up and delivery orders can be placed at food.sandia.gov.
Appealing to millennials
This wide availability on site allows for networking with coworkers while encouraging good dietary decisions, according to EHS Director Renee Holland (3300).
"It helps to build a culture of health, employee engagement, and productivity," Renee says.
Renee also sees the variety offered by Taher as potentially enticing to the Labs' growing population of millennials. Alongside stations labeled Salad Creation, Grill, Fresh Mex, Pizza, Vegan Street, and Freshwich, the Thunderbird Café features a World Station, which will serve a rotating selection of cuisines from around the globe.
"Because of the change in population we needed someone who would meet the tastes of millennials," Renee says. "With the millennials, we have more foodies and they want fresh, local, wholesome food."
Taher has promised to increase the amount of locally produced food it serves, while partnering with local companies and making continuous improvement toward Sandia's goals for sustainability.
"The South Valley used to be farmed more than it is now. To see it being farmed for this, it gives me a happy feeling."
Robert Kyzer, proprietor of Kyzer Farms in Albuquerque's South Valley, stood behind a tray of bratwurst during June 26's grand opening at the Thunderbird.
"Can you taste that buttery flavor?" asked Kyzer, whose father bought the family pork farm in 1971. "That comes from peanuts and sunflower that we add to the feed."
"I'm from the South Valley," said grand opening attendee Benita Montano (6354) after sampling the bratwurst. "The South Valley used to be farmed more than it is now. To see it being farmed for this, it gives me a happy feeling."
Kyzer was among the producers featured at a sampling table for La Montañita Coop, a community-owned natural foods market started in Albuquerque in 1976 with which Taher is developing a partnership.
Having committed to meet the Labs' Zero Waste by 2025 goal, Taher is moving away from the use of Styrofoam cups by selling reusable cups cobranded with Employee Health Services and Zero Waste logos.
"I have been pleased with the reception of the reusable cups," says Sam McCord (4736), a recycling planner with Sandia's lifecycle material management team. "The first batch we had, we sold out right away."
These multiple points of emphasis make Taher a good fit for Sandia's goals and culture, according to Renee.
"I think it just fits with the model of what we do: improve quality and service and be able to impact health," says Renee, who expressed her gratitude to members of EHS and Sandia's Facilities Division who worked to contract with Taher. "I see it as a good procurement."