Student volunteer project hits close to home for Sandia intern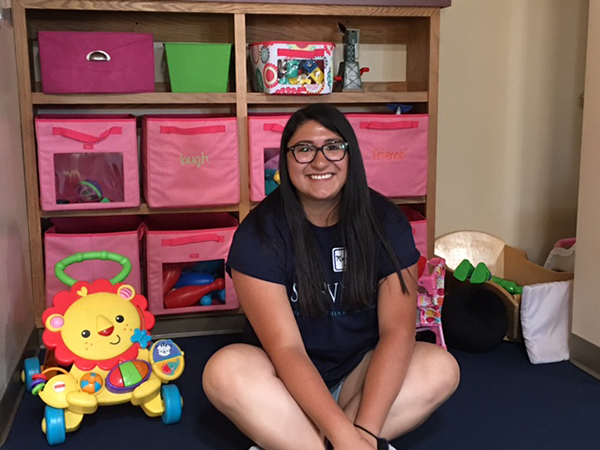 Mariana Castaneda (2616) had to grow up fast. At age 7 and in the second grade, her mother felt a lump on her little sister Marisol's head. It was a malignant tumor that required treatment. The family traveled far from home to Phoenix and stayed at a Ronald McDonald House, which provided them a home away from home while Marisol was hospitalized.
Despite surgery and cancer treatment, Marisol died at just 2 years old. Mariana and her family were devastated by the loss. Her parents gave back by volunteering at the Ronald McDonald House and other nonprofit agencies that provide support to families living through the serious illness of a child.
A place to feel at home
When Mariana saw an advertisement for a student intern volunteer project, she signed up immediately. "It is a sad story, but I feel like it is very important to give back to an organization that gave my younger sisters and myself a place to feel at home."
Mariana and several Sandia interns participated in a service project at the Ronald McDonald House on June 17 where they pulled weeds, picked up trash on the grounds, and bagged laundry detergent for the families staying there. The organization was there for her family and "made them feel so welcomed." Working at the house brought back both happy and sad memories for her. "It even smells the same."
Mariana is passionate about giving back and sharing with others that it is possible to come back from tragedy.
"It is important for people to be able to share these experiences with others," she says, "because not only is it a living memory of those who are gone, but it also humbles you to know that life, as precious and as difficult as it can be, is a fragile gift and if we as human beings can recognize that bonds between people are formed through experiences and lessons learned, this world would be much more peaceful."
Mariana lives in El Paso, Texas, and studies mechanical engineering at the University of Texas at El Paso. She also works as a research assistant for the National Science Foundation's Partnership for Research and Education in Materials program. Mariana wants to become a defense missiles engineer and says, "I like the pressure behind the job." This summer, she's working as a design and integration intern in the Advanced Surety Mechanisms Department as part of the NW SPRINT Program.