Insights from experiments at Sandia designed to push chemical systems far from equilibrium have led an international group of researchers to discover a new major source of formic acid over the Pacific and Indian oceans.
A community barbecue featuring science talks, door prizes and boat races celebrated 20 years of research on the changing Arctic climate in mid-July for the Sandia-managed Atmospheric Radiation Measurement Center in Utquagvik (formerly Barrow), Alaska.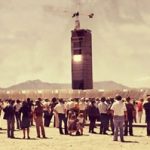 In 1978, Sandia began a unique program of research on concentrating solar power at the newly constructed National Solar Thermal Test Facility. Forty years later, the facility is still the only one of its kind in the United States. Sandia will celebrate the solar tower's 40th anniversary on July 31.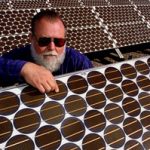 Since 2004, the rate at which solar cell power is installed has doubled every 22 months and is now in excess of 0.1 terawatts per year. Research driving some of this expansion began right here at Sandia more than 40 years ago.
Sandia materials scientist David Enos has been elected as a fellow of NACE International, the chief professional society for corrosion engineering. The first Sandian to receive the honor, David was chosen for his significant contributions to corrosion science and engineering for protecting materials in complex environments.
The Arctic is undergoing rapid change, with sea ice melting and temperatures rising at a faster pace than anywhere else in the world. Understanding these changes is crucial for shaping and safeguarding U.S. security in the future, say Sandia scientists.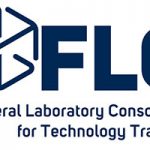 Sandia's energy-saving nanomaterial window films and first wind turbine blades made from a 3-D printed mold earn national honors from the Federal Laboratory Consortium
The spirit of the original Earth Day, which marked the birth of the modern environmental movement in 1970, was alive and well last week at Sandia's California and New Mexico campuses.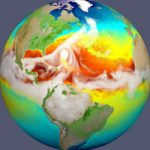 The Energy Exascale Earth System Model, or E3SM, is an earth modeling system developed by eight DOE labs and several universities working under the aegis of DOE's Office of Science. It is expected to have one of the finest resolutions ever achieved by supercomputers simulating aspects of the planet's climate.
Nothing quite compares to the diverse environments in which Sandia's nuclear weapons systems and components must survive. Testing these components and ensuring their reliability in the harshest environments is the job of the people and tools at the non-destructive environmental testing lab.