Workforce urged to fill gaps in nuclear programs, point out what slows Sandia down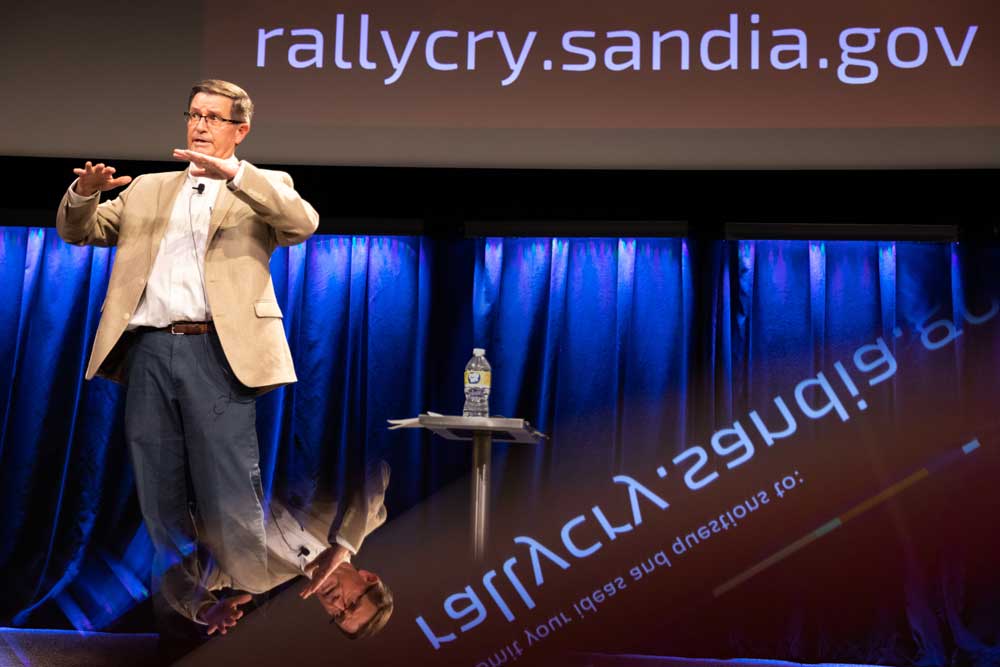 Following an all hands meeting in June about accelerating nuclear weapons modernization, Labs Director James Peery and the Sandia leadership team hosted a Q&A town hall on July 18 to address questions from the workforce. The conversation centered on changes to the international nuclear landscape, the importance of prioritizing nuclear deterrence work at the Labs and answers to practical questions from staff about achieving the goals that James outlined last month.
James reported that other nations have advanced their nuclear efforts since the all hands meeting June 23. Russia is beginning mass production of its Sarmat missile, and China completed a hypersonics test on an air-breathing engine on July 4. North Korea is preparing for a test, and Iran announced it could produce nuclear weapons whenever it chooses.
"When I was up here before, I said this was feeling really real to me and that things are accelerating," James said. "Well, they continued to do so in the last four weeks."
The leadership team is confident that Sandia can meet expectations set by the NNSA and others by mobilizing experts in specific fields to fill gaps in the Nuclear Deterrence program. Specifically, the program needs staff with experience in design, testing and integration of systems.
"There's a heavy need right now for electrical engineers. We also need help with fabrication and processing for MESA — people with test and integration experience," Deputy Labs Director Laura McGill said. "People with LabVIEW experience and competency with these tools are on our critical path for a number of different activities," including tester design.
Staff members do not need to take new positions in the nuclear deterrence program to lend their expertise. Depending on the specific scope of work, there will be opportunities and processes that allow researchers, engineers and others to spend part of their workweek supporting the nuclear program without leaving their current posts.
Sandia leadership has plans to rehire retirees to fill positions in the program. The human resources group has updated policies related to benefits eligibility after retirement, calculating competitive salaries and more to incentivize former staff to come back from retirement to support the nuclear mission.
"We will be communicating to retirees to let them know what the process and options are if they want to come back," Executive Director and Chief Human Resources Officer Brian Carter said. "Retirees are going to have a lot of questions, so we want to be able to have all the answers for them when they reach out."
Other topics addressed by Labs leadership included maintaining safety and security while working on short deadlines, addressing bureaucracy and procedures that slow projects down, policy changes to encourage staff members to lend their expertise to the nuclear program and how contributions to programs compare to publishing and other performance markers in annual reviews.
"If you want to be recognized as the best of the best in industry and nationally, your work has to have broad impact," Laura said. "Publications and research alone will not get you there, and this is an opportunity to contribute significantly to capabilities that are absolutely critical to the country."
Staff can view a recording of the Q&A on the Corporate Streaming Library and submit questions about this initiative on the Nuclear Deterrence Modernization Efforts Rally Cry internal website.