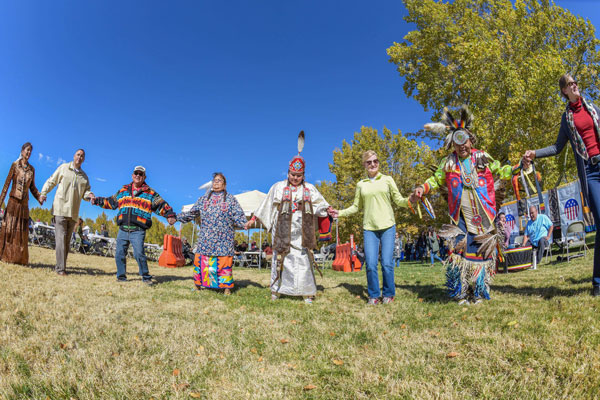 When COVID-19 began ravaging Native American communities in the southwest in April, a sense of urgency started to mount for Sandia tribal government relations program manager Laurence Brown.
As the virus spread rapidly in parts of the Navajo Nation and New Mexico pueblos, a groundswell of Sandia employees — including many Native Americans and members of Sandia's American Indian Outreach Committee — started contacting Laurence and others, offering to help. The grassroots effort initiated by Sandia's workforce sparked a Labs-wide fundraising drive, resulting in donations of more than $225,000 from 1,766 donors in just two weeks, plus a $25,000 match from National Technology & Engineering Solutions of Sandia LLC, the contractor that manages the Labs.
"What Sandia has done will make a big difference in providing direct support and needs in our American Indian communities," Laurence said. "COVID-19 has put Native Americans in New Mexico in a difficult situation."
Native Americans have accounted for more than 55% of New Mexico's confirmed COVID-19 cases, but they make up less than 11% of the state's population.
Native Americans are at a higher risk from COVID-19 because of geographical isolation, limited access to health care, chronic poverty, extended family households and prevalence of preexisting health conditions. Some tribal water services and meal programs have even been forced to close to protect public health, causing additional hardships for elderly, disabled and low-income residents.
Add to that strict COVID-19 curfews for those entering and leaving tribal lands, and families and whole communities are acutely vulnerable. "It's become a real challenge accessing goods and services in rural, remote areas under rolling curfews," Laurence said.
'The need is now'
As Sandia colleagues and committees began organizing and asking how they could help New Mexico's tribal communities, Laurence found himself repeating, "The need is now, and the need is great."
With a dedicated gathering of resources, the search was on for a nonprofit that focused specifically on tribal communities in New Mexico.
"Sandia's American Indian Outreach Committee members were working diligently to locate a suitable nonprofit and identified the Native American Relief Fund as the conduit that would quickly deliver support to the 23 tribes and pueblos of New Mexico," said Benjamin Mar, AIOC chair.
The Native American Relief Fund was established by the New Mexico Foundation in collaboration with the Santa Fe Community Foundation to provide emergency grants to tribal communities and organizations. These grants are used to donate food, water, baby food, diapers, toilet paper, hand soap, sanitizer and other essentials, as well as supporting long-term recovery efforts to some of the hardest-hit Native American families and communities impacted by COVID-19. Sandia had found its pipeline.
Campaign within a campaign
With the nonprofit in place, it was time to create a uniquely Sandia campaign. The United Way of Central New Mexico, with decades of partnership with the Labs, was enlisted to manage the fundraising and ultimately, Laurence's mantra — "the need is now" — became the Labs' drumbeat to raise donations.
Sandia rolled out its effort, called the Need is Now campaign, April 22 with a Labs-wide plea to donate from Labs Director James Peery, who called it a matter of life and death to a struggling population. The workforce immediately responded, raising nearly $25,000 by the end of the first day. Within two days, employees had donated more than $121,000, well over the amount needed to ensure the $25,000 matching donation from NTESS.
"The New Mexico Foundation has established a committee of leaders familiar with tribal community needs to create a fair and equitable distribution process," said JoAnn Melchor, New Mexico Foundation president and CEO. "Our committee will meet weekly to assess additional funding needs for tribes and allocate funds based on those most in need. We're focusing on finding the gaps in support so that we're not duplicating efforts."
Community Involvement manager Amy Tapia said she's always impressed by Sandia employees' generous support of our neighbors. "Donating more than $100,000 dollars in the first 48 hours of this effort is astounding. I couldn't be prouder."