Mobile Guardian Transporter team finds safe ways to conduct critical work during pandemic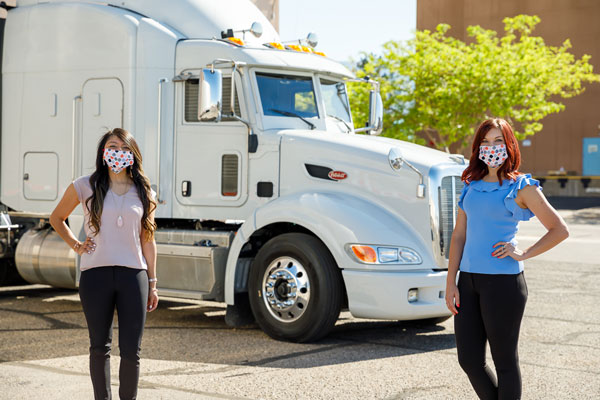 There's never a good time for a pandemic. But when you're the team lead or a team member on a complicated, highly visible project with multiple stakeholders, working on a tight schedule toward a one-of-a-kind test, it can challenge your team's mettle. Systems engineer Kylen Johns and her team on the Mobile Guardian Transporter Prototype 1 test vehicle have been living this challenge since mid-March.
MGT is the next generation secure transportation system, and its development is a critical element of NNSA's nuclear deterrence modernization program. As team lead for Prototype 1 for almost three years, Kylen is currently focused on leading an approximately 25-member team to ensure the trailer is instrumented and ready for a full-scale crash test this summer at Sandia's rocket sled track.
When Sandia's Albuquerque campus shifted predominantly to telework in consonance with the New Mexico governor's stay-at-home order, it added a whole new level of complexity and pressure to the MGT project.
Many of the crash preparation activities take place in and around the Prototype 1 test vehicle inside a high bay on the campus. The inherent close quarters of the work make progress difficult in the current pandemic environment. The crash test is critical to Sandia's mission, and it is an NNSA priority. While much of the rest of Sandia started to work from home, that wasn't an option for the Prototype 1 team.
The first couple of weeks were difficult and morale suffered, Kylen said. Team members were nervous and struggled with how to implement social distancing and safely carry out their work. It was difficult getting onsite during that time, and some team members needed to work from home because they or family members were at higher risk of infection or were caring for children. About 15 people were working in the high bay on a daily basis, but the project lost ground.
Asset security and WMD response management, in conjunction with validation and qualification management, industrial hygiene and environment, safety and health personnel, developed and communicated guidance to the team to enable continuing hands-on work in a COVID-19 environment.
Finding a new normal
Kylen gathered the team, and together they worked to implement that guidance, with updates to processes and procedures to keep everyone safe and still get the work done. The virus-influenced environment required an ample supply of gloves, hand sanitizer and cleaning supplies, and it meant wearing face coverings, setting a two-person limit in the trailer, spreading out the work in the high bay as much as possible and wiping down surfaces multiple times a day.
Multiple team members generated and implemented ideas, including quality engineer Dulce Barrera, who also personally sewed dozens of masks for those working in the area.
"We created our own new normal and took it upon ourselves to not only protect ourselves but our coworkers," Kylen said. "Once we had a process flow and PPE (personal protective equipment), the stress just fell off and everyone at that point felt a lot more comfortable."
Kylen switched the daily stand-up meeting from an in-person meeting in the high bay to a Skype meeting, which allowed the entire crash team to participate, including team members working from home.
Moving forward
Kylen said that once the team figured out a pace and preferred communication styles, everything moved forward. The team was able to make up for some lost time and actually accelerate the remaining schedule. Cargo loading was completed on schedule, and the team is currently on track to deliver the test vehicle to Sandia's Tech Area 3. Validation and qualification personnel are also on track with associated test preparation activities in the area.
"Kylen, her team, and our partners who are executing the test are laser-focused on a successful test this summer," said Daniel Wilcox, MGT technical basis manager. "Their dedication is evident in the day-to-day interactions and progress. Kylen's positive attitude and proactive leadership have been key to the team's success during the pandemic.
"This project was already a challenge due to its scope and complexity; add on the challenge of COVID-19, and the progress that Kylen and her team are making is truly extraordinary."
The team continues to do things to keep up morale. Kylen has brought in food on occasion for the team, and the quality team members have established Wednesdays as "snack days," bringing in individually wrapped snacks. Safety continues to be paramount, and if things get moving too fast, Kylen stresses the importance of taking a moment to pause and take a breath.
"It started as something very negative and stressful, and it turned into something where we've actually had better teaming than we've probably had in years," she said. "The big thing for me is I'm just grateful to the team because I think it takes active dedication. Every single one of them has chosen to come in each day, be positive and push through."