Speaker series born out of collaboration with Sandia Women's Connection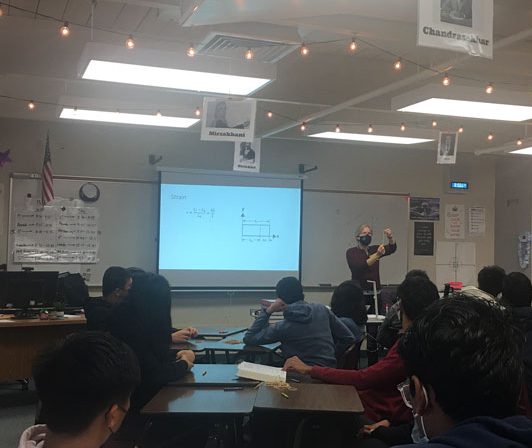 Math and science students at two California high schools are making connections between their classroom learning and future careers in science, technology, engineering and math thanks to volunteers from Sandia's Livermore site.
Each spring, the Sandia Women's Connection recognizes young women from area high schools for their outstanding accomplishments in math and science. After last year's recognition event, teachers from Amador Valley High School in Pleasanton and Mountain House High School near Tracy, California approached the Labs about the possibility of bringing Sandia scientists and engineers to speak to students in their classrooms.
Sandia Women's Connection volunteer Helena Jin responded to their request by organizing the "Multivariable Calculus Forum" at Amador Valley High School. The forum features six Sandia research scientists who will give classroom presentations throughout the school year about how they are applying calculus and advanced math in the various engineering fields. Sandia volunteers participating in the Amador Valley forum include Neil Cole-Filipiak, David Couch, Francesco Di Sabatino, Kimberley MacDonald, Rajavasanth Rajasegar and Maher Salloum.
Through these partnerships, students realize the application of the principles they are learning and get a better understanding of future career interests and how to better prepare for college and post-graduate success, said Gauri Reyes, a math teacher at Amador Valley High School. These are lessons typically not provided by the standard high school math and science curriculum, Reyes said.
"When I tell my students that 'math is everywhere' and 'you will use this stuff in the future,' they dismiss me. After all, that is what all math teachers are supposed to say," Reyes said. "But when a scientist from a national laboratory doing cutting edge research says the same thing, the students listen. After these guest talks, students tend to engage more in the fundamental math lessons we discuss in our day-to-day work in class. It's a winning situation for all involved and furthers the students' education."
In the "STEM Innovator Speaker Series" at Mountain House High School, Sandia experts Christopher Blackstone, Diana Hackenburg, James Siacunco and Elizabeth "Bette" Webster are sharing their professional experience with students, helping them get a glimpse of "a day in the life of a scientist" and explore possible careers. Each session covers a different area of STEM such as chemistry, engineering, biology and environmental science.
The objective of the series is to inspire high school students to reach beyond the classroom and learn about real-world STEM applications by meeting and learning from professionals in fields they might consider for their future careers, explained Donna Earle, science department chair at Mountain House High School.
"As most adults will admit, they had no idea in high school what different career fields might have in store," Earle said. "Giving students a snapshot of life outside of high school is beneficial on a variety of levels."
"It's been awesome to pair speakers who have expertise in the curriculum that I'm currently teaching and for students to hear something from a professional in an area they just learned about in the classroom," Earle said.
Students have reacted positively to the guest speaker presentations.
"Scientists are really fun people to interact with. They are really passionate about what they are doing, which is very exciting," said Amador Valley senior Richard Li. "It's important to have local mentors because they provide concrete evidence that the concepts we learn in math class are actually being used."
Mentorship and community outreach are important to many Sandia employees, described Chris Blackstone, a physical chemist participating in the Mountain House STEM forum.
"I see the opportunity to communicate with and educate the public — students in particular — to be an essential component of my job," Chris said. "If students are considering careers in STEM, it's important that they know that people working in STEM are just ordinary people who simply focus their efforts on answering interesting and often complicated questions."
High school students are under a lot of pressure, said mechanical engineer James Siacunco.
"Students are often worried about their ability to succeed, and some guidance and reassurance can go a long way," James said. "I hope the students can feel confident making big life choices and know that there is not just one way to a satisfying career. They are seeing a wide variety of paths that we took to arrive at our careers and hopefully can feel less afraid of making a mistake and more able to enjoy the educational process."