Sandians participate in annual fundraiser to support multiple sclerosis research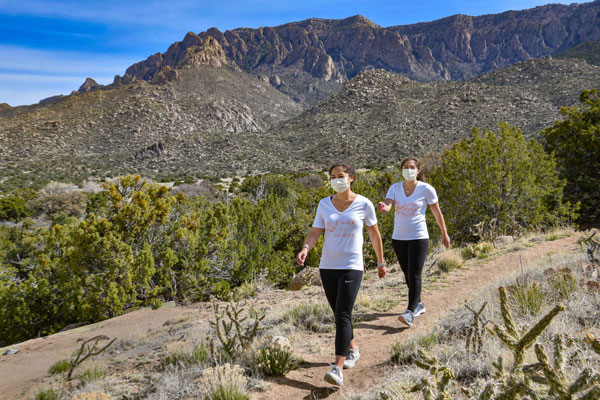 Abilities Champions of Sandia, formerly the Disability Awareness Committee, organized Labs workforce members to participate virtually in Walk MS: 2020 at both the Livermore, California, and Albuquerque, New Mexico, sites.
The Sandia teams Walk MS: Sandia Disability Awareness Committee in Albuquerque and Walk MS: Tri-Valley in Livermore raised funds and showed support for those affected by multiple sclerosis by taking a walk around the block or hopping on a treadmill.
The annual MS walk helps raise awareness and funds to research the cause of MS and a cure, both of which are currently unknown.
"The walk supports individuals with MS by demonstrating that no one has to go through MS alone because we are stronger together," said Abilities Champions of Sandia co-chair Victoria Newton.
Multiple sclerosis is a disease of the central nervous system that disrupts the flow of information in the brain and between the brain and body. It is the most common neurological disorder affecting those ages 20 to 50, and strikes two to three times more women than men.
Currently, about 1 million Americans are living with the disease. Progression of the disease is unpredictable and can include a wide range of symptoms such as chronic pain, memory issues and even paralysis.
Staying apart, working together
Due to the pandemic, this year's MS walk shifted to a virtual environment. Members of Abilities Champions of Sandia and their families participated using safe social-distancing practices and personal protective equipment.
"To participate, members had to walk/exercise on their own using proper social distancing restrictions and PPE, or find other creative ways to show their support: chalk the sidewalks with information about MS, wear orange, post a Plug article or tell family and friends about MS," Victoria said.
Twenty people from Sandia participated virtually in the April 18 event and raised just shy of $500. Those interested in supporting MS research or participating in future events can visit the
National Multiple Sclerosis Society
website for more information.