Carter honored with 2018 Classification Award of Excellence
If you want to give a talk at a conference, have an official document reviewed, or submit a paper to a journal, Winalee Carter is the person nearly everyone at Sandia/California counts on to give the final stamp of approval.
In recognition of her exceptional service, Winalee last month received the Department of Energy's 2018 Classification Award of Excellence at the 53rd Annual Classification Officers Technical Program Review Meeting in Germantown, Maryland.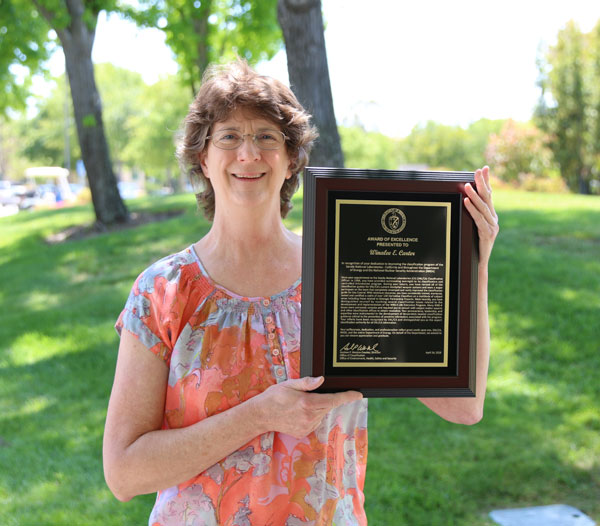 Recognized for improving the California classification program
Winalee was recognized for her "dedication to improving the classification program of the Sandia National Laboratories — California and throughout the DOE and the National Nuclear Security Administration."
In particular, she was recognized for revising all the major classification guides for Sandia/California's current stockpiled weapon systems and playing a major role on the team that developed the current classification guide for use control. Most recently, she resolved several classification issues related to the development and implementation of the W80-4 Life Extension Program. Winalee consulted with various subject matter experts and other classification offices to resolve many W80-4 issues.
Winalee said she is honored to receive the award, especially because the previous award winners include people she has admired and enjoyed working with.
"Being nominated for the award by the weapons groups means a lot to me," she said. "They do the largest percent of classified work at the site, so I spend much of my time supporting them."
She said it feels good to be recognized for the hard work, "even when things don't always get done as quickly as any of us would like."
Mike Hardwick, the California weapons center director took part in the nomination and said Winalee is very deserving of the recognition.
"Winalee provides a vital service to the nuclear weapons program," Mike said. "She understands nuclear weapon design and has years of experience with classification policy and rules. Without her guidance, we would not be able to steward the stockpile or execute modernization programs."
Background in weapon design work
Winalee came to Sandia in 1982 with a master's in mechanical engineering and spent her first 16 years conducting weapon design work. Twelve years into her career, there was a need for someone to handle the day-to-day work of the classification office for six months. She accepted the assignment and then returned to weapon design work. Three years later, the classification officer wanted to move back to Albuquerque.
"I had found, to my surprise, that I enjoyed the work," said Winalee. "I took the classification officer position in August 1998. It was so very different than the hardware design work that I loved, but I enjoyed it. I still enjoy the challenge."
Classification work changes over the years
During the past 20 years, there have been many changes in the California site classification office. In 1998, there were 48 derivative classifiers in California — almost entirely managers — and 385 requests for review and approval (R&A). All work was conducted via hard copies, which were routed to each reviewer. The California site now has 218 derivative classifiers — mostly technical staff — and some 1,400 R&A requests are routed via electronic workflow.
"When I started in the classification office, our work consisted almost entirely of nuclear weapons, and the only facility outside of the limited area was combustion research," she said. "Now we have branched off into many other programs and have four separate security areas, from the general access area to special programs."
On a typical day, the classification office reviews anything that is going to the public to assure it contains no sensitive information — classified or unclassified. The classification office also reviews all official SAND reports.
In addition, Winalee trains and authorizes derivative classifiers to understand and use the published classification guides so that they can properly classify the work around the site, including local weapon programs. Winalee also provides the final classification reviews for all security incidents and sends classification challenges up the NNSA/DOE chain to the DOE Office of Classification for final determinations.