Armin Doerry recognized for groundbreaking radar work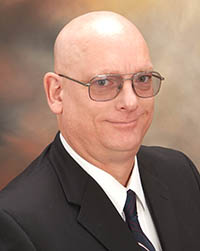 SPIE honored Armin Doerry (5349) for his technical achievements in imaging microwave radar technology development, design, and analysis. Armin is one of 32 new Fellows honored this year by SPIE, an international society for optics and photonics established in 1955 as the Society for Photo-Optical Instrumentation Engineers.
Armin's work — conducted with many teams over his 29 years at the Labs and with industry and academic partners — has produced radar systems that today are finding military targets, gathering intelligence, helping with maritime search and rescue, and protecting borders.
"I'm very gratified for the recognition that the larger radar community has given me," Armin says.
Synthetic Aperture Radar improvements grow out of early research
Armin's Sandia career coincides with radar projects that cover much of the growth of synthetic aperture radar. SAR was first developed in the 1950s and Sandia has been at the leading edge in this technology since at least the 1980s, undertaking a variety of research and development projects that lowered costs and decreased weight, while increasing SAR's effectiveness.
An early project called Foliage Penetrating Synthetic Aperture Radar (FOPEN SAR) was the first airborne ultra-wideband, low-frequency radar of its type to perform with nearly three octaves of bandwidth that could see through trees with unprecedented resolution.
Though Sandia's FOPEN radar was never operationally fielded, the research and development on the performance of wideband systems enabled Sandia to more quickly address similar problems and improve performance in subsequent radar systems, he says.
Armin also brought his math and systems analysis skills to teams that developed the first real-time, 10-centimeter resolution MiniSAR and the high-performance Lynx SAR system.
"If you need a radar math problem solved, that's the part I like to work," he says.
Technologies combined for MiniSAR
From 2000-2006, the Sandia team combined several technologies together for MiniSAR to reduce the size, weight, and volume of high-performance radar systems.
The team's MiniSAR research was instrumental in a variety of radar applications, like a highly modified MiniSAR that has been detecting improvised explosive devices in Afghanistan since 2009 and is now used by the US Army.
Sandia's efforts decreased the size and cost of the systems, allowed them to fly on unmanned aerial systems, and allowed engineers to add more features, such as adding two radar receiver channels in the same system, Armin says.
"With two channels, I can now detect and track individual people rather than just fast-moving cars," he says. "Every time we add a dimension to the data, it's like giving the viewer a second eye. The user can discriminate and tell things apart that formerly they were not able to see. Before, radar echoes of people might have blended in with the surroundings. Now, we have an ability to separate them by this additional measurement." In another configuration, for example, now we might start seeing depth rather than just a flat world.
Armin was on the original development team for the Lynx SAR system and has watched and assisted over the years as Lynx has added tools so it can be applied to more missions. Working with industrial and military partners, researchers improved Lynx's performance for moving targets and added new modes. An example is a maritime mode used in search and rescue missions over the Mediterranean Sea.
Armin holds a doctorate in electrical engineering from the University of New Mexico (UNM), a bachelor's from the University of Kansas, and a master's from Stanford University in the same field. He has 20 patents, 19 of them in radar, and has authored 56 publications in SPIE journals and proceedings.
In addition to working at the Labs, Armin taught as an adjunct professor at UNM for five years and volunteers with universities and small businesses to advise on technical issues. Since 2008, he has been chairman of SPIE's Radar Sensor Technology
Conference and a committee member and session chairman for this and other SPIE conferences for 10 years.