Andrew Miller wins IRS Tax Design Challenge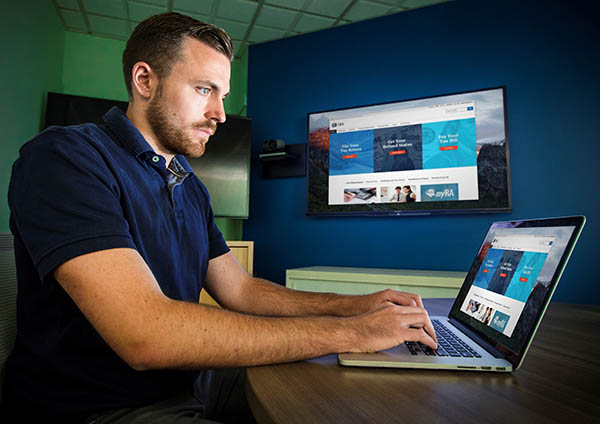 Andrew Miller's (9530) knack for redesigning websites has led him to two first place awards in the 2016 IRS Tax Design Challenge.
Andrew received $10,000 for best overall design for his "IRS MyService" page and $2,000 for being judged as the best design with the "best taxpayer usefulness."
Andrew, a user-interface designer and front-end web developer, designed a web-based dashboard that would allow users to search through their yearly tax history on the IRS website.
Out of 48 design submissions to the challenge, Andrew received the highest combined score in all categories — overall appeal, taxpayer usefulness, financial capability, visual hierarchy, information density, and accessibility.
The goal of this challenge was to reimagine the taxpayer experience and design the taxpayer experience of the future. Andrew took on the challenge in addressing the more than 200 data fields and designed, organized, and presented tax information in a way that makes it easier for taxpayers to manage their taxpayer responsibilities. He also focused on how users could use their own taxpayer data to make informed and effective decisions about their personal finances.
Andrew says he focused on three primary areas when creating the dashboard: transparency, keeping it humble, and keeping it line with national standards. He says he worked on the competition during his free time.
"I wanted the dashboard to be transparent and clear for users," he says. "The main idea was to make it easy to use."
In his free time Andrew serves as the creative director of Model T Digital, a freelance web developing agency. He recently accepted a new position at the United States Digital Service in Washington, D.C.
The grand prize was underwritten by the Mortgage Bankers Association, which also sponsored the challenge.