East Mountain Sandians step up to help each other, their community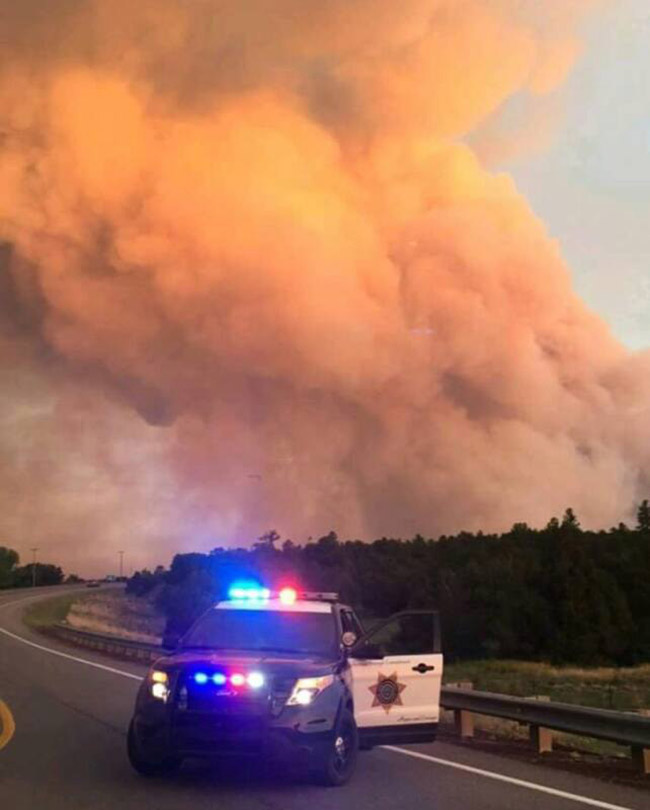 If you happened to look south from Sandia on Tuesday, June 14, around lunchtime, you saw a pillar of smoke rising from the Manzano Mountains. It wasn't a big column; your first thought, given the angles and perspective, was that you were looking at the results of some sort of burn test in Coyote Canyon.
But the column didn't disperse; as the afternoon wore on, it grew bigger and angrier and more ominous, and you knew — this was no Sandia test, this was a full-blown forest fire and a lot farther away than you first thought. You were seeing the birthing moments of what became the Dog Head Fire.
As the inferno grew, the email activity on the Sandia East Mountain Commuters distribution list started heating up, too. The distribution list was created years ago as a grass-roots initiative where Sandians who live on the East Side keep each other posted about weather conditions, traffic backups, and emergency situations — like forest fires.
The Dog Head Fire, which has been determined to be human-caused, broke out during what could be considered "perfect storm" conditions: high winds, record-breaking temperatures, and Atacama-level humidity. Once it sank its fiery teeth into the tinder-dry trees in the Manzano Mountains, this pit bull of a fire wouldn't let go.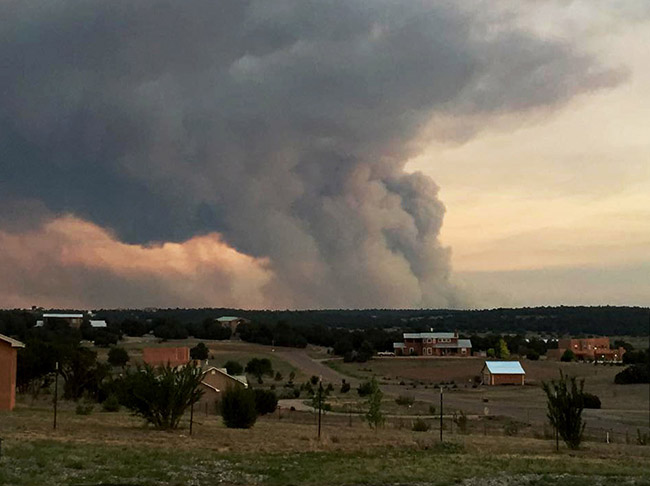 Bringing out the best in Sandians
Dog Head grew through a day and night, another day and night, and another: an unstoppable force. On Wednesday, the day after the fire started, New Mexico Gov. Susana Martinez declared a state of emergency and officials began ordering mandatory evacuations from communities centered around Chilili. That order affected a number of Sandians, who grabbed ready bags and whatever other belongings they could and headed for emergency shelters, the homes of friends, or motels in town.
The fire emergency brought out the best in Sandians, who kept in touch via the East Mountain Commuters email distribution list.
Several offered to take in families forced to flee; others said they had stables, corrals, and pastures to take in livestock. Many heeded the call to donate items for the emergency shelters, collecting coloring books, blankets, and toys for kids and toiletries for the grown-ups. Still others stayed behind in the evacuation zone to fight to save their own homes and the homes of friends and neighbors. Equipped with chainsaws, axes, picks, hoes, and tractors, they raced against the clock and the volatile conditions to build firebreaks around critical properties.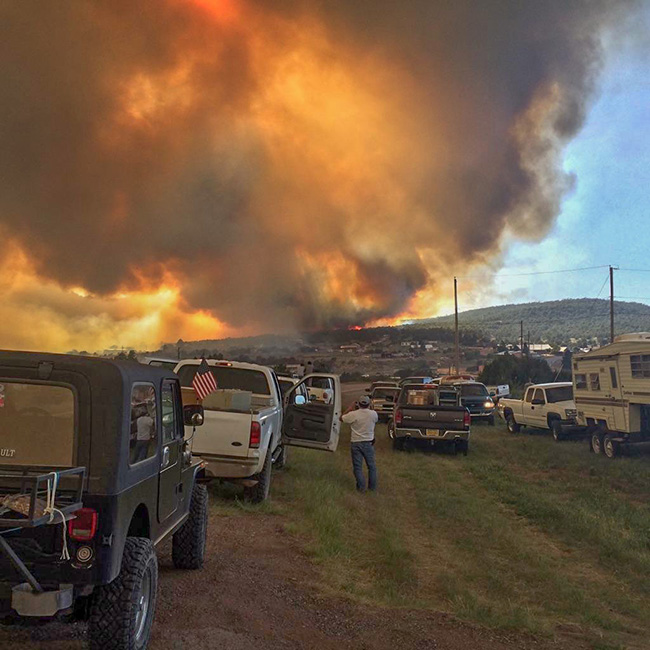 They would do the same for us'
John Ball was typical of many who stepped up. He wrote in an email to the Lab News: "Out of an abundance of caution, we helped a couple from our church pack up and get out; they have been staying with us since Thursday."
Cheryl Atkins opened her home to a fellow Sandian and his family. "Friends of ours — one is a Sandian — found out late on the evening of Wednesday, June 15, that their home was in danger due to the fire and that they needed to evacuate. We are fortunate that being empty-nesters we had room for their entire family. We were more than happy to open our home to them and it has been great to have them with us. They would do the same for us," she says.
The Dog Head Fire brought up difficult memories for Richard Barrett. He lost his home, his entire neighborhood, in the Cerro Grande fire in Los Alamos in 2000. Richard offered the East Mountain Commuters a unique perspective. After sharing some helpful and thoughtful advice about what to save and what to leave behind, he concluded, "A wildfire is in reality beyond anyone's control, so it's only an attempt by some brave people to try manage it. And believe it or not, although we wish it on no one, losing our home turned out to be one of our most valued life experiences, in spite of loving our home and neighborhood. It was a special opportunity to discover what you truly value, and who your true friends are."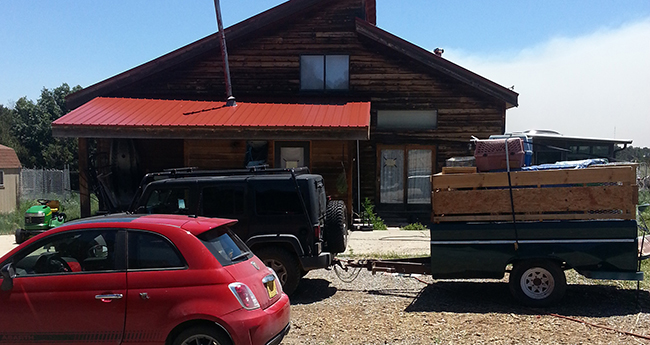 'Bugging out'
Not everyone in a crisis is a friend. Lisa Snyder was surprised to see a National Guard Humvee pull up to her house, asking her to keep an eye out for looters. As is always the unfortunate case in natural disasters, the problem of looting was a concern in evacuated areas. John Reynolds took the looting warning seriously. After loading up a trailer with some 60 fowl of all kinds along with other personal property, John left a note on his door that read: "Bugging out, 6/16 at 12:30 p.m. Smile, because you're on camera!"
Sandians, even those who aren't East Siders, lived up to the Labs' reputation and heritage of supporting the community in a time of need. Mary Chavez, who lives on the East Side, says, "I sent out a late afternoon request to the folks in our department [2981] last Thursday [June 16] around 3 p.m. for any help with donations or items I had heard were needed. Within one hour — again, at the end of the day — I had $150 plus my own contribution, and delivered a car full of drinks and snacks to Los Vecinos [the emergency shelter in Tijeras]."
Sandia management was on top of the situation, with contingency plans in place should the fire crest the Manzanos and race onto Sandia property. Workers in remote locations of the Labs were sent a to-do checklist to minimize the impact any fire might have on personnel, operations, and facilities. And managers across the Laboratories were asked to check on the status of employees who reside on the East Side to ensure that they were safe.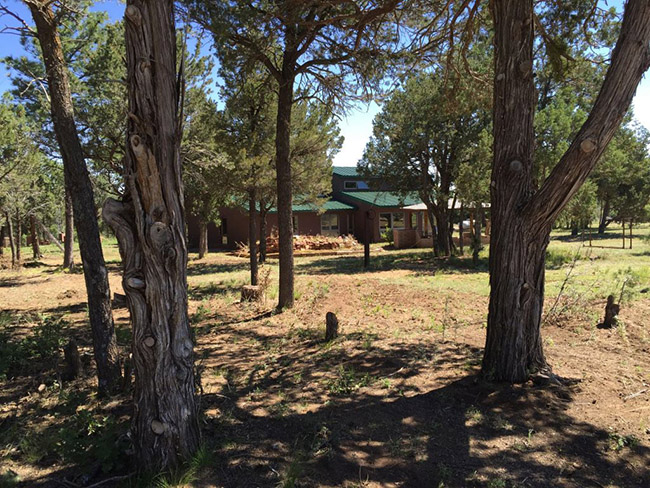 They know what they're doing'
For responders, the fight was relentless, remorseless. Sandian Jeff Young was particularly impressed with the caliber of people risking their lives to tame the fires. Echoing comments made by many Sandians, Jeff wrote, "I have been to all three of the information meetings in Tijeras. Honestly, the Southwest Coordination Center (SWCC) that oversees and manages the fire is absolutely awesome." [The SWCC is a collaborative effort among the US Forest Service, the US Bureau of Land Management, US Fish and Wildlife, and other state and federal agencies.]
"The firefighters and those who manage it are totally on top of it, very knowledgeable, and amazing," Jeff added. "It is unbelievable how hard they are working. They know exactly what they are doing."