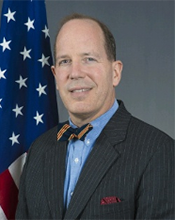 May. 20, 2020, Dr. Christopher Ford
With more than 20 years working in public service, Dr. Christopher Ford previously served as Special Assistant to the President and Senior Director for Weapons of Mass Destruction and Counterproliferation at the National Security Council. In 2006, Dr. Ford served as the U.S. Special Representative for Nuclear Nonproliferation, where he was responsible for U.S. diplomacy with respect to the Treaty on the Non-Proliferation of Nuclear Weapons. A Rhodes scholar and Yale Law School-educated attorney, Dr. Ford is the author of three books on Sino-American relations, Chinese world view, and U.S. Navy operational intelligence.
A recording of Dr. Ford's talk can be viewed here.