Computational Multiphysics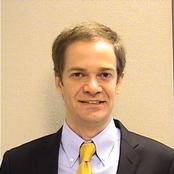 Computational Multiphysics
(505) 284-3538
Sandia National Laboratories, New Mexico
P.O. Box 5800
Albuquerque, NM 87185-1321

Biography
I am a Senior Member of Technical Staff in the Computational Multiphysics Department. I work in both analyst and developer roles on the ALEGRA team.

My background is in computational solid mechanics, and my main areas of interest center around computational modeling of multiphysics and multiscale systems and include:
microstructural origins of macroscale behavior,
material model development,
micromechanics and multiscale modeling methods,
multiphysics methods for arbitrary Lagrangian-Eulerian simulations in areas of solid mechanics, shock physics, electromechanics, magnetohydrodynamics, radiation hydrodynamics, and high-velocity impact dynamics,
numerical methods, scalable algorithms, and software implementations for multiphysics modeling on next-generation architectures.
Education
2015: Ph.D. in Computational Science, Engineering, and Mathematics from University of Texas at Austin.
2010: M.S. in Computational and Applied Mathematics from University of Texas at Austin
2005: M.S. in Mechanical Engineering from Columbia University
2001: B.S. in Mechanical Engineering from Yale University
I also worked as a structural analyst and designer in the Rotor Blades Engineering Department at Sikorsky Aircraft Corporation from 2002 to 2008.
Publications
James Brian Carleton, Dan Stefan Bolintineanu, Michael Robert Kracum, Mikhail Mesh, Corbett C. Battaile, William M. Scherzinger, Nathan W. Moore, (2022). Characterizing Cracks and Pores in Thermal Spray Materials Sandia 3D Characterization Community of Practice Monthly Meeting Document ID: 1653357
John Henry Judah Niederhaus, Michael Powell, Steven W. Bova, James Brian Carleton, John H. Carpenter, Kyle Cochrane, Michael Meyers Crockatt, Wen Dong, Timothy Jesse Fuller, Brian Neal Granzow, Daniel Alejandro Ibanez-Granados, Stephen Ray Kennon, Christopher Bernard Luchini, Ramon Jules Moral, Christopher John O'Brien, Allen C. Robinson, Angel Eliud Rodriguez, Jason James Sanchez, Walter Alan Scott, Christopher Siefert, Alan K. Stagg, Irina Kalashnikova Tezaur, Thomas E. Voth, (2022). ALEGRA: finite element modeling for shock hydrodynamics and multiphysics Hypervelocity Impact Symposium 2022 Document ID: 1629546
James Brian Carleton, Thomas Patrick Hughes, (2022). Anisotropic Extension of a Model for Materials with Ferroelectric to Antiferroelectric Phase Transformation 15th World Congress on Computational Mechanics Document ID: 1573328
Nathan W. Moore, Chad August McCoy, James Brian Carleton, Dan Stefan Bolintineanu, Daniel Frayer, Morris Kaufman, Sheri Payne, (2022). Shock State Distributions in Porous Tantalum Using Multipoint PDV 22nd Biennial Conference of the APS Topical Group on Shock Compression of Condensed Matter (SHOCK22) Document ID: 1562461
Nathan W. Moore, Chad August McCoy, James Brian Carleton, Daniel Frayer, Morris Kaufman, Sheri Payne, (2022). Shock State Distributions in Porous Tantalum Using Multipoint PDV 22nd Biennial Conference of the APS Topical Group on Shock Compression of Condensed Matter (SHOCK22) Document ID: 1471043
John Henry Judah Niederhaus, Steven W. Bova, James Brian Carleton, John H. Carpenter, Kyle Cochrane, Wen Dong, Timothy Jesse Fuller, Brian Neal Granzow, Daniel Alejandro Ibanez-Granados, Stephen Ray Kennon, Christopher Bernard Luchini, Ramon Jules Moral, Christopher John O'Brien, Michael Powell, Allen C. Robinson, Jason James Sanchez, Christopher Siefert, Irina Kalashnikova Tezaur, Thomas E. Voth, Michael Meyers Crockatt, Angel Eliud Rodriguez, Alan K. Stagg, (2022). ALEGRA: finite element modeling for multimaterial shock hydrodynamics and multiphysics 16th Hypervelocity Impact Symposium Document ID: 1404955
James Brian Carleton, Thomas Patrick Hughes, (2021). Anisotropic Extension of a Model for Ferroelectric Materials with Ferroelectric to Antiferroelectric Phase Transformation World Congress of Computational Mechanics Document ID: 1381092
James Brian Carleton, Wen Dong, (2021). Quasistatic Electromechanics: Methods and Applications 15th World Congress on Computational Mechanics (WCCM) Document ID: 1281529
James Brian Carleton, (2020). Jimmy Carleton Background for UC Boulder PSAAP TST Meeting UC Boulder PSAAP TST Meeting Document ID: 1244539
James Brian Carleton, Mikhail Mesh, Corbett C. Battaile, William M. Scherzinger, Theron Rodgers, Nathan W. Moore, (2020). Using Mesoscale Modeling and Simulation to Explore the Behavior of Spray-Formed Coatings Under Impact and Radiation Induced Shock Nuclear Explosive Code Development Conference (NECDC) Document ID: 1207732
James Brian Carleton, Mikhail Mesh, Corbett C. Battaile, William M. Scherzinger, Theron Rodgers, Nathan W. Moore, (2020). Cover Letter: Using Mesoscale Modeling and Simulation to Explore the Behavior of Spray-Formed Coatings Under Impact and Radiation Induced Shock Hardened Electronics and Radiation Technology (HEART) Conference 2021 Document ID: 1196619
James Brian Carleton, Jason James Sanchez, Corbett C. Battaile, Mikhail Mesh, Theron Rodgers, Shawn D. Pautz, Nathan W. Moore, (2019). UUR Cover Letter for Mesoscale Modeling and Simulation of Radiation Induced Shock in Spray-Formed Coatings Hardened Electronics and Radiation Technology (HEART) 2020 Conference Document ID: 1032029
Nathan V. Roberts, James Brian Carleton, Wen Dong, Sharon Petney, Allen C. Robinson, Christopher Siefert, (2017). Ferroelectric Modeling Development Using Trilinos CIS External Review https://www.osti.gov/search/identifier:1508728 Document ID: 660024
Roger P. Pawlowski, Roscoe Bartlett, Matthew Tyler Bettencourt, James Brian Carleton, Sidafa Conde, Eric Christopher Cyr, Kyungjoo Kim, Alejandro Mota, Mauro Perego, John N. Shadid, Gregory D. Sjaardema, Alexander Raymond Toth, Andrew Michael Bradley, William Spotz, Curtis C. Ober, Irina Kalashnikova Tezaur, (2017). ECP 1.3.3.03a Develop General CS Components for ATDM Applications ECP Annual Meeting 2017 https://www.osti.gov/search/identifier:1507624 Document ID: 577915
James Brian Carleton, (2016). CCR Summer 2016 Intern Program CCR Summer 2016 Seminar Series Document ID: 431283
Showing Results. Show More Publications
Projects