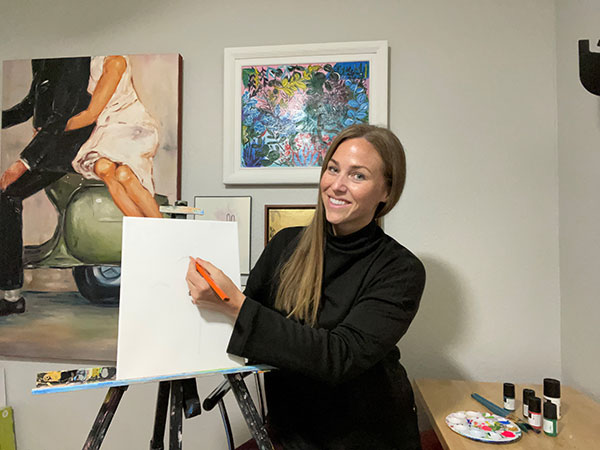 With in-person socialization on hold, many are seeking new ways to connect and have fun. Painting can improve concentration, relieve stress, increase creativity and be a meditative activity.
"Research finds that creative activity can reduce your stress, regardless of artistic experience or talent," said counselor Sharon Johnson of the Employee Assistance Program. "Painting is an excellent addition to self-care allowing us to let go of any problems in the forefront of our minds and put us in a more meditative state."
Preventive health hosts virtual paint night
The idea to offer a virtual paint night came from Sandia/CA Employee Health Services Manager Rosalind Turner.
"She knows that my hobby is painting and thought it would be a creative way to engage our employees," said health educator and longtime painter Emily Rada.
While Emily typically leads fitness classes, she says teaching painting classes is similar.
"In my fitness classes, I give cues on where to put your feet and how to move your body. With painting, I give directions on how much color to add and how to move the brush," she explained. "Both exercise and art have the capability to reduce stress levels and put people in better moods."
Emily hosted the first virtual paint night in February and the subject was "Flowering Cacti." Thirty-five painters attended and many requested a second session. In March, a "Poppy Landscape" inspired 45 more budding artists who were employees, spouses, friends and children.
Participants were chatting, laughing and answering art-related trivia during class. Some added hot-air balloons, orange and red skies and Italian villas to their pictures.
Attendee Jessica Morning said, "Thank you so much for hosting the paint night. It made my evening feel like one from the good old days (last year)."
No artistic background required
The art supplies and subjects are simple, and the step-by-step instructions are covered in an hour, so even the youngest painters can complete a work of art.
Attendee Korrie Mabray said, "[This] may be the first Zoom class my 6-year-old actually liked!"
The next Virtual Paint Night will be Thursday, July 22, at 5 p.m. PDT. For more information and a list of art supplies, contact saludca@sandia.gov.