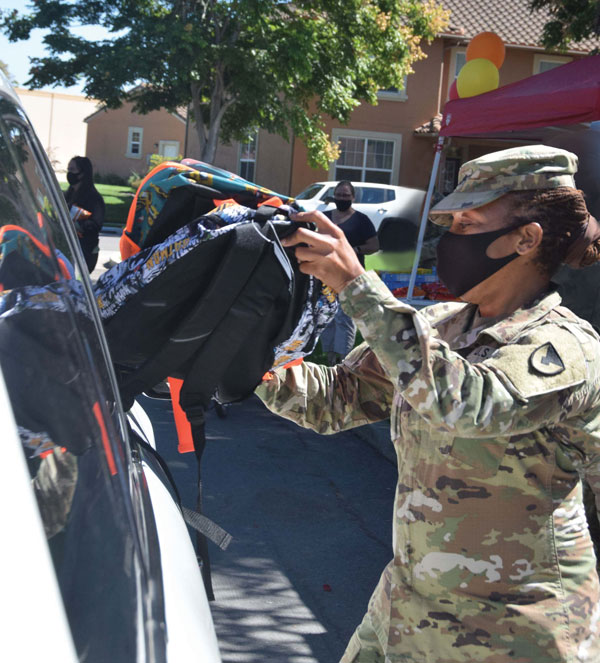 See below: One Warm Coat winter donations
The start of the new school year looked and felt very different for families of school-aged children this fall. But for all the changes resulting from the COVID-19 pandemic, one thing remained constant — the need for donated school supplies and backpacks to benefit local military families.
This summer, the Military Support Committee at Sandia's California site took a different approach to organizing and executing their traditional Operation Backpack campaign — now in its seventh year — asking instead for donations to be purchased directly, via an Amazon wish list.
"I lost track of how many packages and boxes I unpacked," said Rachel Sowell, MSC co-chair. "But it was well over 90."
Rachel admitted feeling nervous organizing the donation drive this year due to the pandemic.
"Given everything, I did not want our employees to feel the added burden of supporting this voluntary fundraiser. However, I should never underestimate the generosity of our employees," she said. "We still had an amazing turnout of support."
In August, Rachel was joined by colleague Adina Eliassian in delivering more than 100 backpacks filled with needed supplies to a drive-up distribution event held at Camp Parks, a U.S. Army training facility in Dublin, California.
Sandia's strong support was so warmly received, Rachel said, that an additional request was made for the Labs to provide another 100 backpacks for a similar event to be held at Moffett Federal Airfield near Mountain View, California, in September.
In total, participants donated 206 backpacks filled with needed supplies to children of local military families.
"It was really heart-warming to see our workforce answer the call during this challenging time for so many," Rachel said.
DONATE WINTER COATS
The unprecedented health and economic crisis caused by COVID-19 is impacting the lives of millions of people, many who were already struggling to make ends meet. If you missed Operation Backpack or are looking for another opportunity to give, consider donating a winter coat for California wildfire relief through One Warm Coat, organized by Sandia Gives ambassador Krissy Galbraith. The donation drive runs through Oct. 31.
How You Can Help
Due to COVID-19 restrictions, we are unable to collect gently used coats during the Sandia Gives campaign this year, but you can still donate using one of the methods in the flyer above. All donations will be shipped to Sandia to sort and donate.