Sandia recruiting team employs digital platforms to meet hiring needs during pandemic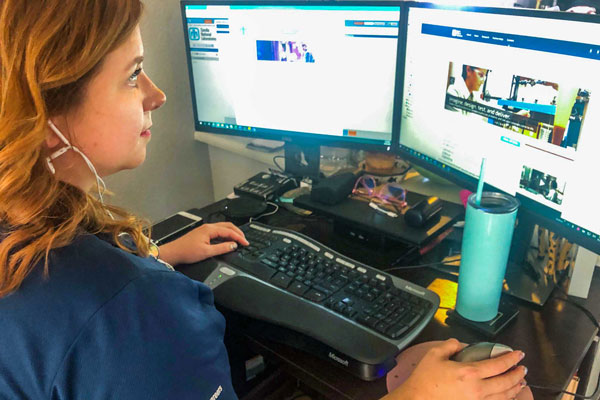 Sandia's recruiting team started preparing to locate and hire talent in the midst of a pandemic long before anyone had heard of social distancing or COVID-19. Under the direction of David Martinez, recruiting manager, the team has employed a largely digital strategy that includes implementing a new candidate relationship management tool, Yello, which allows for Sandia's recruiters to collect resumes and connect with candidates digitally.
Before Yello, the recruiting team had been employing career tech companies like LinkedIn, Glassdoor and Indeed to advertise, find and engage with candidates who might be interested in employment at Sandia. In the last year, the team also added Fairygodboss, a career site dedicated to professional and technical women, to expand Sandia's hiring strategy in the space of inclusion and diversity.
"The icing on the cake was Yello," David said, "which catapulted us into contemporary times and really helped us to begin to think more digitally and engage with added speed."
Transition to virtual
Erin Chandler and Ana Garcia, both recruiting specialists, got ahead of the pandemic restrictions by exploring opportunities to access candidates through virtual career fairs and digital platforms. The team said it's important to have options that include a wide range of events to cover Sandia's critical hiring needs while also maintaining a strict commitment to an inclusive and diverse workforce.
Transitioning to a virtual platform presented the challenge of navigating security concerns and training for a new process. Crediting the use of Yello and other digital tools for a smooth transition, Erin said, "I think because we had the CRM (candidate relationship management tool) in place, it went pretty smoothly."
The virtual experience varies based on the event, but each platform requires the recruiter to coordinate communication with interested candidates. In some cases, the platform may have a virtual booth that will allow recruiters and candidates to interact through video and audio. Other events may offer a chat-room-like experience where the interaction is strictly a back-and-forth text engagement. The text-only option presents a new obstacle, as recruiting has long been an in-person exchange.
Future of recruiting
The virtual pivot has presented a learning opportunity that has prepared the team for the upcoming fall recruiting season. Given the restrictions brought on by the COVID-19 pandemic, David's recruiting teams are expecting it to be a virtual experience.
"We are all watching, listening and leaning in to assess the direction of colleges, national conferences and affinity institutions — that direction has influenced our approach this year," he said.
Erin said the annual Grace Hopper Celebration has already moved to a virtual platform. In preparation, David and his team have developed two plans for upcoming events. The first plan is strictly virtual and the second is a hybrid of in-person and digital events. That process gives Sandia a recruiting future that continues to build talent pipelines, where they can access candidates virtually and in person, based on the needs of Sandia, as well as the size and scope of events.
While traditional recruiting has been put on hold for now, Sandia's recruiting team has remained committed to finding and hiring the best and brightest candidates. The tech-savvy approach that the talent acquisition team adopted prior to the arrival of the pandemic has Sandia well positioned, with a model that will serve the needs of the Labs for the foreseeable future.