More than 200 Sandians were honored with the prestigious NNSA Defense Programs Award of Excellence during a ceremony in Steve Schiff Auditorium on Dec. 1.
Presented annually by NNSA's deputy administrator for Defense Programs, the award recognizes exceptional and significant achievements in quality, productivity, cost savings, safety and creativity in support of NNSA's Stockpile Stewardship Program.
"What you do is so important to national security," Michael Thompson, NNSA principal assistant deputy administrator for Defense Programs, told the crowd of Sandia winners. "There's a very careful vetting process, and the people and teams that end up getting awards are really the best of the best."
Rita Gonzales, Sandia associate laboratories director, Nuclear Deterrence Modernization and Future Systems, followed Thompson to the podium. "The people in this room are heroes," Rita said. "To keep our friends, our families and our country safe, we need to deliver on Sandia's important missions, and every one of the folks we're honoring have gone to heroic lengths to make that happen."
Recognizing work performed in 2021, the awards honored four Sandians — one posthumously, two retired and one current employee — five multimember Sandia-led teams and two Sandia technology transfer teams, totaling 206 participants.
Individual honorees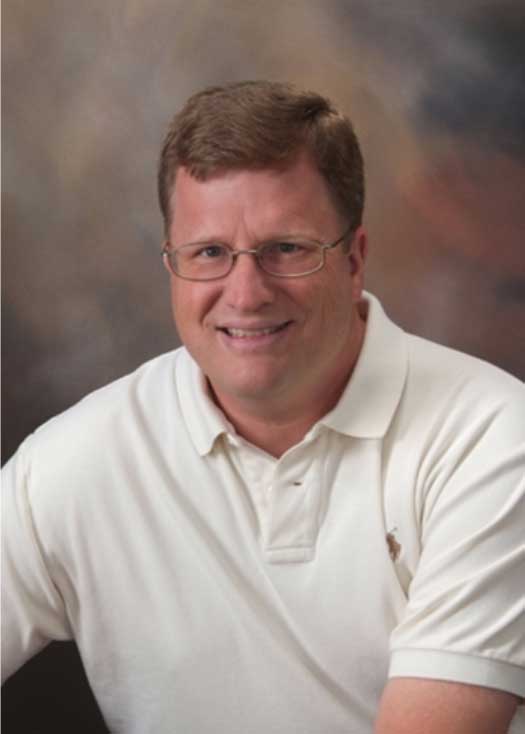 Scott Collis
Scott, who died on Sept. 13, created the "Agile Physics Models and Data Centric Computing" strategy for the Sandia Advanced Simulation and Computing Program that subsequently led to the inception and successful launch of the Accelerated Digital Engineering initiative at Sandia in 2021. Scott created this vision in response to the need for a flexible and responsive nuclear weapons enterprise articulated in numerous national documents. His vision is for researchers, analysts and weaponeers to work closely together, spearheading agile methodologies for nuclear weapons components, programs of record and future systems that pave the way for a new era in nuclear weapons design, qualification and certification. The digital engineering initiative is expected to result in better integration between model-based analysis and design and weapon development.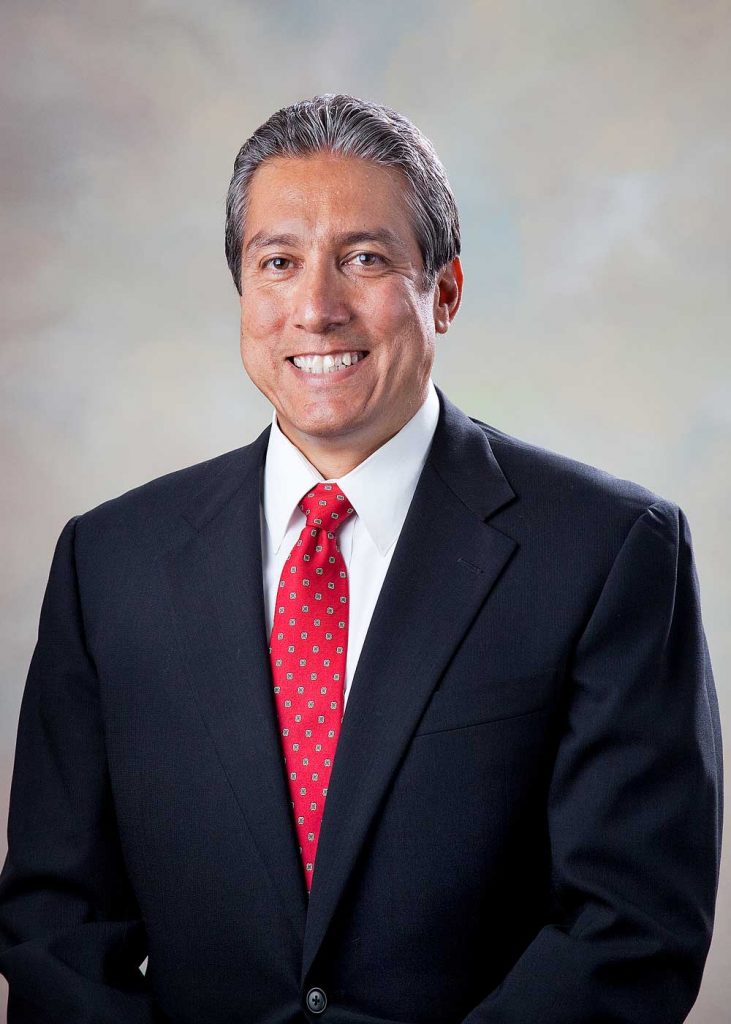 Michael Gomez
Michael retired in mid-2022 after 23 years of dedicated service as an employee at Sandia. Michael worked the last three years of his career as Sandia's manager for Nuclear Deterrence Partnerships and International Programs, which includes managing work under the U.S./U.K. Mutual Defense Agreement. The contributions he made to this special relationship were significant. From his commitment to enabling collaborative exchanges to his ability to prioritize resources, his contributions undeniably benefited the MDA. For example, Michael's commitment to effective resource allocation allowed him to expand the number of personnel in his office dedicated to supporting the agreement. He also initiated an effort to improve information exchange by creating a collaboration site for the exchange of unclassified MDA information between the two nations.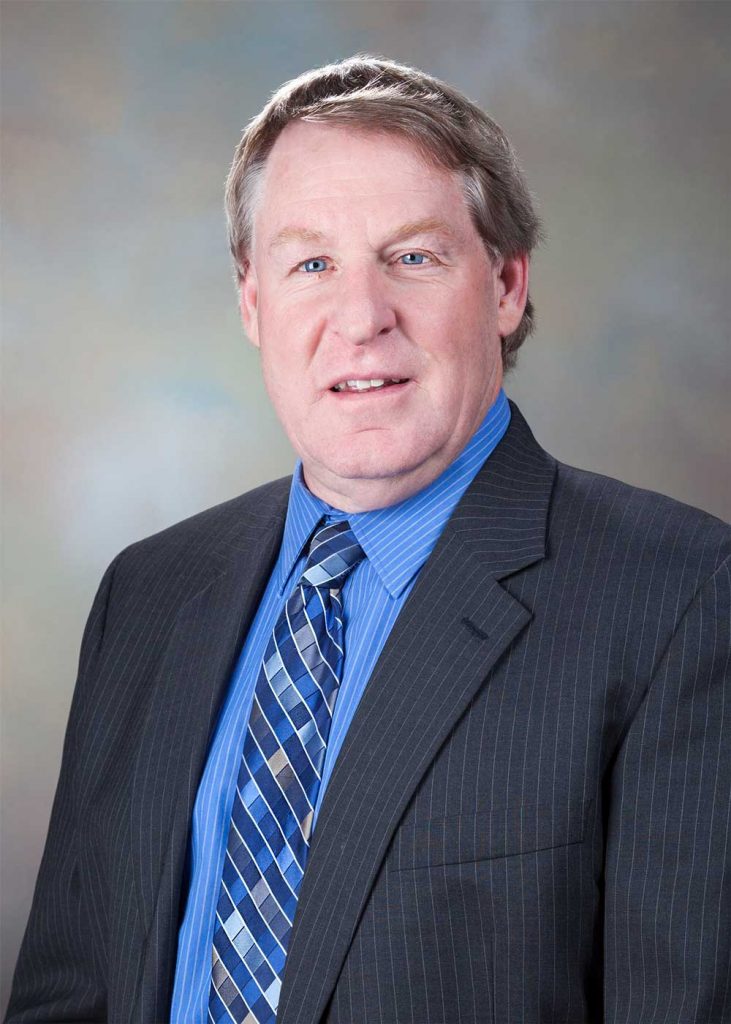 Jim Handrock
For more than a decade, Jim served as the director of Sandia's New Mexico Weapon System Engineering Center, where he was responsible for multiple, high-visibility nuclear modernization programs, including the B61-12, W88 Alt 370 and 940, and Mk21 Fuze programs. To meet these priority needs for the nation, Jim developed high-performance leadership teams, which in turn produced strong program execution to meet the volume and complexity of system integration and non-nuclear component development needs of the nuclear security enterprise. Jim's role as a leader was critical to the success of the Labs and the enterprise at large, and his experience was essential to guiding modernization programs through some of the biggest challenges the Labs have faced. Through this extremely complex modernization portfolio, Jim engaged in critical issues and assured roadblocks to success were eliminated. He consistently demonstrated a principled approach to addressing an individual program's largest challenges while always keeping the end in mind, assuring a future deterrent that will credibly provide the safety, security and reliability demanded in the nation's stockpile. After a career spanning 35 years, Jim retired in August.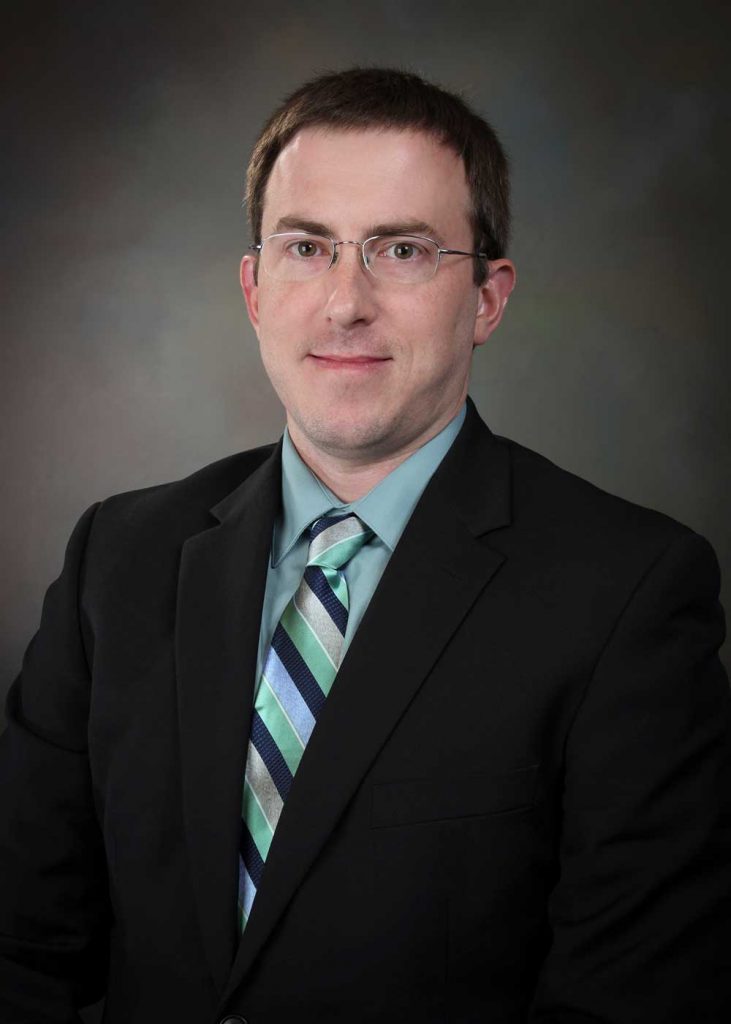 Tim Snider
Tim led two separate anomaly resolution teams for the B61-12 program. These teams, which in one case included engineers from Sandia, the Kansas City National Security Campus, the NNSA and the Air Force, successfully determined root causes. With Tim's leadership, these efforts enabled qualification of the B61-12 on the B-2A bomber and on-time delivery of the B61-12 first production unit.
Team honorees
Pull-Out-Switch-Assembly Contact Ring Diagnostics Team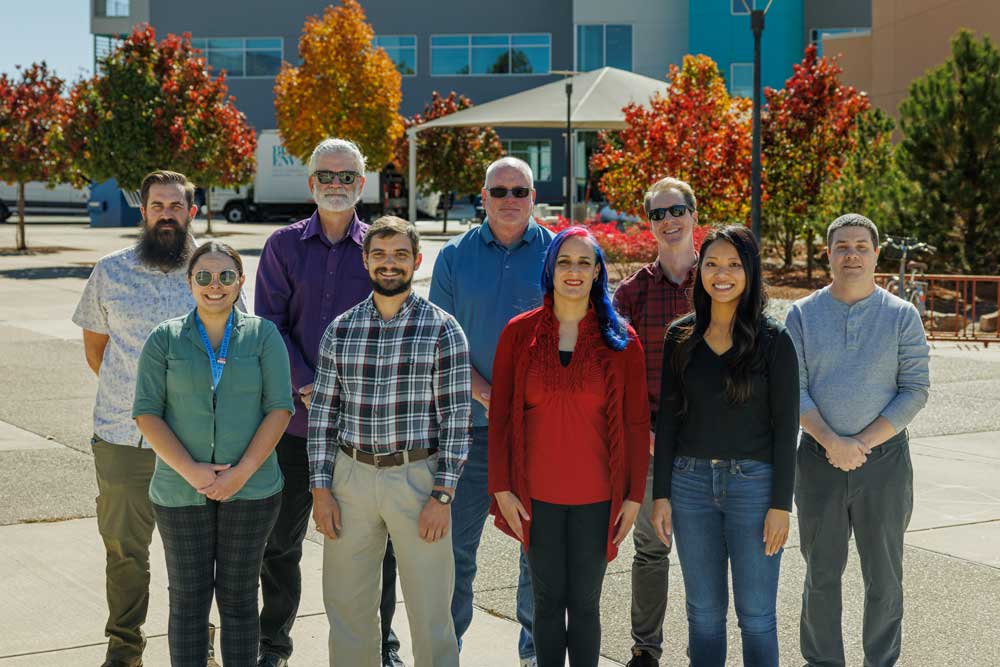 Helping to deliver the B61-12 first production unit on schedule, this team developed a non-destructive diagnostic that was used to evaluate of thin-film thicknesses for 100% of the programs' pull-out-switch-assembly contact rings. This innovation allowed acceptance of parts for the B61-12 after destructive statistical sampling resulted in a scrap rate that would have impacted on-time delivery of the first production unit. Sandia's team worked with Kansas City National Security Campus to screen and pass the needed parts keeping the program on schedule, while providing high confidence in these contact rings. This technique also shows promise for application to other production challenges that would benefit from non-destructive thickness measurement.
Stockpile Responsiveness Program Davis Gun Test Team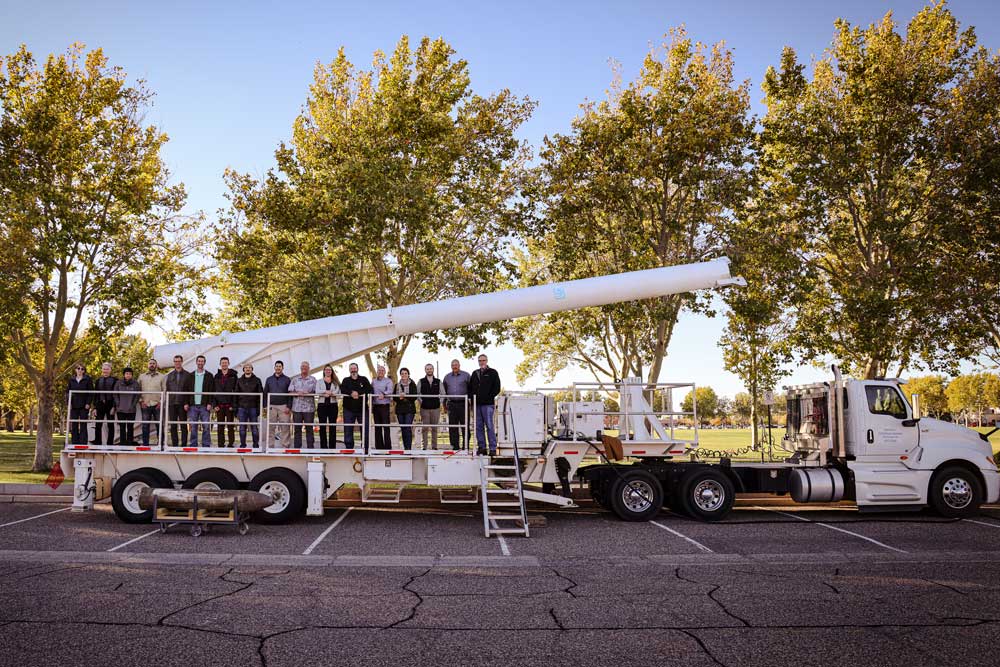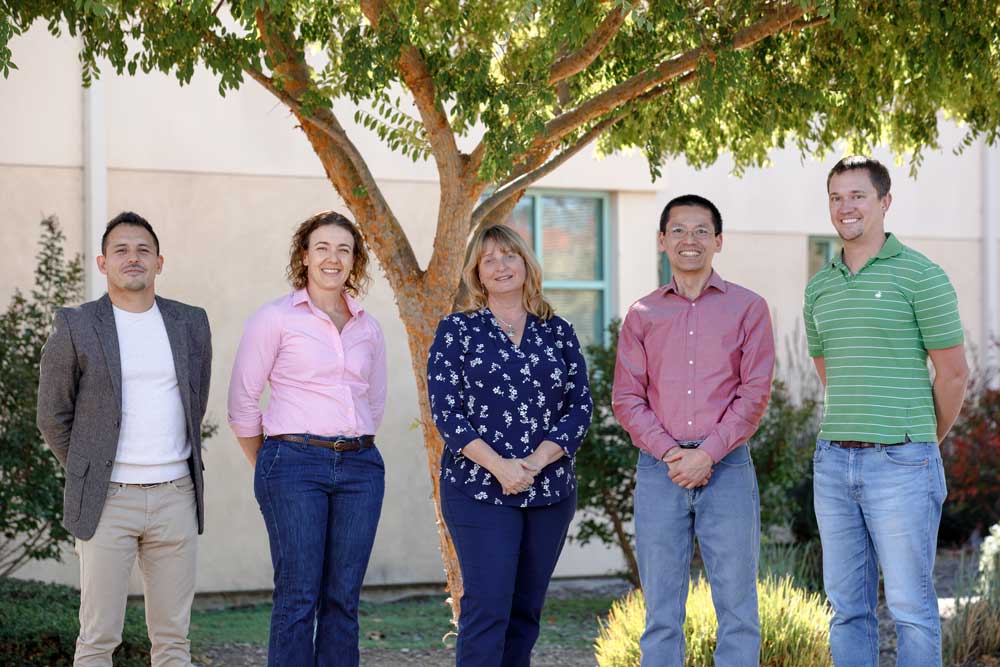 The Stockpile Responsiveness Program Davis Gun Test Team demonstrated technical excellence by completing five multilaboratory and large-scale tests in 2021 utilizing Sandia's large diameter Davis Gun. The tests significantly advanced knowledge and capabilities both in fielding materials and components for severe mechanical environments, as well as in demonstrating test capabilities to rapidly execute experimental testing in severe mechanical environments. The knowledge and experience gained through these tests advanced the Defense Program's ability to respond rapidly to identified future deterrence needs. This will likely enable multiyear reductions in specific future programs. The test series also demonstrated effective teamwork and coordination across multiple laboratories and partner agencies.
Davis Gun team members not pictured, James Arnold, Jay Brown, Doug Dederman, Ryan Flanagan, Kent Harvey, Wes Kuhns, Mark Onuigbo, Jonathan Pegues, Alex Roesler, Ed Romero, Nicole Sawyer, Adam Sokolow, Mary Stoddard, Anthony Tanbakuchi, Steven M. Trujillo, Richard Ulibarri, Lisa Walla, and Nathan Young.
Tonopah Test Range Operations and Missions Support Team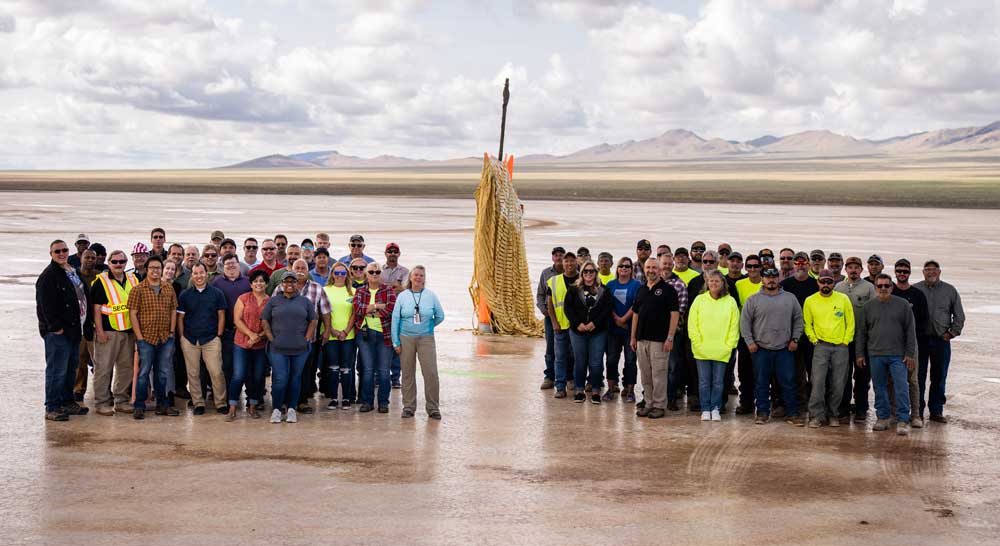 The Tonopah Test Range Operations and Mission Support team delivered on all testing assignments in 2021, advancing B61-12 qualification and completing reliability stockpile surveillance testing. The team's performance was a linchpin for B61-12 qualification and enabled the program to progress to the first production unit. The team was also a key contributor for the F-35 Dual Capable Aircraft certification and subsequent U.S. Air Force Association's bestowing the prestigious Order of Daedalians Weapons System Award to the F-35 Joint Program Office. The team planned and conducted multiple weeks of flight tests to enable NNSA to meet Congressional and NATO milestones. The range also integrated multiple technical initiatives and mission facility enhancements to improve mission and infrastructure reliability for many years. Tonopah Test Range delivered mission success with zero safety and security incidents in 2021.
W80-4 Environmental Specifications Team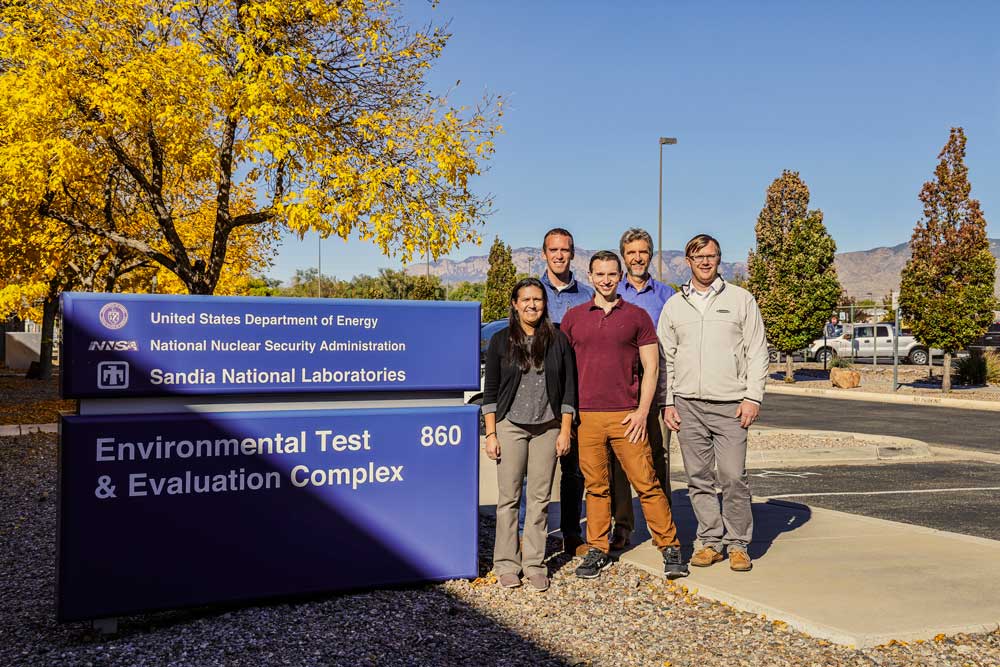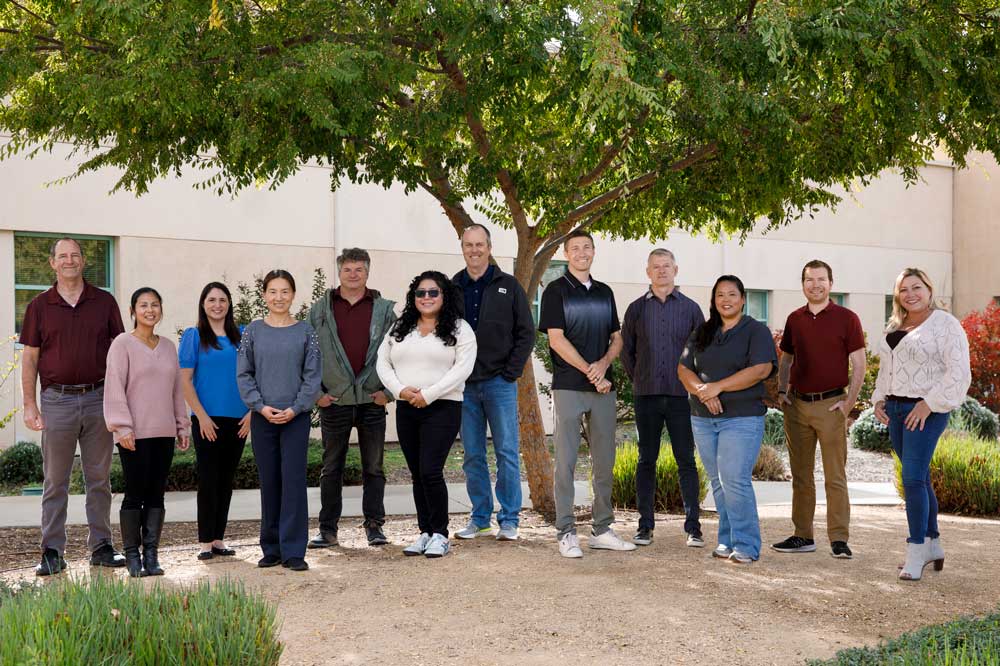 The W80-4 Environmental Specifications team developed environmental specifications for the W80-4 Life Extension Program. It worked through the challenges of an aggressive schedule and concurrent missile development by collaborating across disciplines and by developing and applying innovative techniques. The team provided the W80-4 Life Extension Program component teams the data needed for qualification testing and a subsequent final design review. It also helped the Air Force develop the Stockpile-to-Target Sequence, a document critical to W80-4 development. These achievements were instrumental in modernizing the W80-4, a crucial element in the nation's nuclear deterrent.
Weapon Modernization Assembly and Quality Team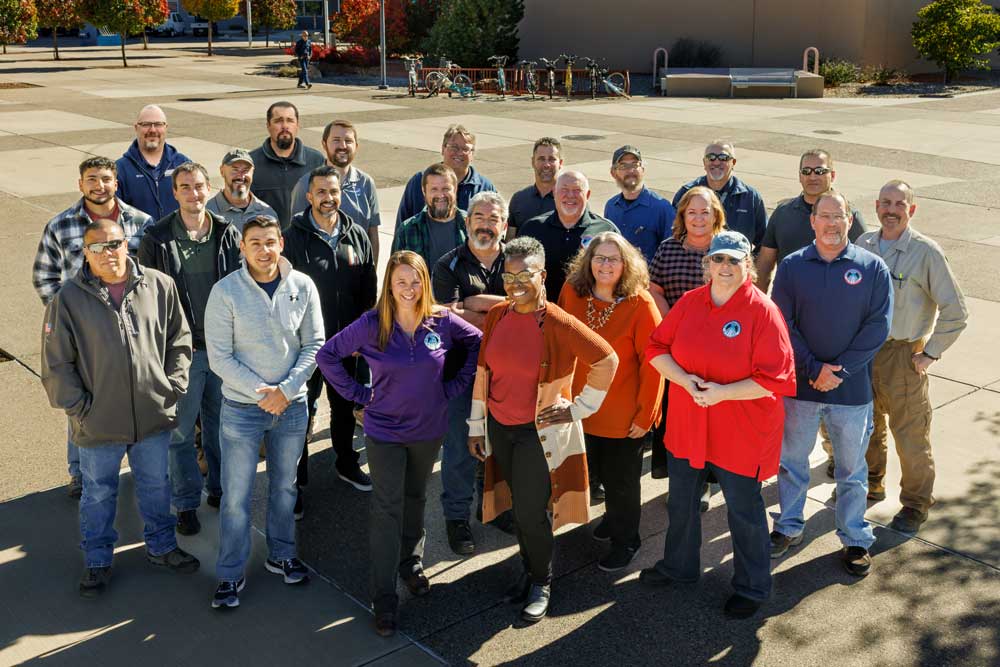 The Weapon Modernization Assembly and Quality Team demonstrated uncanny resilience and commitment to keep complex lab and assembly operations on track 100% without a late deliverable despite the COVID-19 pandemic. The team worked onsite throughout the pandemic and delivered every B61-12, W88 Alt 370 and Alt 940, W80- 4 and W87-1 activity as scheduled, assembling or disassembling over 70 units in 2021. The team managed this technically diverse modernization work while maintaining a flawless safety and security record that spanned more than 560 days without an injury or security infraction. Its efforts were pivotal to NNSA's success during this high-tempo modernization cycle.
Team members not pictured, Charles Miles and Matthew Miller.
Tech transfer honorees
Advanced technique for chip-level authentication and evaluation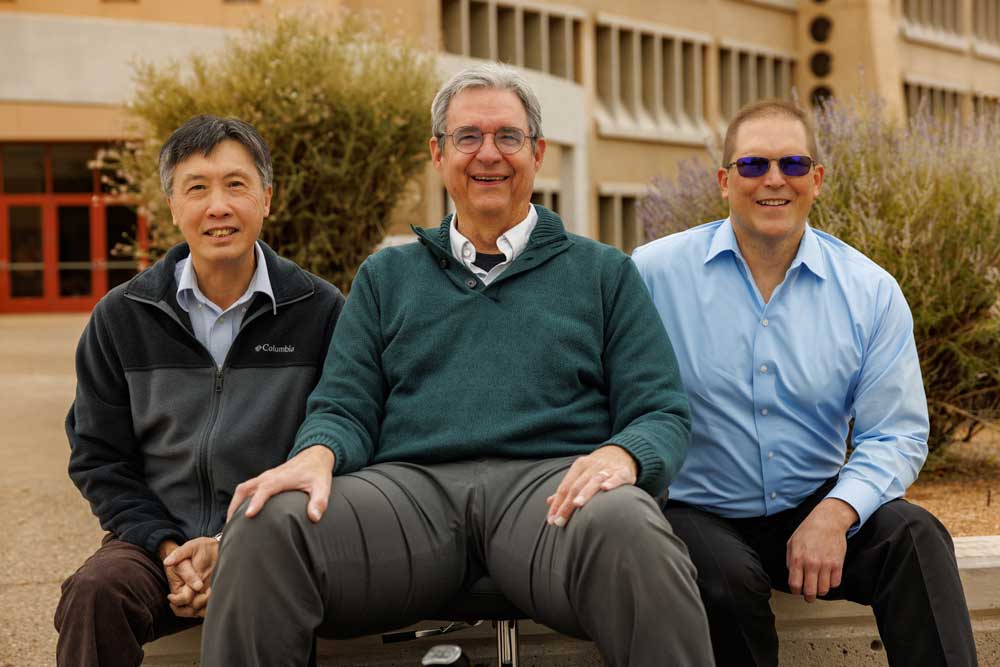 To ensure mission success, NNSA requires that all nuclear deterrence electrical components be authenticated. Using Power Spectrum Analysis with an unconventional biasing scheme to power microelectronic devices, researchers from Sandia developed a nonintrusive, nondestructive technique to authenticate various microelectronic devices. Understanding the potential benefit of the analysis to the electronics market, but realizing the significant cost factors, Sandia submitted the technology to the NNSA NA10.1-sponsored FedTech program for commercialization. After signing a research license with Sandia through the program, Chiplytics was founded in 2021 with the goal of providing a user-friendly, cost-effective Power Spectrum Analysis testing procedure to the commercial electronics market. The company has the potential to save the electronics industry tens of millions of dollars and ensure the authenticity of microelectronics used within nuclear deterrence and national security programs.
Radio-imaging diagnostic for critical component defect detection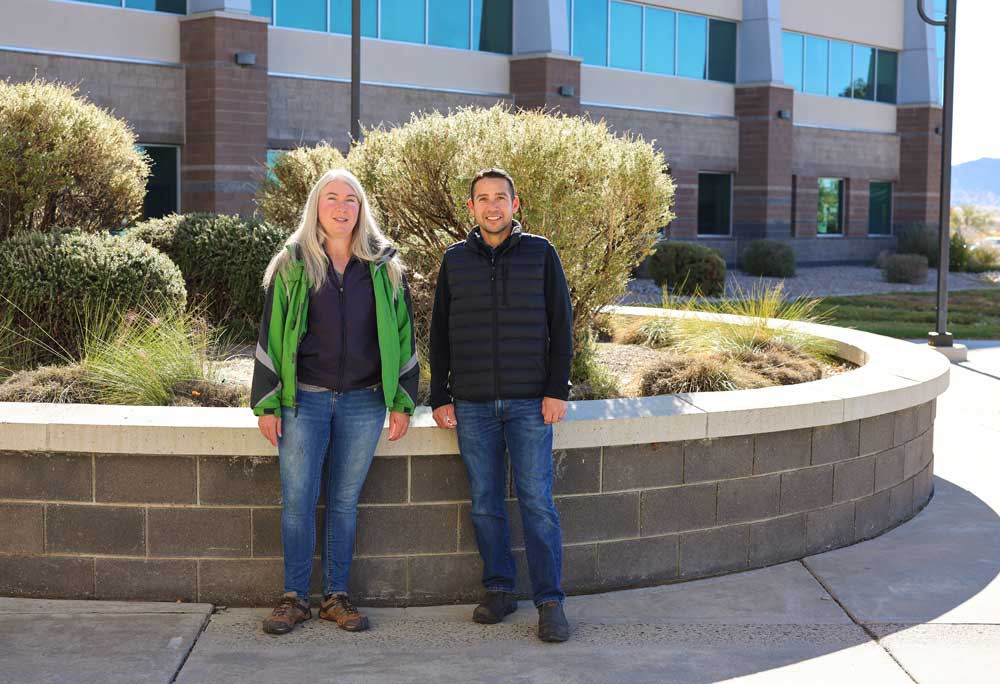 The NNSA has an interest in high-energy density, high-reliability capacitors — devices that are often utilized in nuclear deterrence. In 2021, Sandia entered into a Cooperative Research and Development Agreement with TPL Inc., a company specializing in capacitor design, testing, evaluation and manufacturing that has developed custom capacitors. As part of the CRADA, TPL was awarded funding through the New Mexico Technology Readiness Gross Receipts program, which will support critical advances of its domino-style nanocomposite enhanced ceramic capacitor. As a result of the CRADA, Sandia's team demonstrated a radio-imaging analysis method for electrical components and detecting discharge or breakdown in commercial capacitors, transformers, grid-transmission components, and high-reliability aerospace and satellite systems. Radio-imaging will improve the technical basis for qualification and design of nuclear deterrence and pulsed-power components, including TPL's capacitors, enabling nondestructive testing of device limits and validating reliable performance.