Labs' video producer wins silver in international film competition
For Sandia producer Brent Peterson, directing the 2017 ethics films was a project of passion that came down to complex stories and relatable characters, with a goal of curbing the eye rolls that corporate training videos sometimes generate. The result? Short films that were praised within the Labs and garnered national accolades.
Brent, who works in Creative Services, accepted a silver medal for his short films at the New York Festivals International TV and Film Awards ceremony on April 10 at the National Association of Broadcasters show in Las Vegas, Nevada. Entries from more than 40 countries were submitted to the competition, and Brent said he felt honored to receive the award.
"Story is a powerful motivator and communication tool. We experience life in terms of story – our life stories and others' lives." Brent said. "To really succeed in this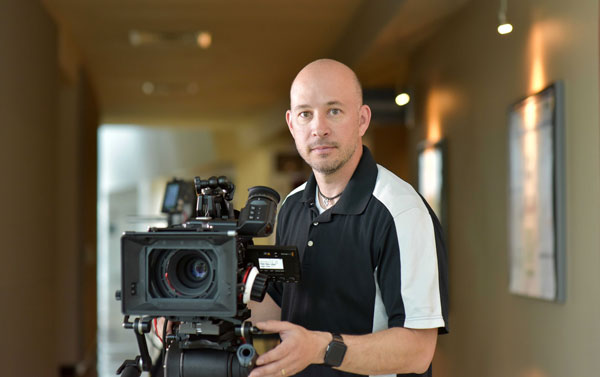 realm of training, the stories can't revolve around caricatures, or cardboard characters. They have to be layered, flawed, like how we are, so we can connect with them, understand them, and know their pitfalls."
In previous years, Lockheed Martin provided ethics training videos for Sandia use, but last year, Creative Services teamed with the ethics department to create innovative short films that included scenarios that could take place at the Labs. Viewers could relate to the stories because all the characters were based on real positions at the Labs, Sandia jargon was incorporated and nearly all the scenes were filmed in Sandia locations. The videos encompassed a cinematic style, lighting and editing, and included original musical scores.
"Get Your Head in the Game" involves a new employee who decides working faster will be better for his career than working with a mentor and learning the rules. "Out of Bounds" is about a manager who uses corporate resources for personal volunteer work outside of the Labs. "The Missing" tells a story about employees who fail to check orders correctly, resulting in potential loss of a big customer and increased costs. Peterson wanted to tell stories that didn't have concrete answers.
"Not everything is black and white," says Brent. "It's important to discuss the gray areas."
Brent has more than 20 years of professional experience as a filmmaker, with 16 of those years at the Labs. He shot three documentaries during that time, "U.S. Strategic Nuclear Policy," "Always/Never," and most recently "On Deterrence." He is also proud of his recruiting videos, the "I'm a Sandian" diversity series, and "Sandia Sidewalk Crack," one of the first of his films to win an award, produced at Sandia in 2005.